A pilgrimage is not a sightseeing trip, although one may see many things that prompt reflection. It is not a mission trip focused on helping others, although one may return ready to serve in new ways. It is not a class for learning new facts and figures, although learning of that kind may happen.
A pilgrimage is a journey within that is encouraged or enhanced by traveling to new and unfamiliar places in the exterior world. It involves intentionally placing oneself in uncomfortable situations where one's world view will be challenged. A true pilgrimage results in new perspectives that lead to new, more deeply conscious and authentic ways of living.
I went on a civil rights pilgrimage this spring, along with Wayne and a few members of my congregation. From April 18 to 25 we traveled together in a van, shared meals, received hospitality from many, participated in tours of places where history was made, spent hours in museums, sometimes almost drowning in the horror of what human beings are willing to inflict on others, and at other times buoyed up by the courage and determination humans have to resist dehumanization and to claim respect for their humanity.
It is too soon to offer a reflection on the internal changes that may come from these eight days of pilgrimage, so, in the meantime, here is a brief illustrated synopsis of the geography of our travels and tidbits of what we learned.
Atlanta, Georga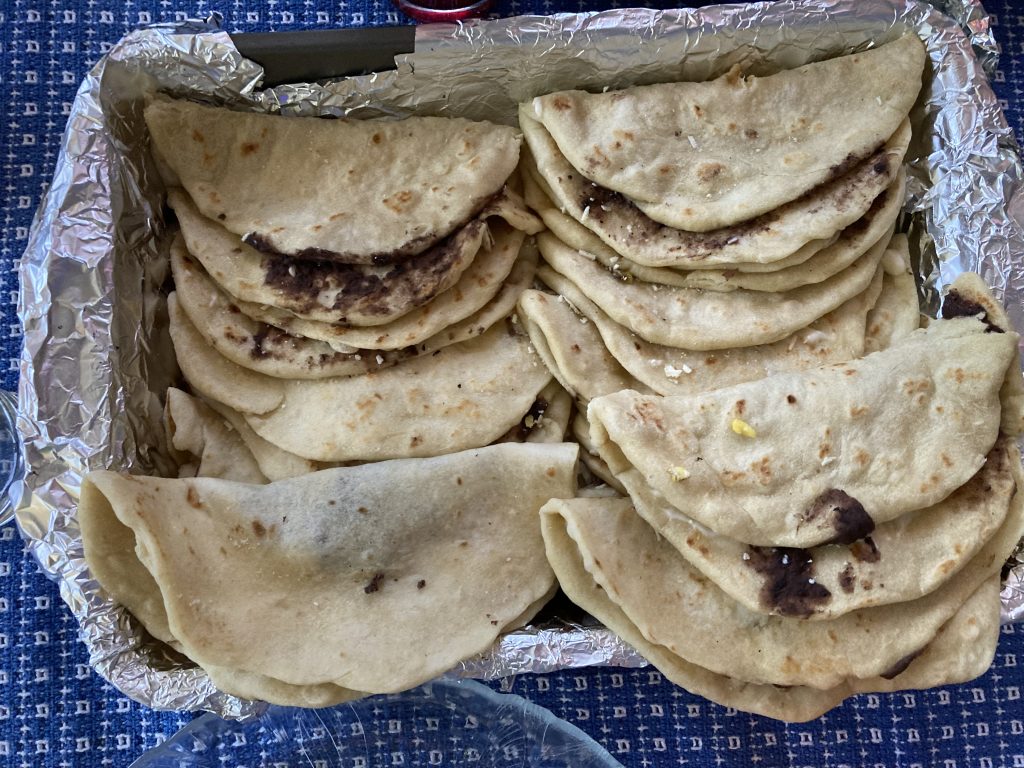 Our first meal in Atlanta, at Casa Alterna, a home for refugees. The meal of baleadas–flour tortillas with refried beans, cheese, and cream– was prepared by a young woman from Honduras, The baleadas were warm and delicious, and filled our empty stomachs as well as our hearts–receiving hospitality from a stranger who has little in material terms but is rich in gracious good will.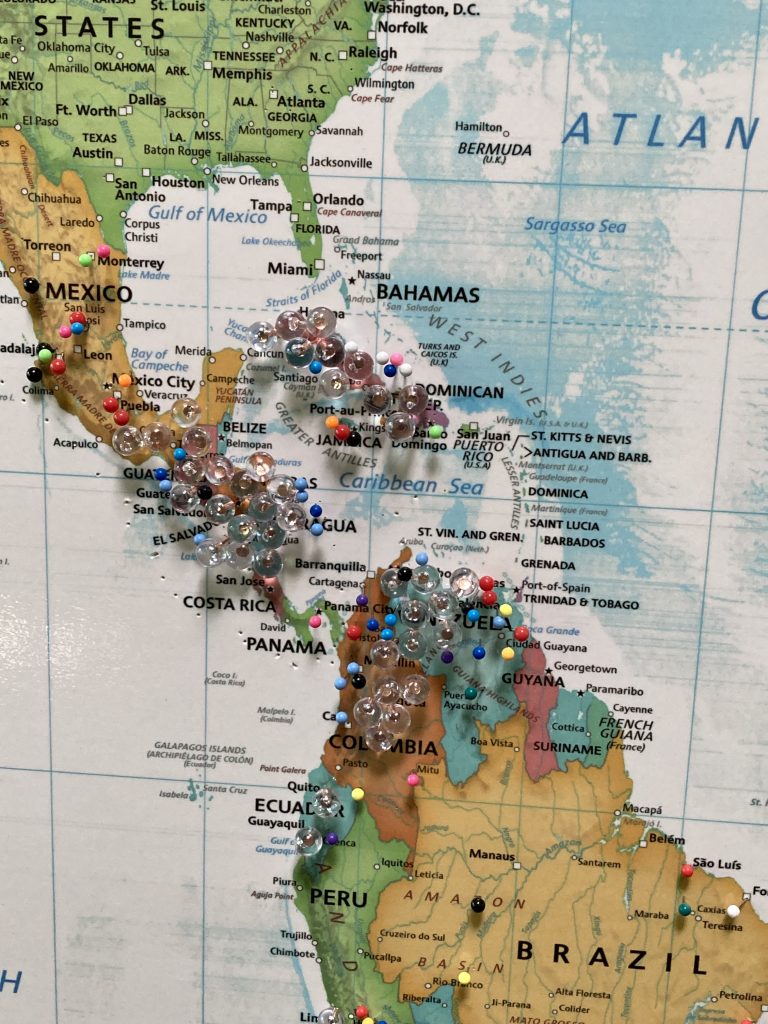 A map showing where many immigrants to Atlanta come from–posted at the Friends meeting house that provides temporary housing for some of them.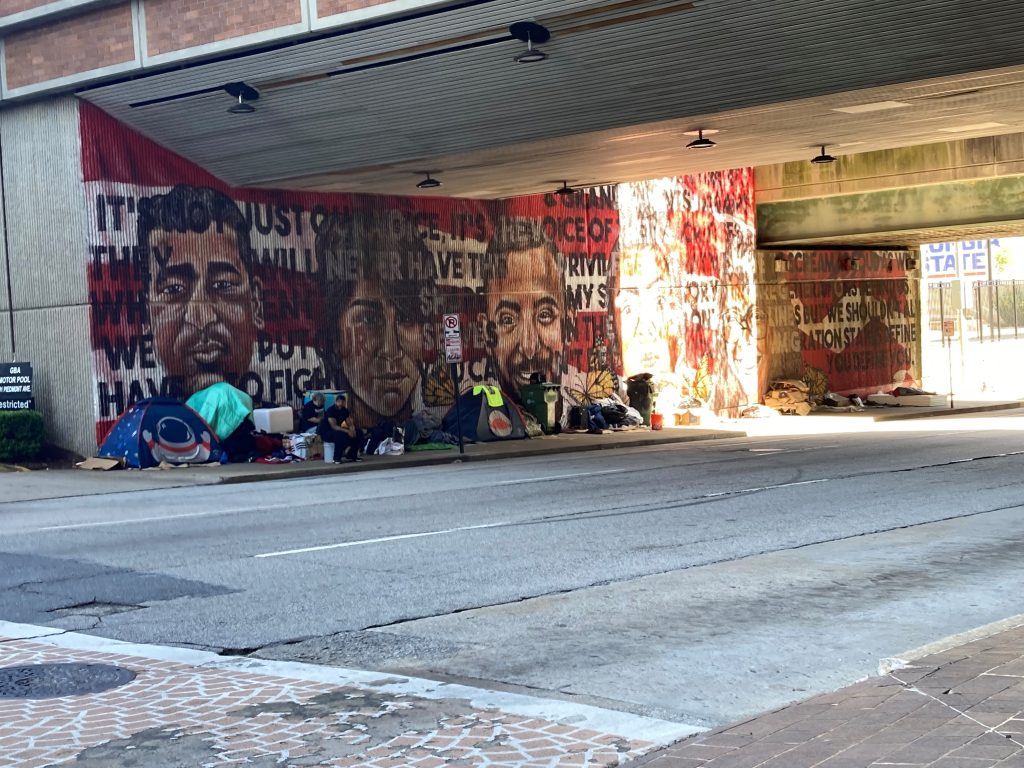 Homeless persons in front of an enormous mural about Freedom University who describe their work as, "provid[ing] tuition-free college preparation classes, college and scholarship application assistance, mental health and legal support, and social movement leadership development for undocumented students." (Freedom University (freedom-university.org). I could stand on this street, looking in one direction at this evidence of poverty, injustice, and courageous work outside the system …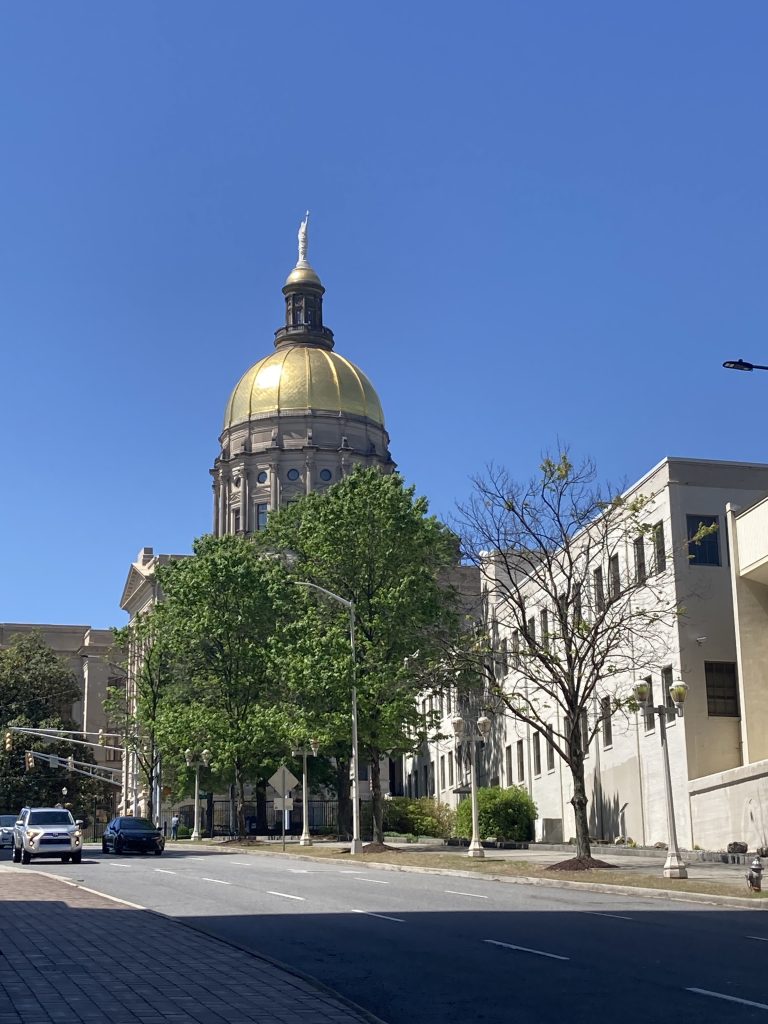 or turn the opposite direction and see the gold-domed capitol building of the state of Georga, a troubling juxtaposition of wealth and power vs poverty and disenfranchisement.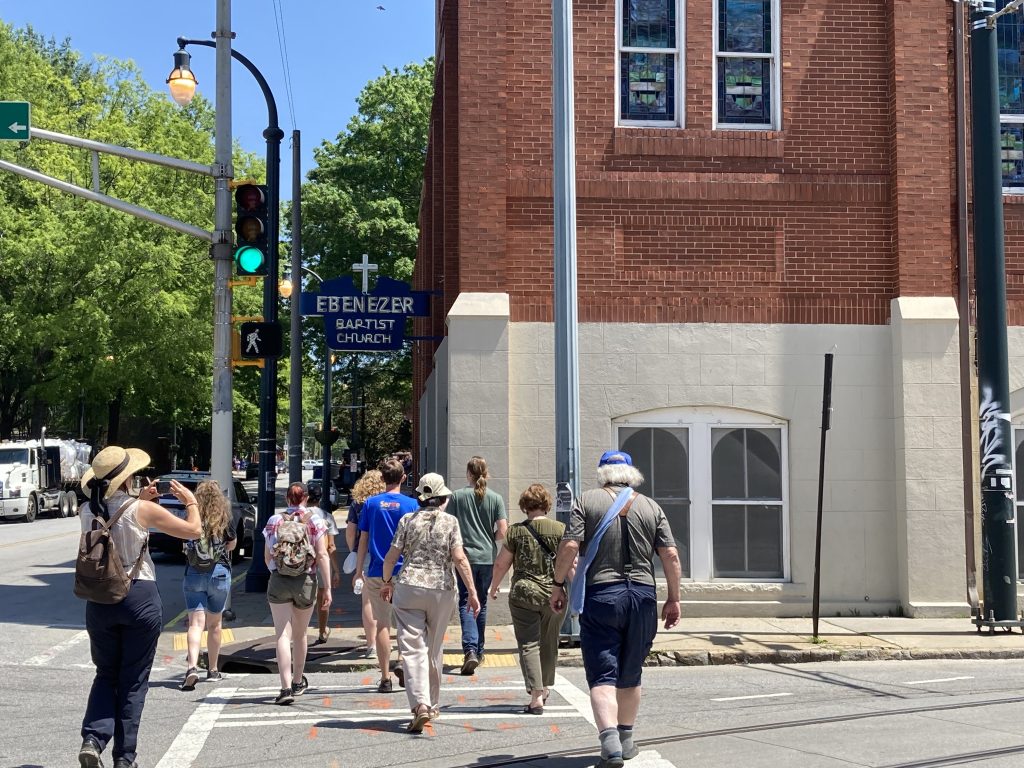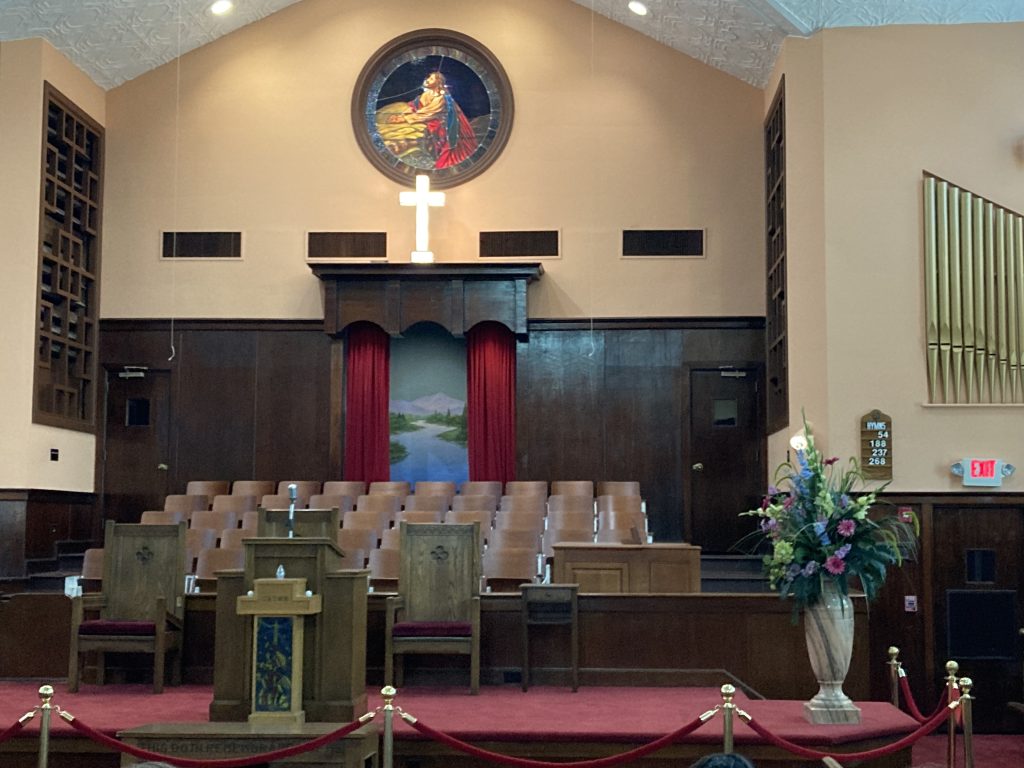 Ebenezer Baptist Church where Martin Luther King Jr's grandfather and father pastored. MLK served there briefly as co-pastor with his father before going to seminary. As we sat in the sanctuary, we heard excerpts of speeches MLK gave at various points of his life. The images I had in my mind as I sat there were from King's funeral in that warm spring of 1968. I felt again the numb sadness I had felt then.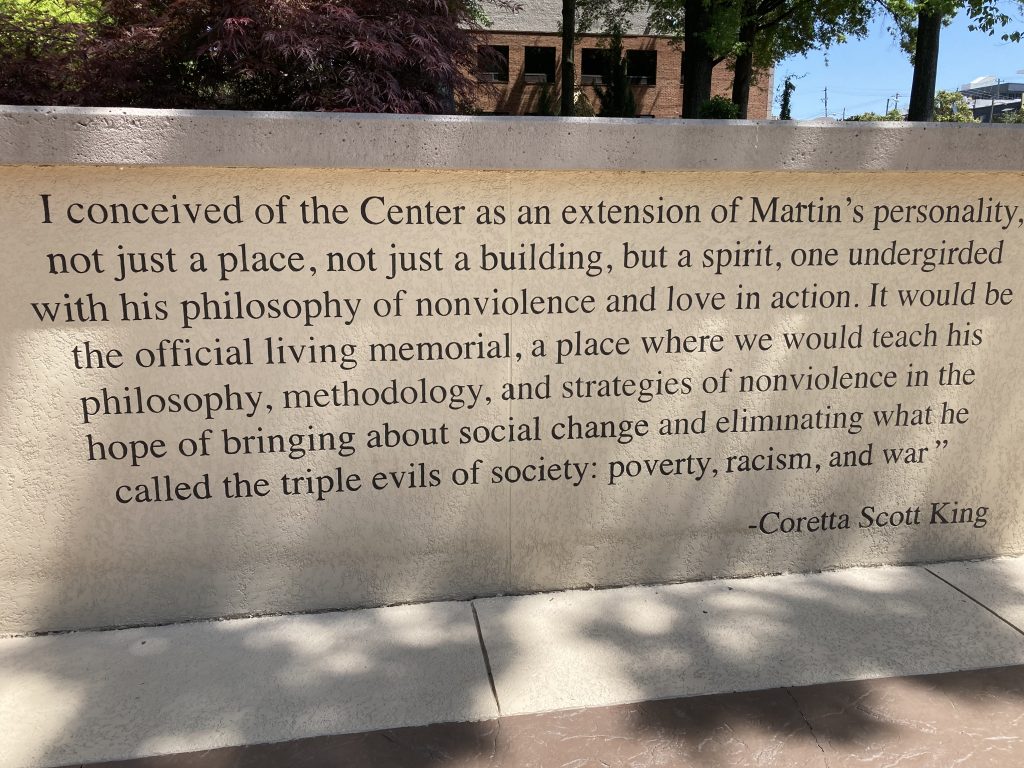 At the King Center, a spot of calm in the midst of a city going about its daily work.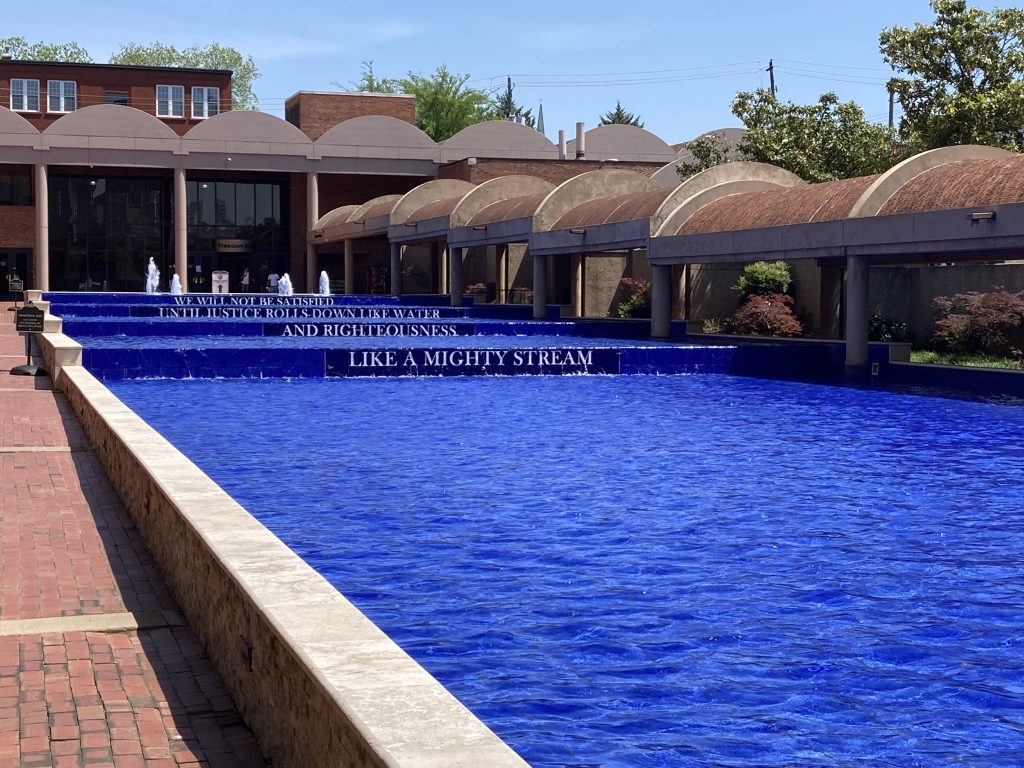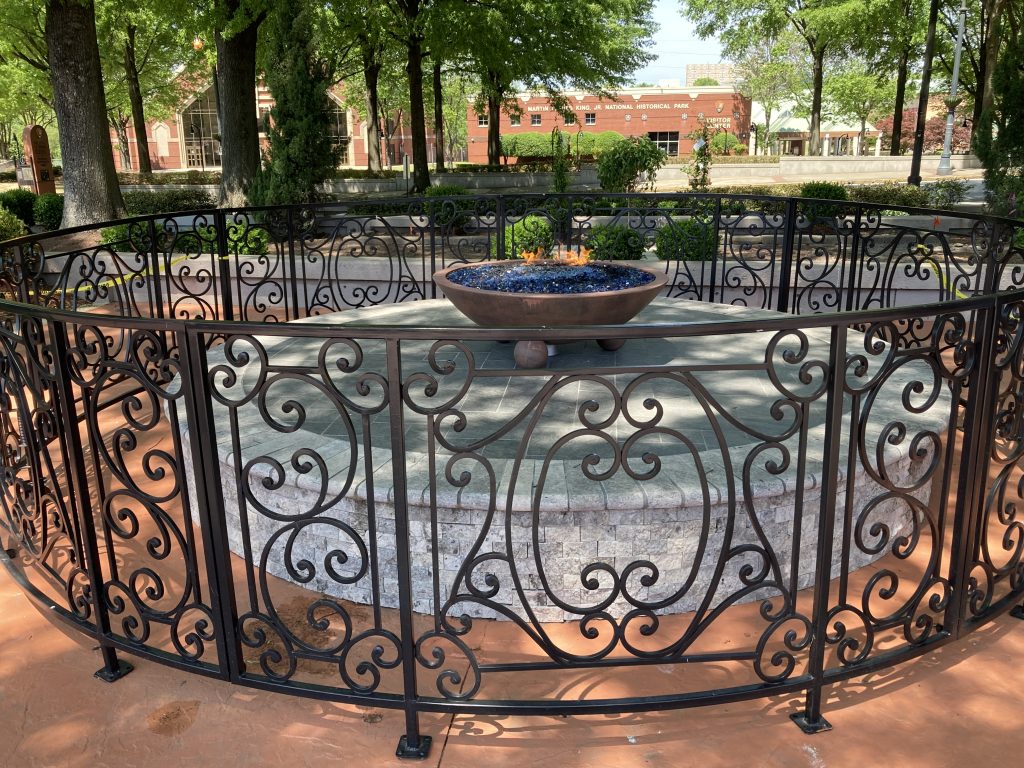 Water flowing in the hope of justice and an eternal flame that continues to spark courage and life.
Montgomery to Selma, Alabama
Sites supported by the Equal Justice Initiative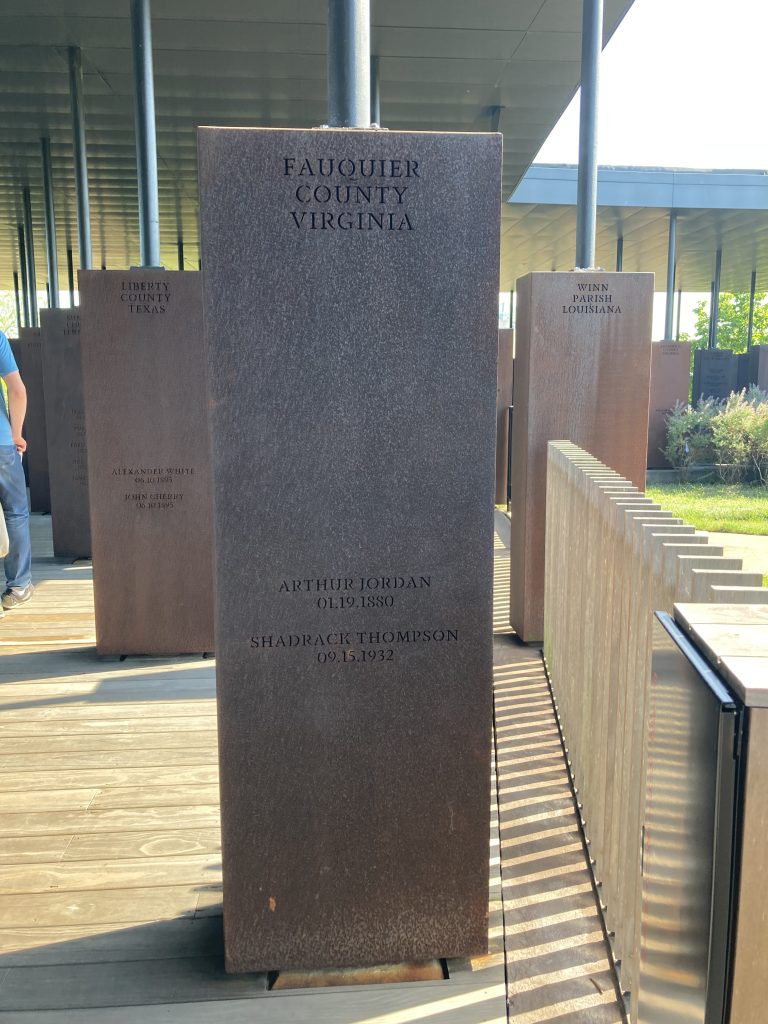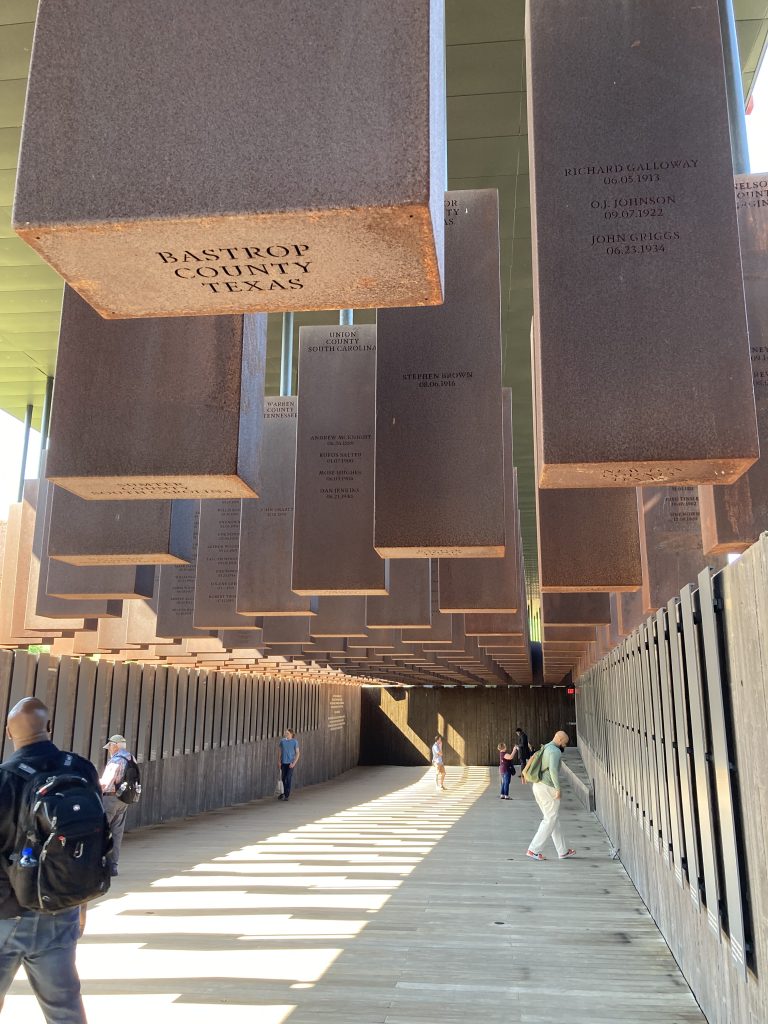 The National Memorial for Peace and Justice memorializes the more than 4,000 African American women, men, and children who were lynched in this country between 1877 and 1950. More than 800 steel coffin-like monuments, stand on the ground or hang from above, each one representing a county in which one or more lynchings took place.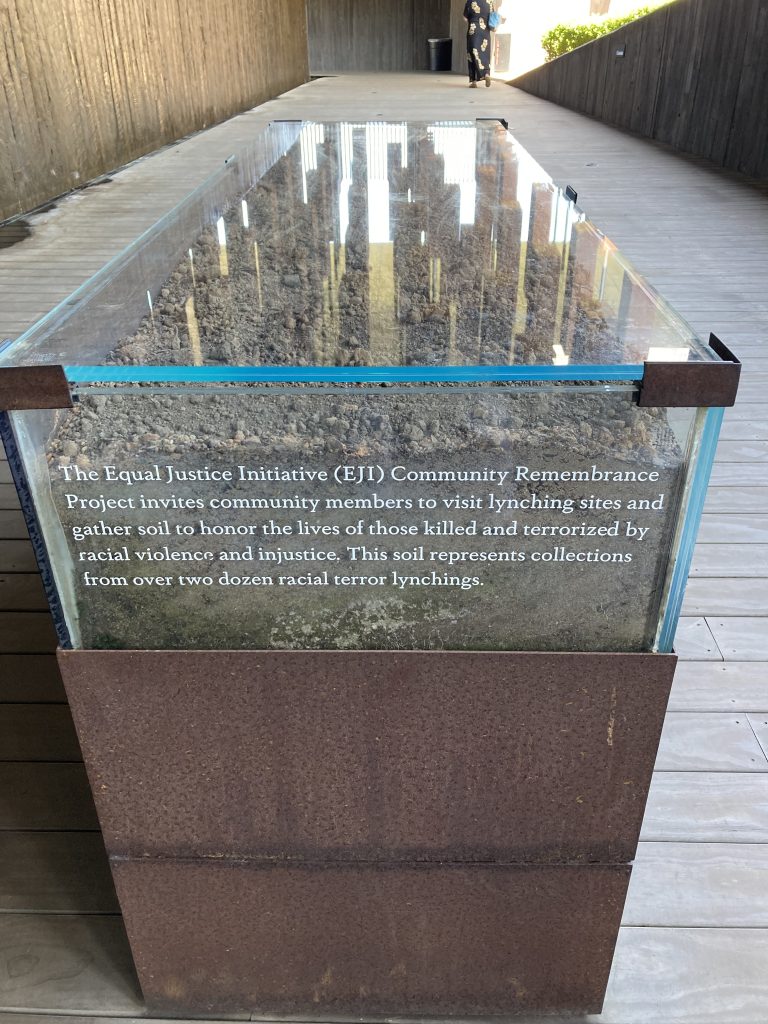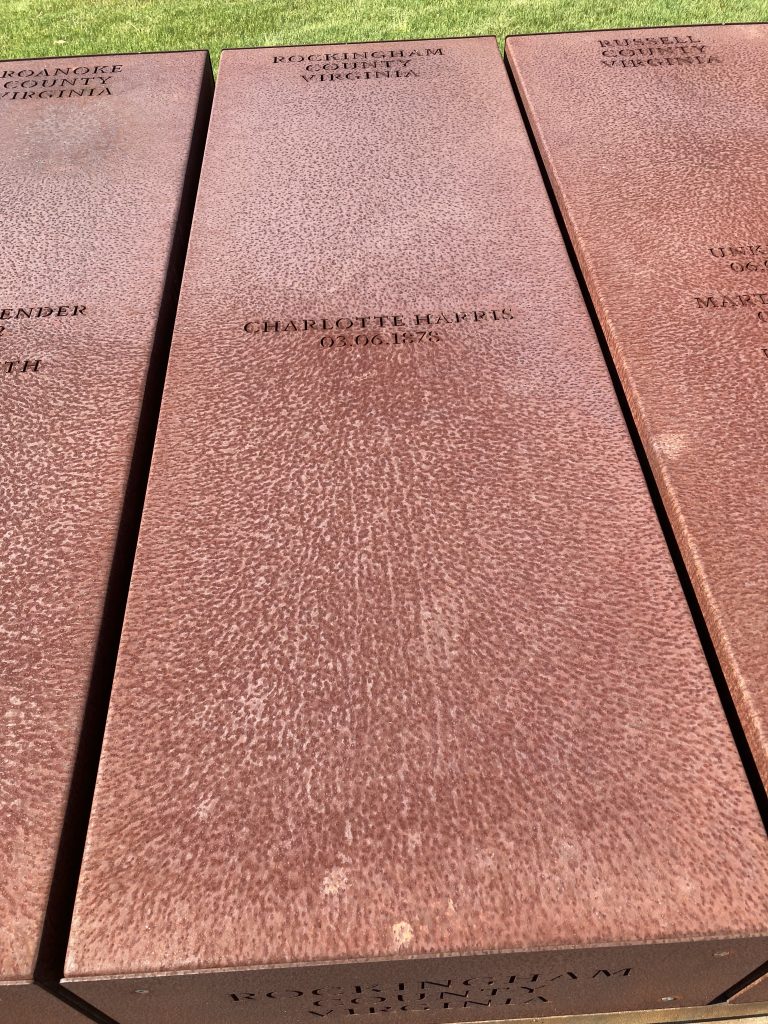 The monument on the right is for Charlotte Harris who was lynched in Rockingham County, Virginia in 1878 after a white man's barn burned down. (Rockingham is the county that surrounds Harrisonburg where I live.)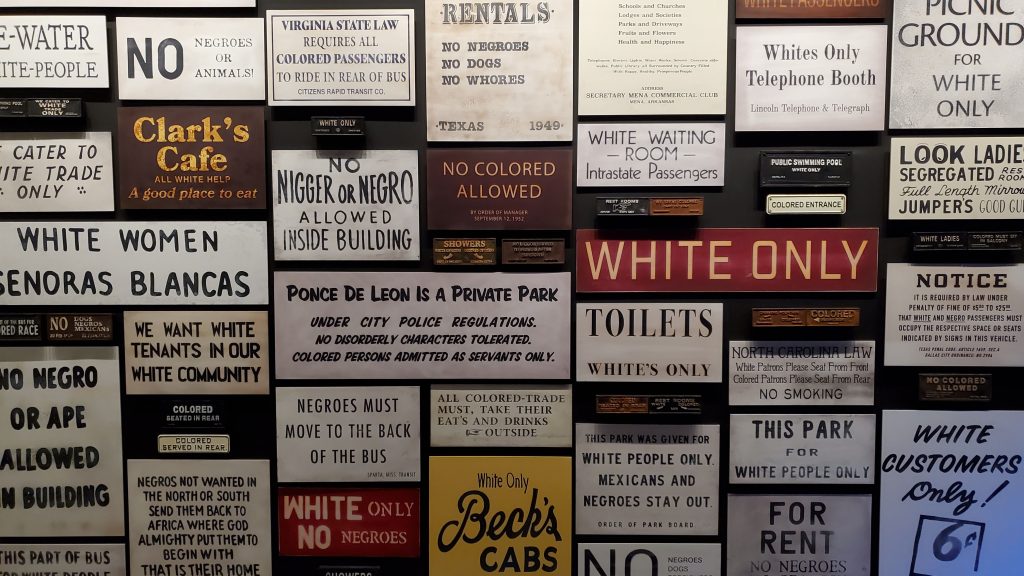 The Legacy Museum offers an intense, multi-sensory presentation of our country's history of racial injustice–from slavery to reconstruction to the Jim Crow south, the Great Migration, and current mass incarceration. It also gives a clear and powerful picture of the ways African Americans have resisted this system of oppression in creative and costly ways. (Photo by Tom Sawin)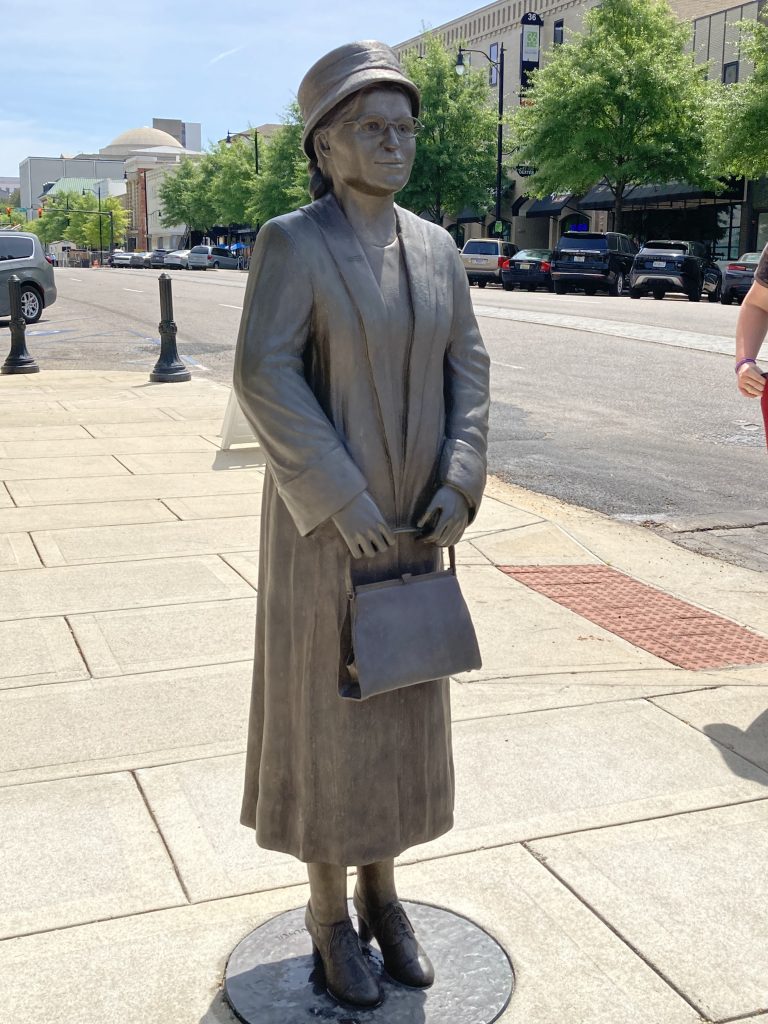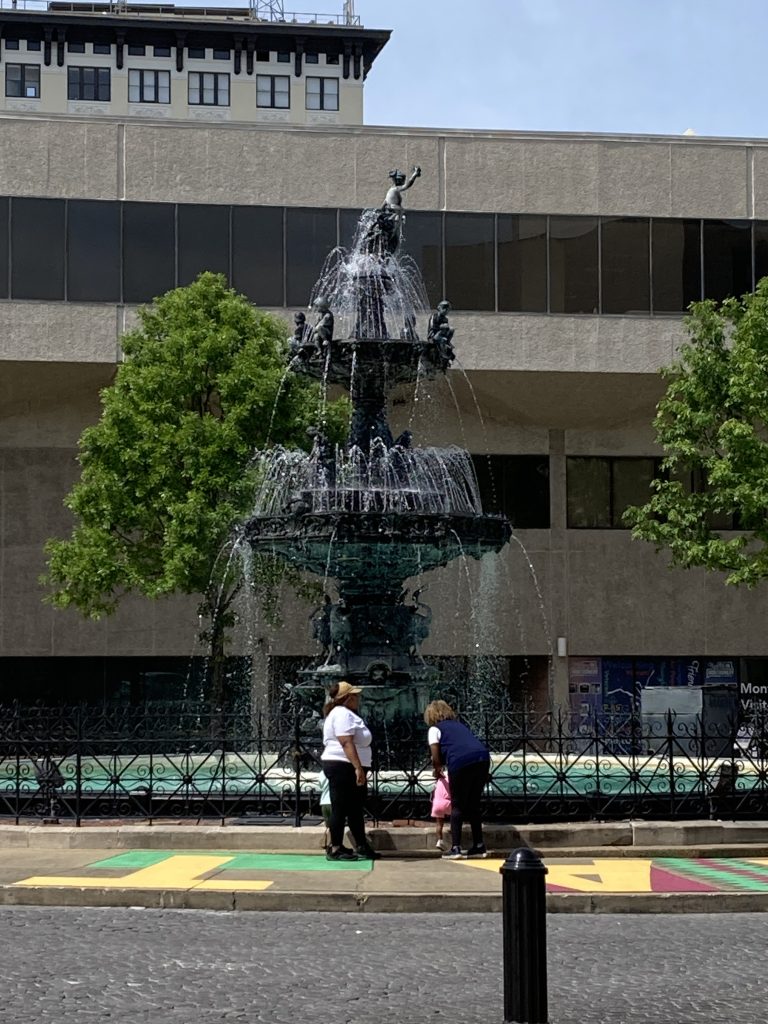 A Montgomery square packed with history. On one corner stands Rosa Parks waiting outside her place of employment for the bus seat she refused to give up. She is facing a fountain in the center of the square that marks the site of the city's largest slave market.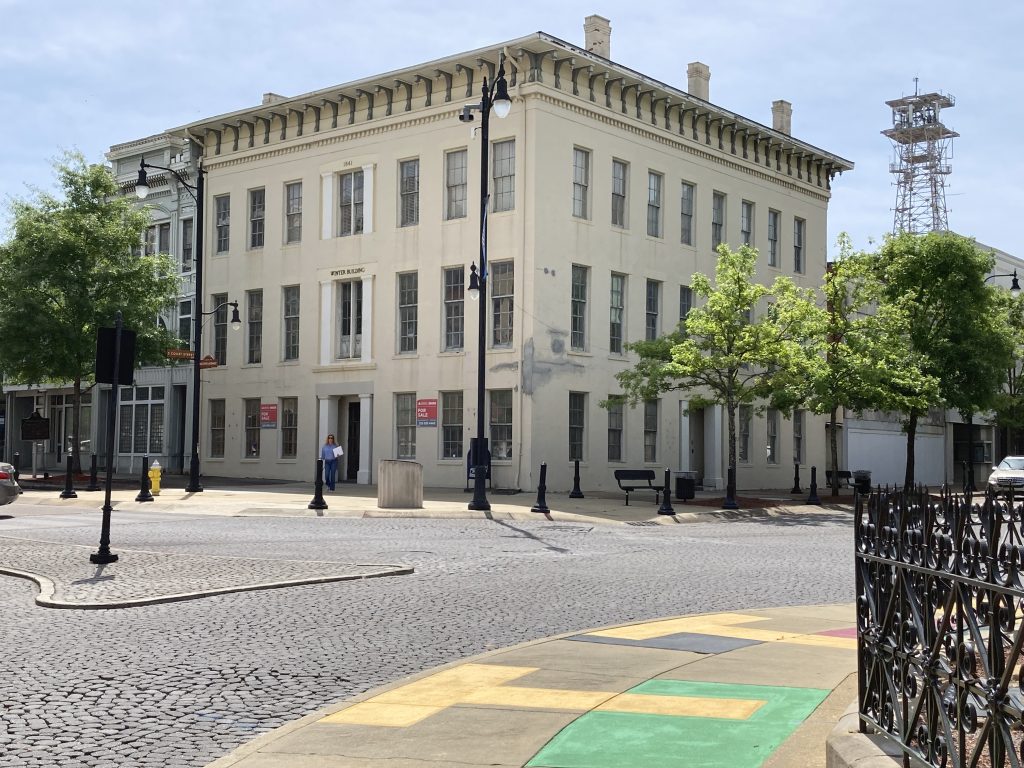 The Winter Building, directly across from the Rosa Parks statue. During the Civil War, the second floor housed the Southern Telegraph Company from which LeRoy Pope Walker, the Confederate States Secretary of War, sent a telegram to General Beauregard, telling him to fire on Fort Sumpter. This attack on a Union fort marked the beginning of the Civil War.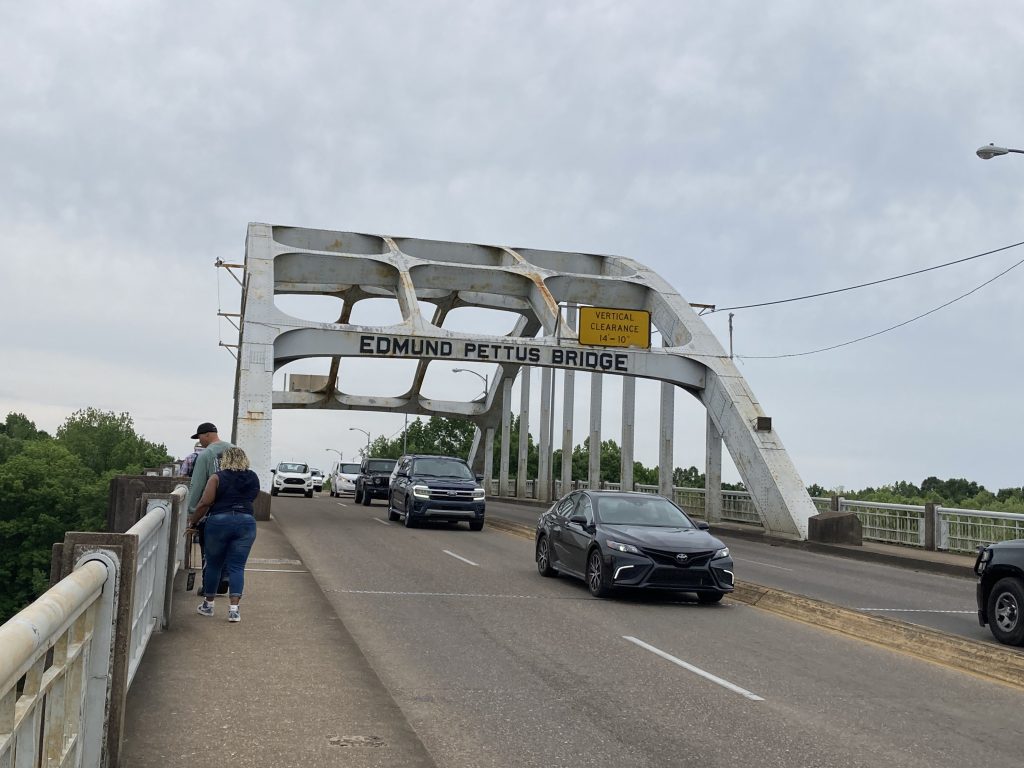 We followed the route of the Selma to Montgomery civil rights march in reverse–in our air-conditioned bus, sitting comfortably for the hour long, fifty-three-mile drive rather than the five days, four campsites, three deaths, and three violent incidents that our guide/bus driver listed as facts to remember about the march. He was twelve years old at the time and participated in the last part of the march but not the bloody beginning.
Philadelphia and Jackson, Mississippi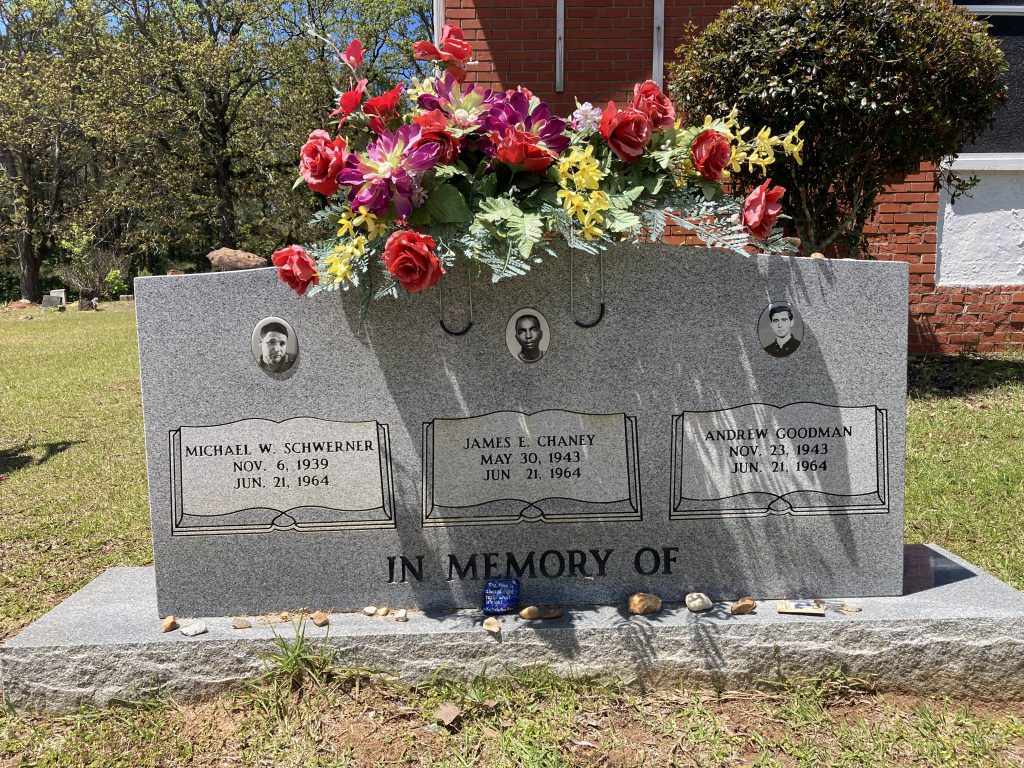 Philadelphia in Nashoba County, Mississippi is the place where three civil rights workers were killed in 1964. We saw several memorials to them, this one at a church which had been burned down and since rebuilt. The three young men were apprehended after visiting this site the day after the burning.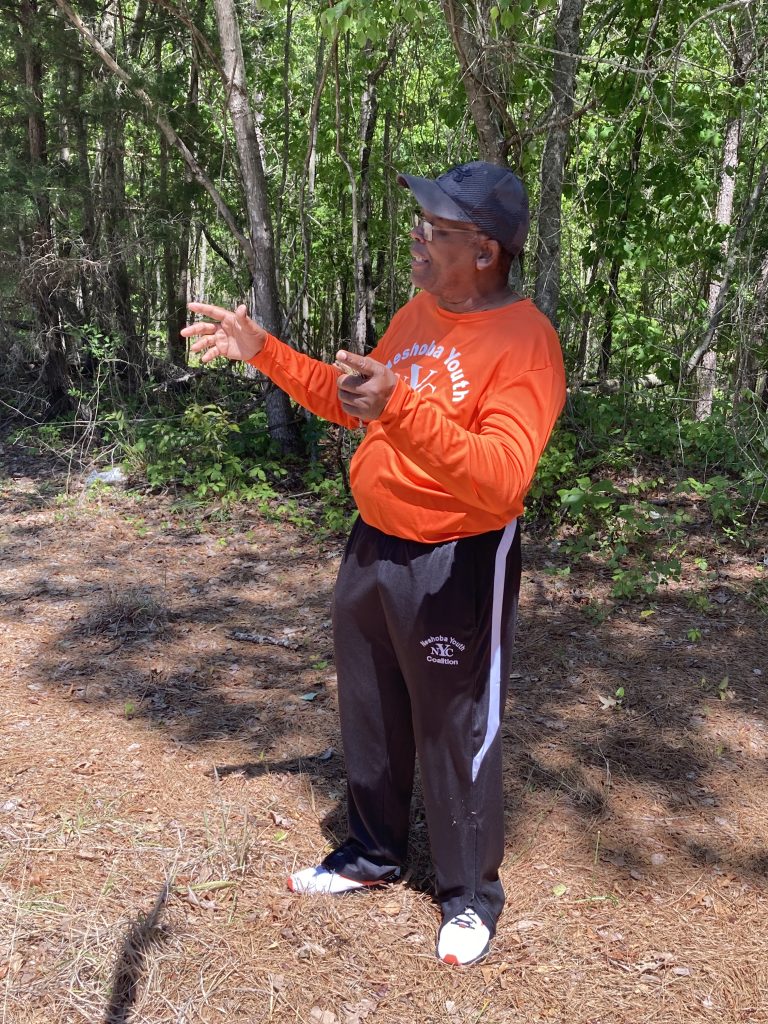 Leroy Clemons, our guide for the day, telling us about the deaths of the three at the actual site where they were killed.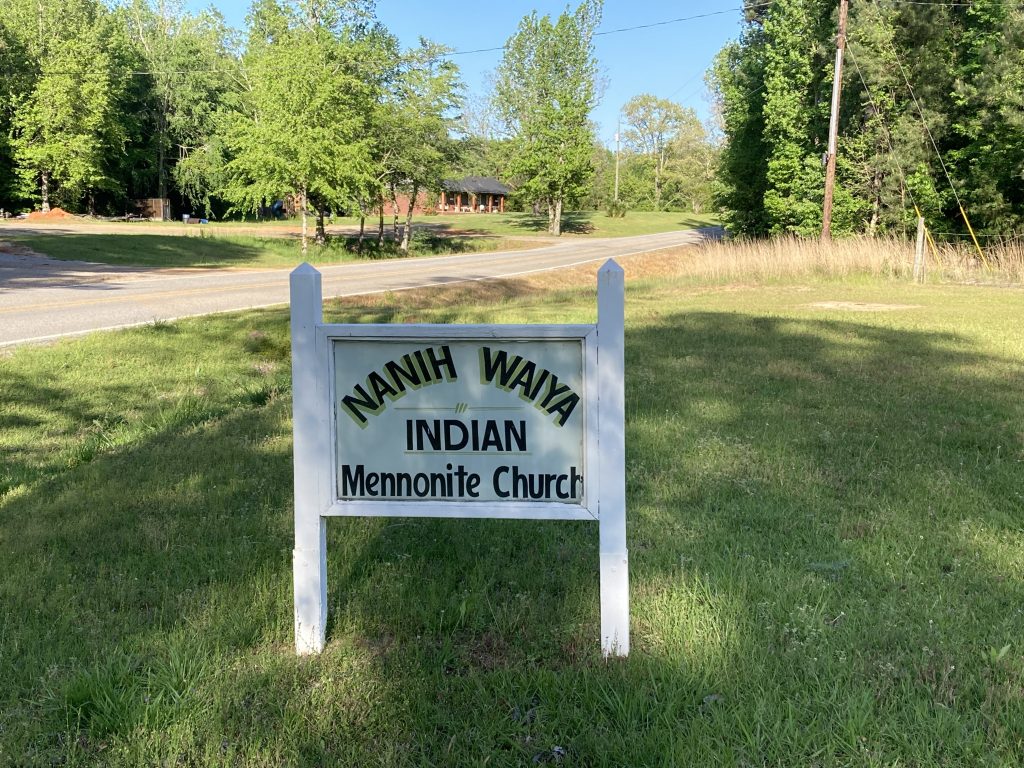 During our visit to Nanih Waiya Church we heard stories from its Choctaw members about some of the difficulties they faced as Native American people in this highly segregated area (their church was bombed three times during the mid-1960s) and the struggles that continue today.
Jackson, Mississippi
Mississippi Civil Rights Museum describes itself this way:
Emmett Till. Medgar Evers. Fannie Lou Hamer. Vernon Dahmer. These are more than names. These are the flames that continue to fuel change. From shackles to mugshots, marches and speeches, share the spark of courage and hope at the Mississippi Civil Rights Museum. (Home | Two Mississippi Museums) Coming at the end of a week of taking in stories and events, I felt like I didn't do this justice. One memory is a large wall full of mug shots, all participants in the struggle, none of them famous. Yet the contribution of each was valuable. As our guide stated, movements are not primarily about leaders, but about all those ordinary people who participate.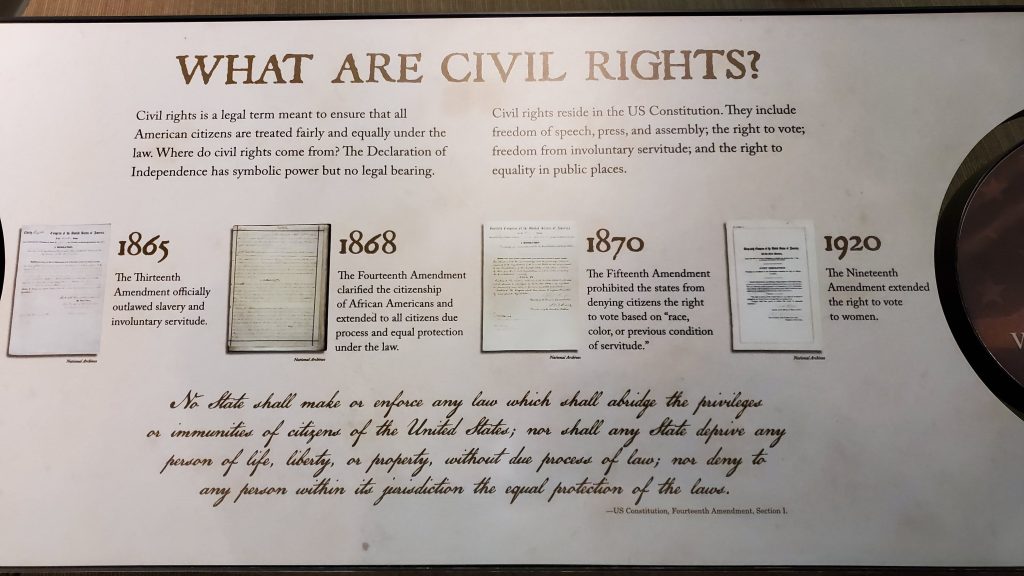 It's hard to take pictures in museums–too many people and too many displays–how to choose. (Photo by Tom Sawin)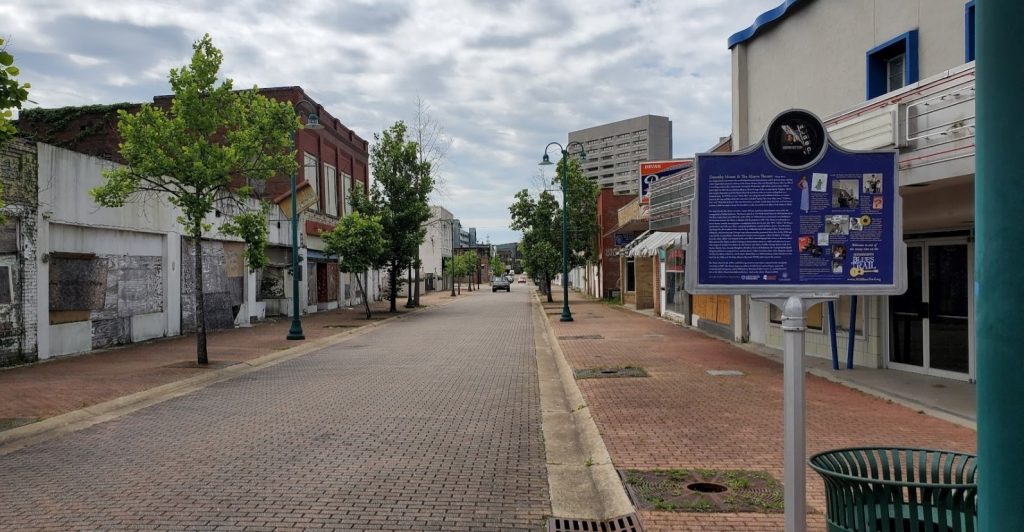 This area of Jackson, Mississippi that had once been a thriving black community died once integration took place–one of the unintended consequences of integration. Because people could now shop at more upscale white stores, business here slowly ground to a halt. Recently, funds allocated for renewal somehow "disappeared," so the project has not been completed. (Photo, Tom Sawin)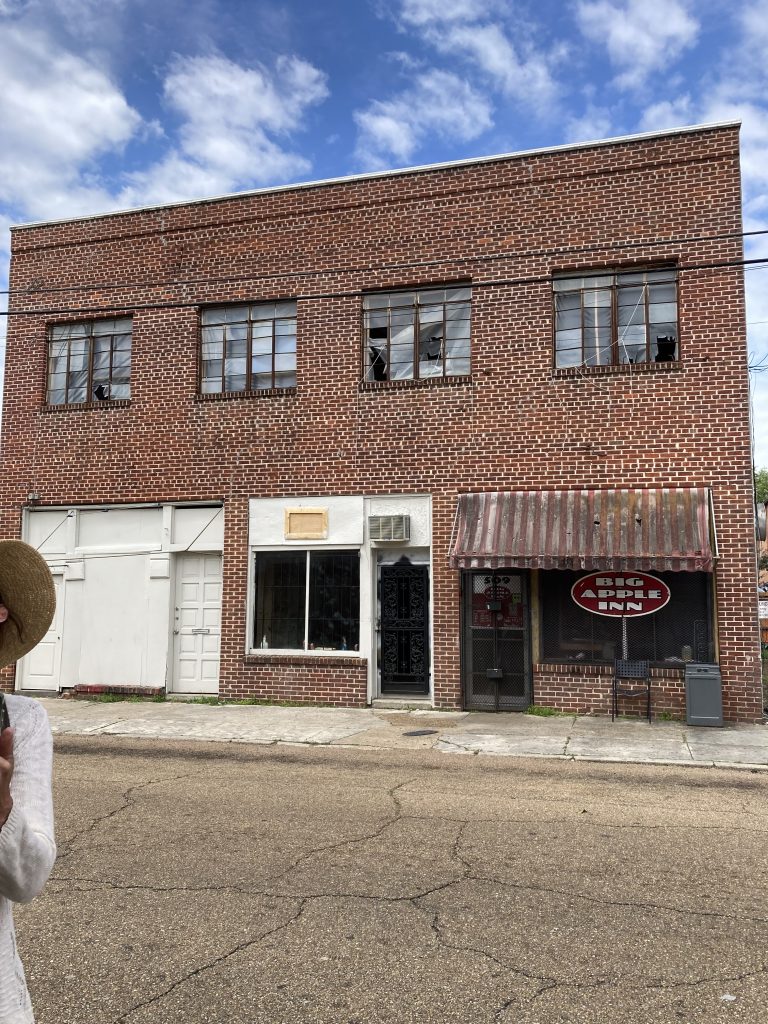 This building was used by both NAACP and SNCC during the 1960s–the right-hand upstairs window is where Medger Evers office was.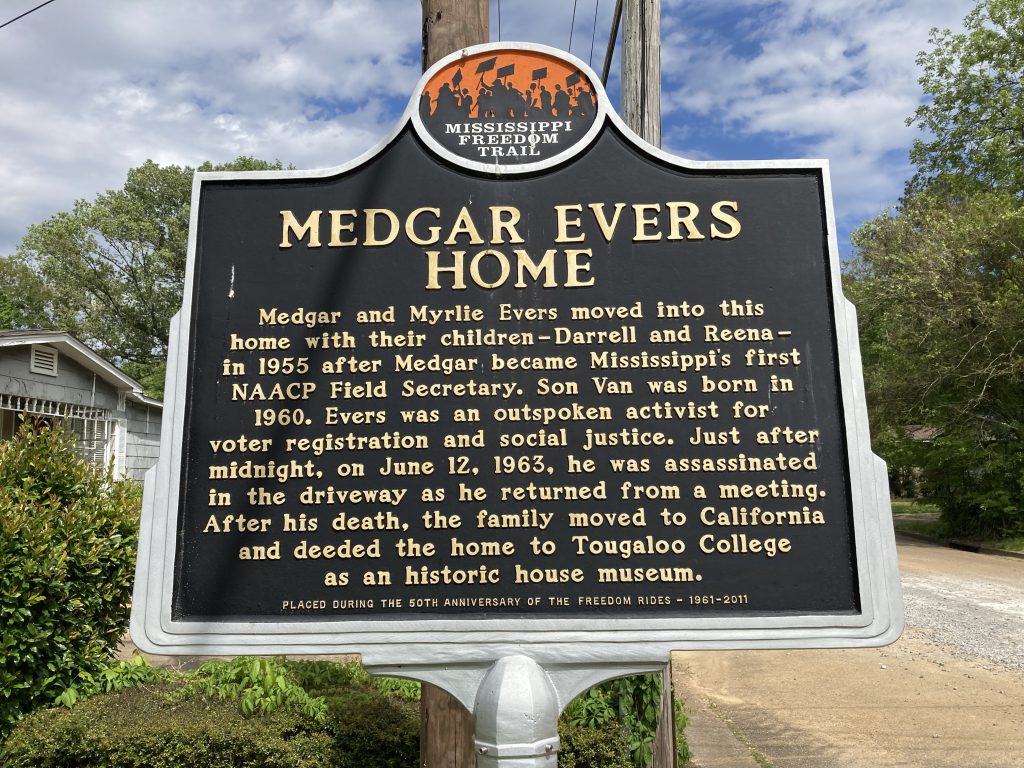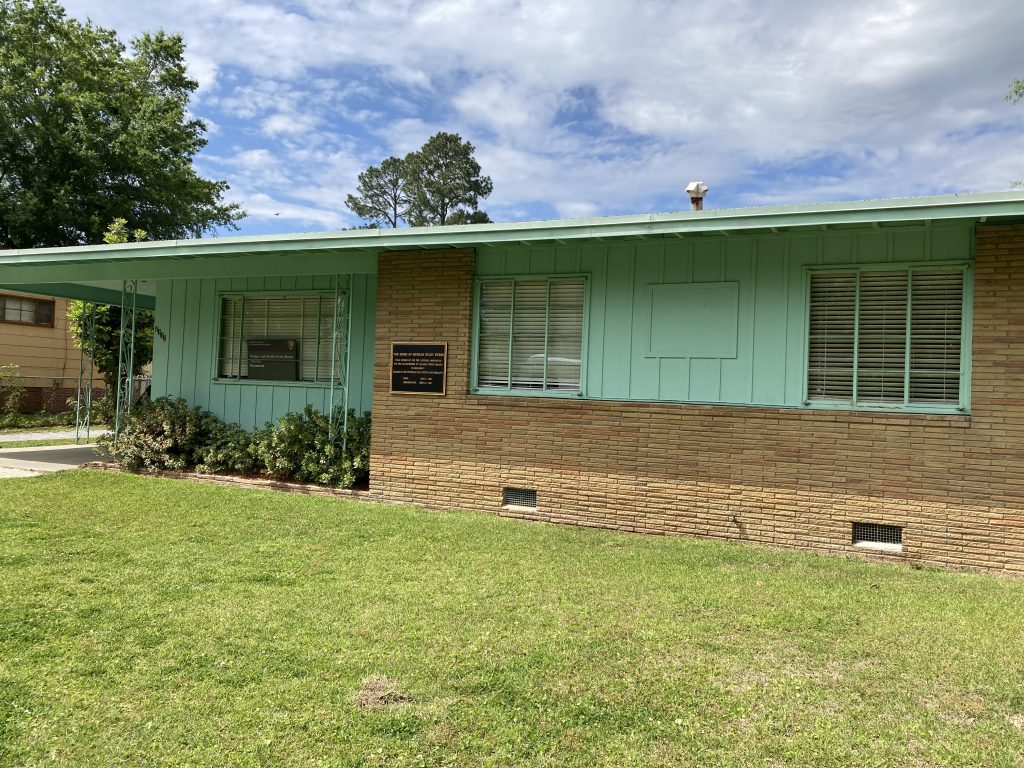 Evers knew the work he did made him and his family targets. He had the roof of their home covered with gravel so it wouldn't easily ignite. The brick walls were built higher than his children's beds to protect them from bullets. There is no front door, and the refrigerator was put on wheels so, if necessary, it could be used as a barricade inside the back door. Unfortunately, the car port where he was shot was not bulletproof.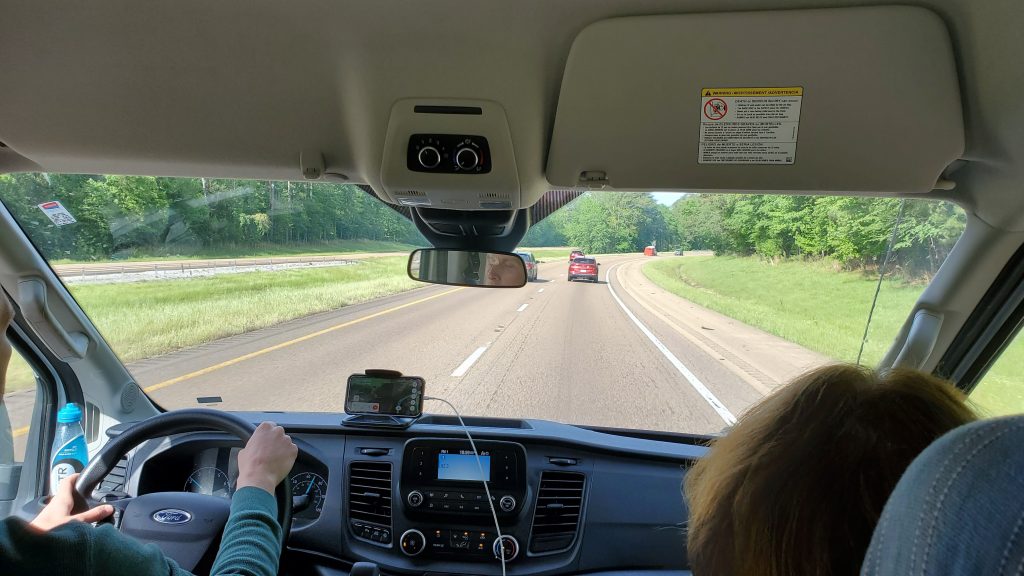 Our long, long drive home, more than thirteen hours:
Jackson
Meridian
Birmingham
Chattanooga
Knoxville
Kingsport
Bristol
Roanoke
Staunton
Harrisonburg