Our Sanitorium in the South of France
We didn't know it would become that when we started. It was just our fourth "cousins' trip" organized by my cousin Doug, the youngest of my Lehman cousins. He loves to travel and apparently loves to do it, even with relatives. Our first trip took place twenty years ago—a trip to Paris to celebrate Wayne turning 60.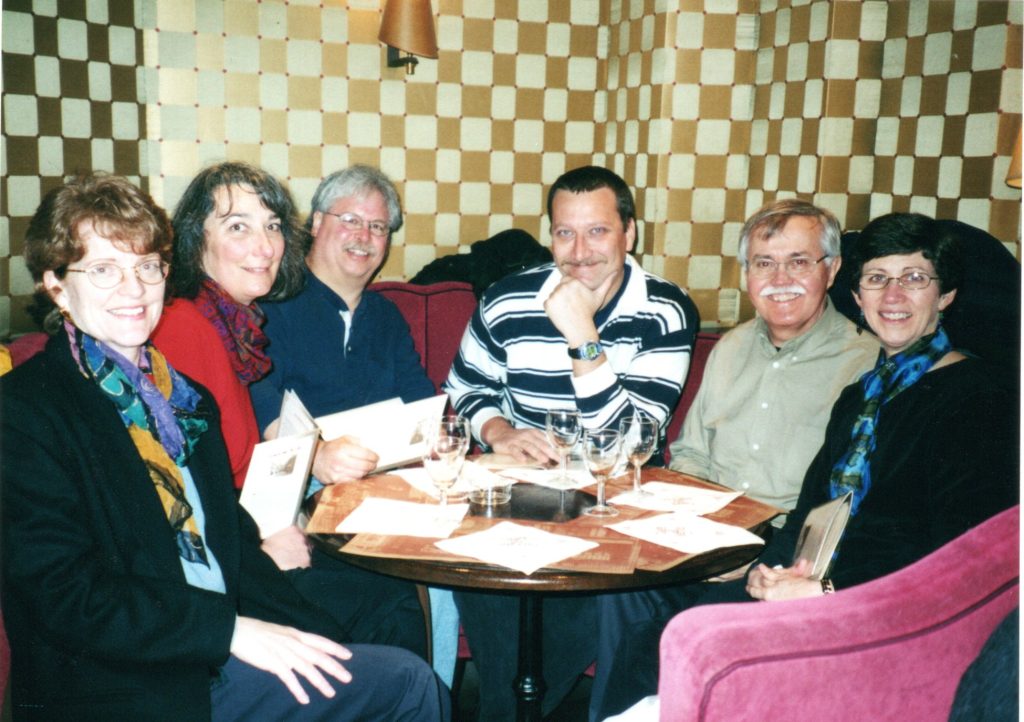 This year our trip had no particular event to celebrate other than being together in quaint and unfamiliar surroundings—no agenda other than relaxing and have an enjoyable time together. We stayed in one place the entire nine days. However, the participants rotated in and out, four couples arriving and leaving according to what suited them. At no point were we all there together. But Wayne and I, along with cousins Judy and Doug were the fortunate ones, seeing everyone who came and went.
Arriving in a new place almost never matches the pictures I've created in my head, and this was no exception. When we entered the narrow streets of Combas (in the Department of Gard), I assumed we were taking the scenic route to our house, but we weren't. We were going there directly, on streets so narrow we almost had to fold in the side mirrors at points to inch (or is it centimeter) by. We parked a short distance from the house—definitely no on-street parking!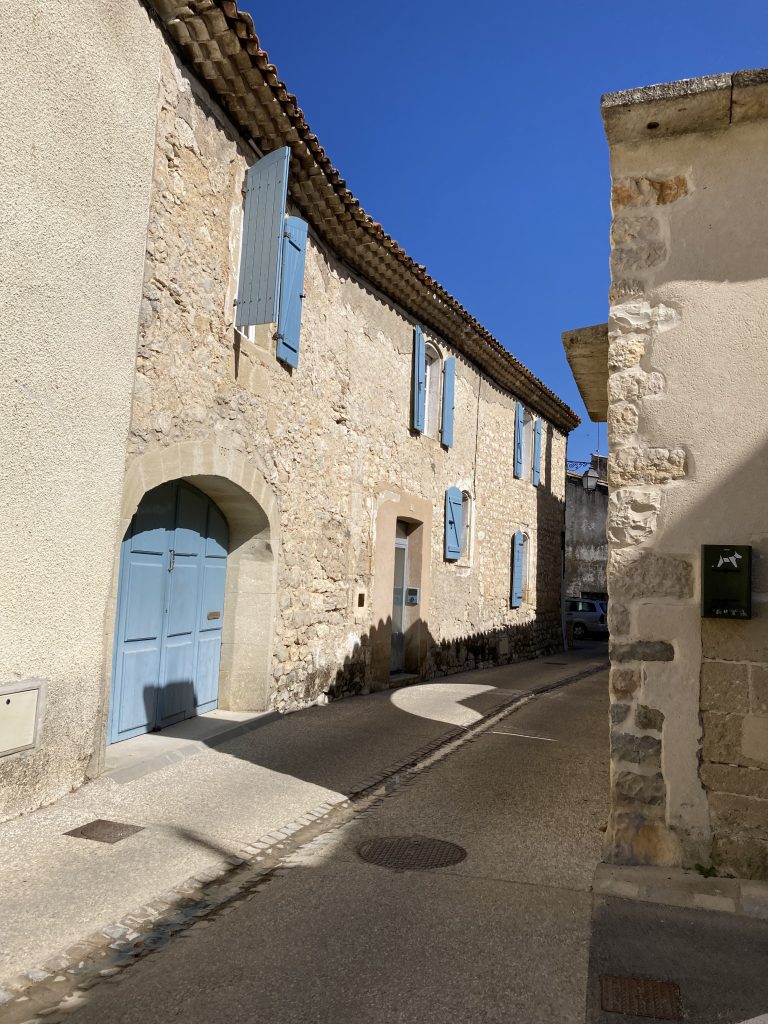 Our house was old (some of it built in 1770), part rustic, and part modern, including a microwave and dishwasher.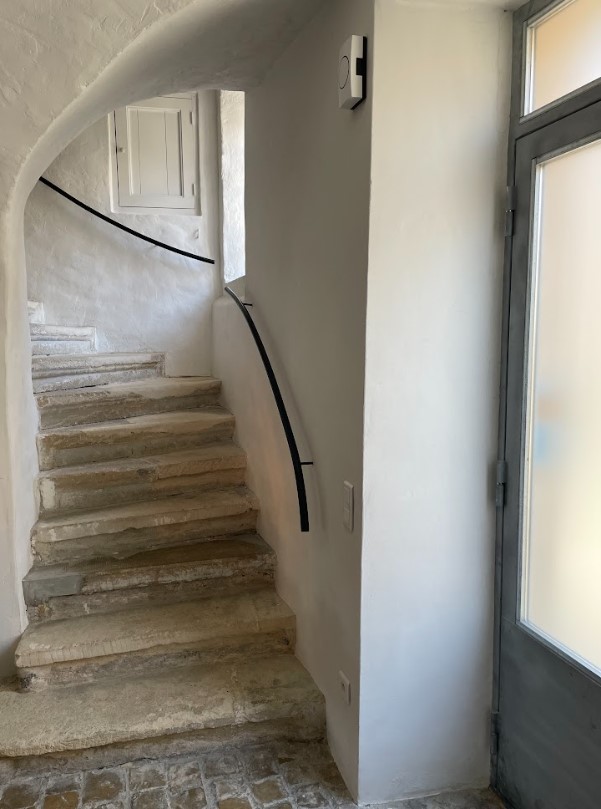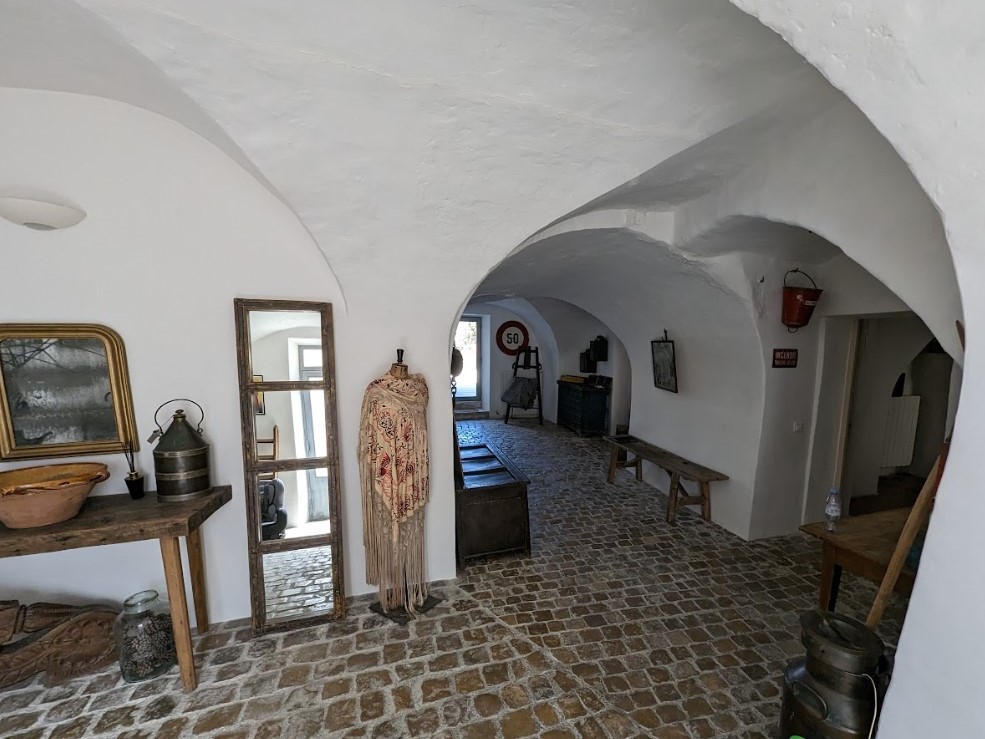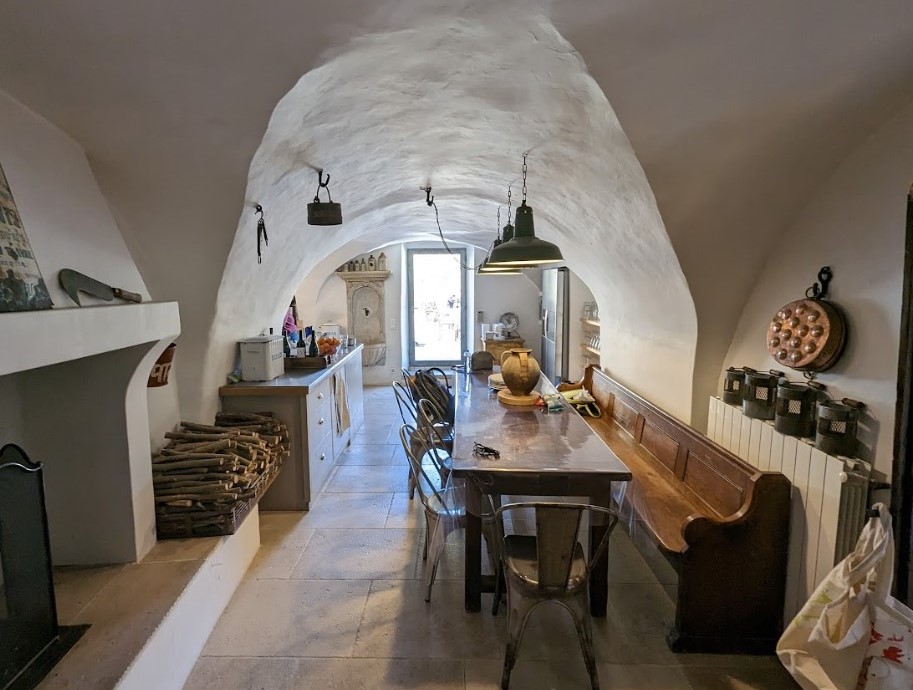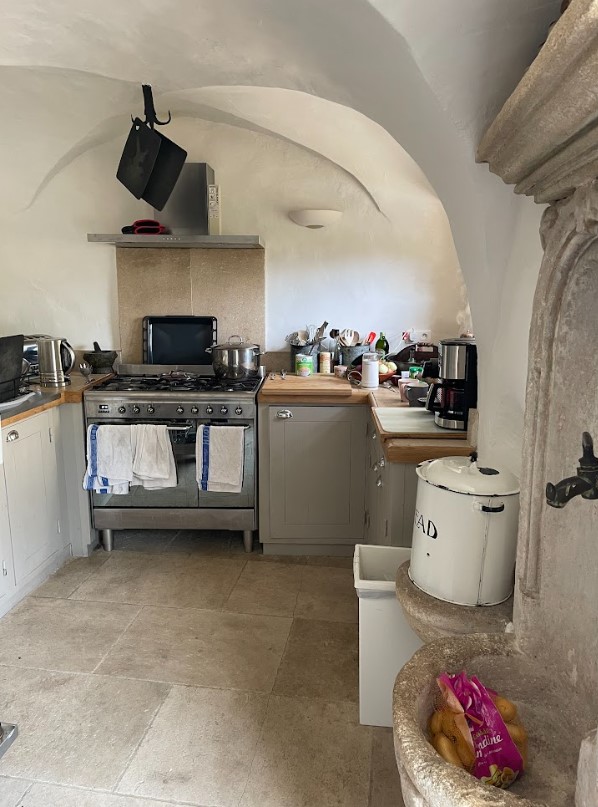 Usually, on our trips we eat out at least a few times, but not this year. We dined in style, right at our own place of lodging. Our first evening's meal was gathered at a grocery store, no cooking involved, but with good bread, excellent cheese, and great wine, what else did we need?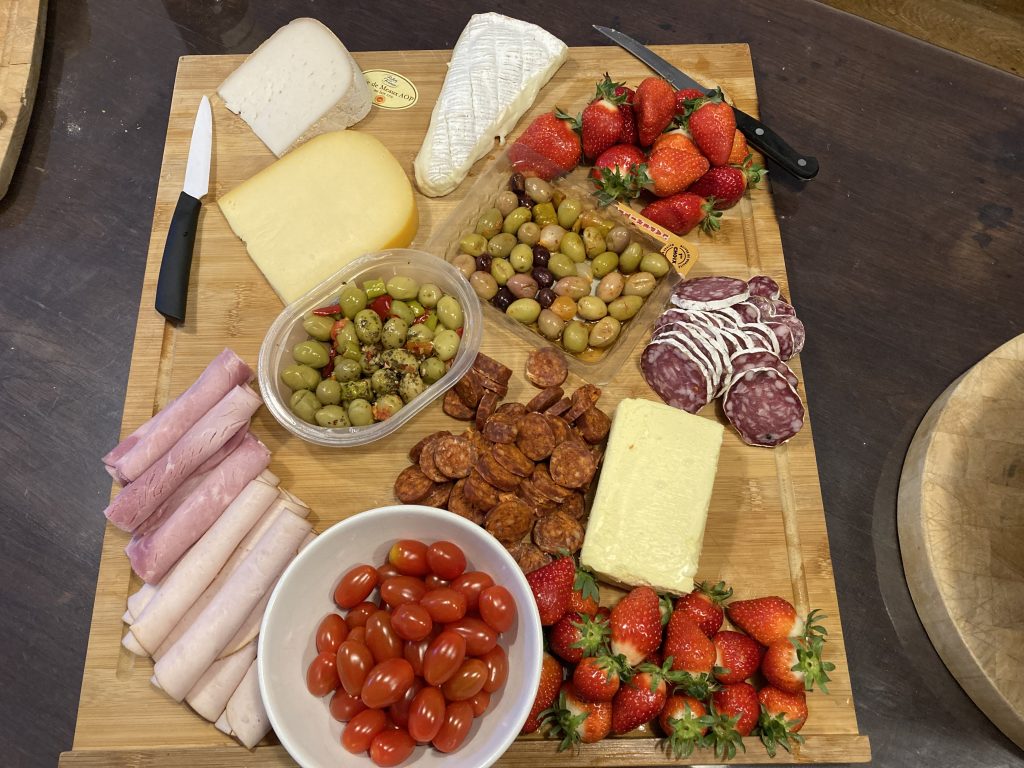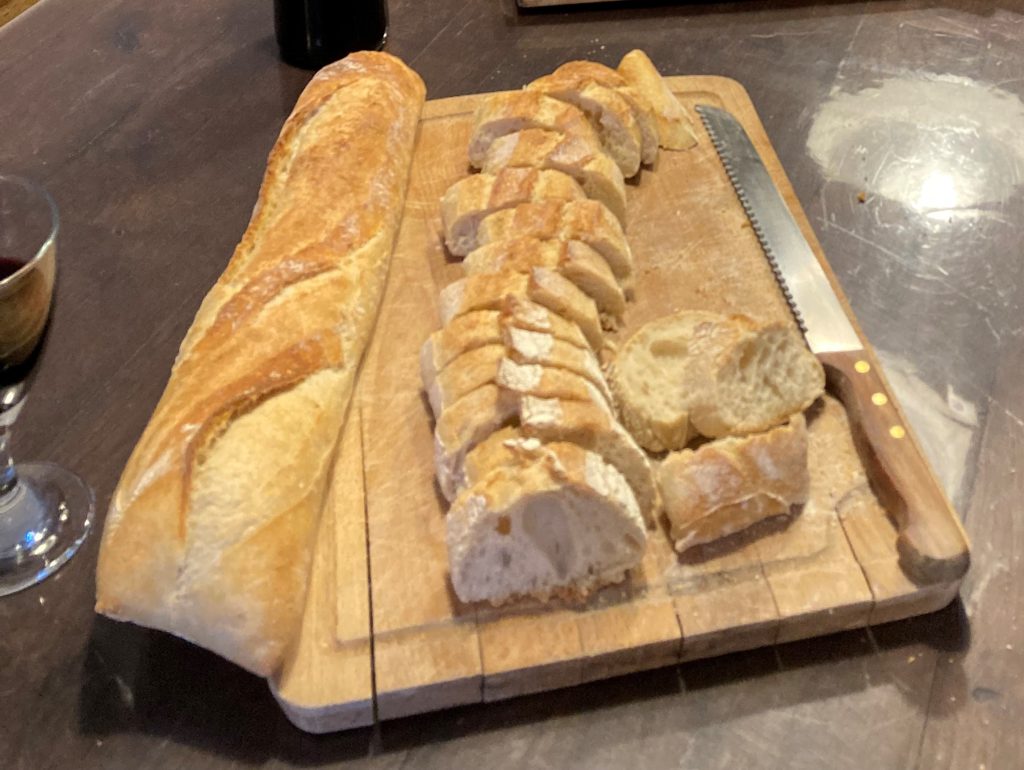 Since food was high on the list of enjoyable things, we took every opportunity we could to go to local outdoor markets. It was hard to limit ourselves to what we could reasonably consume in the days we would be there, but we tried!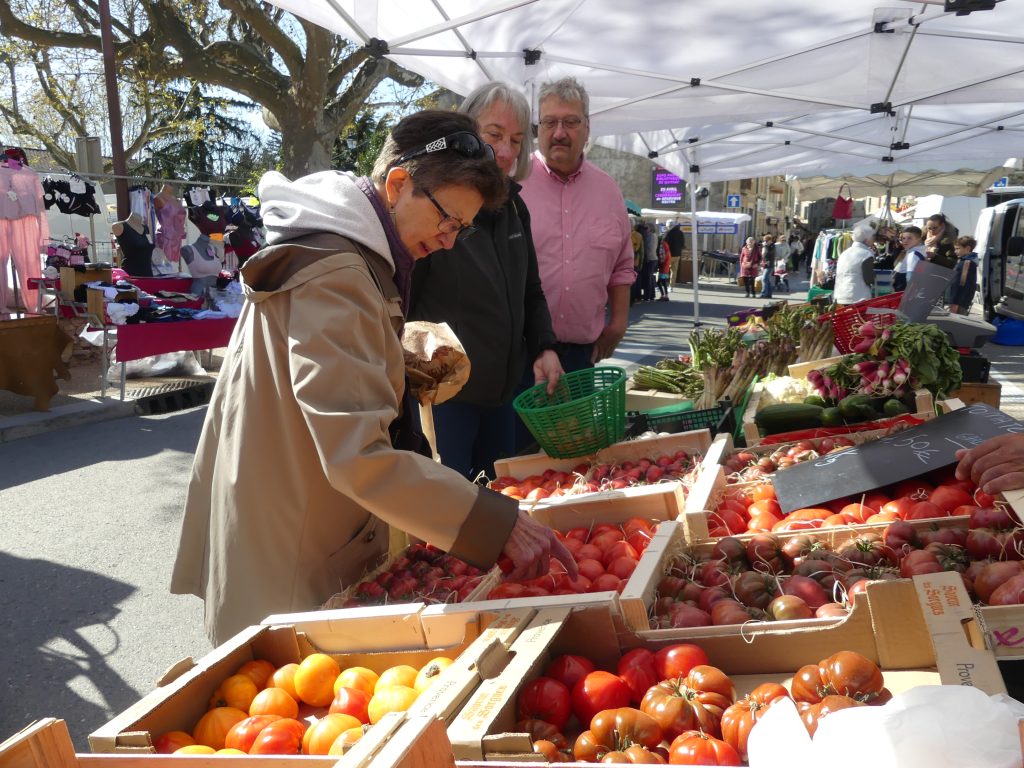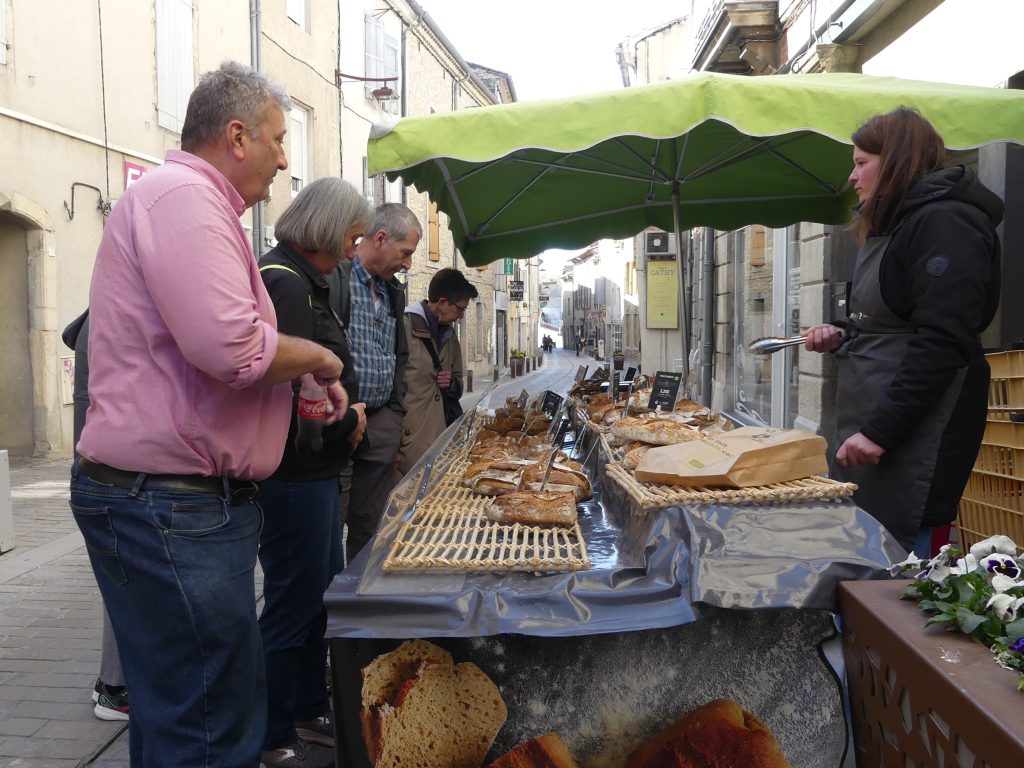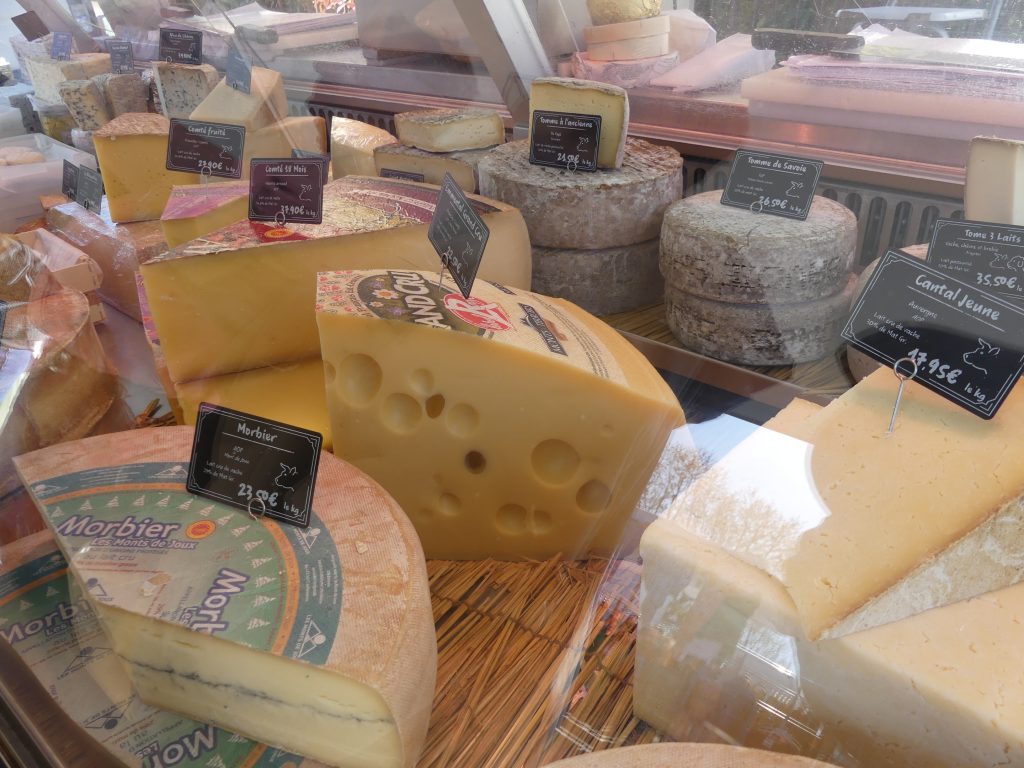 Once home again we surveyed our purchases (minus the Equal Exchange coffee that come from Main Street in Harrisonburg).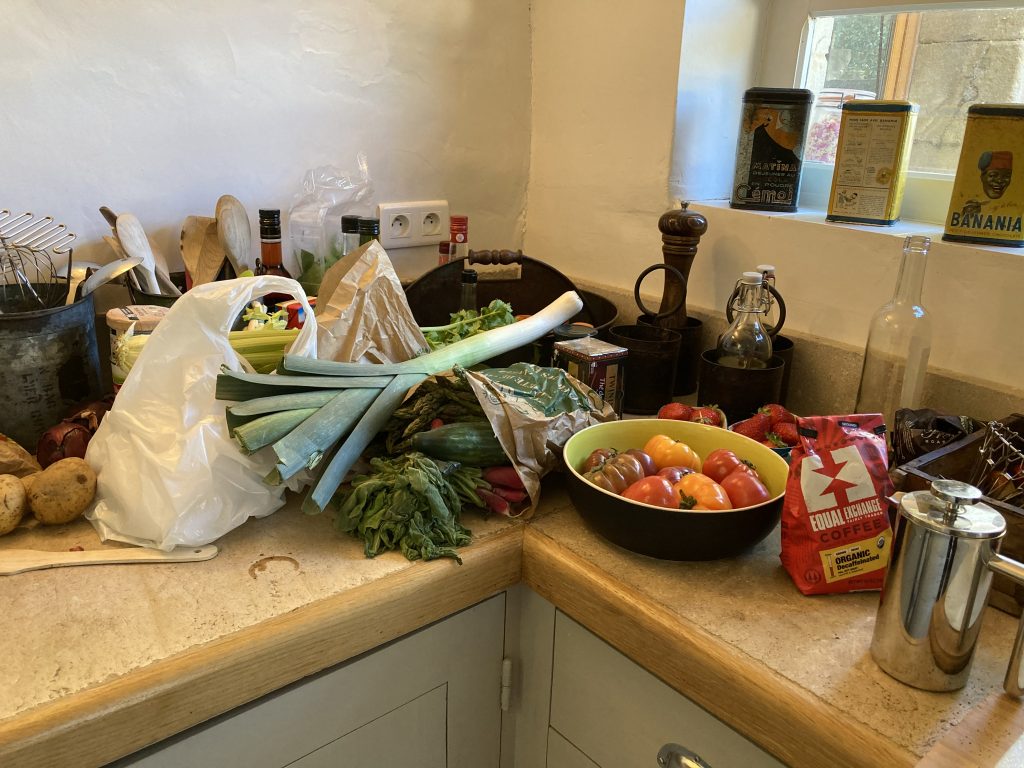 I would have been happy just creating a still life,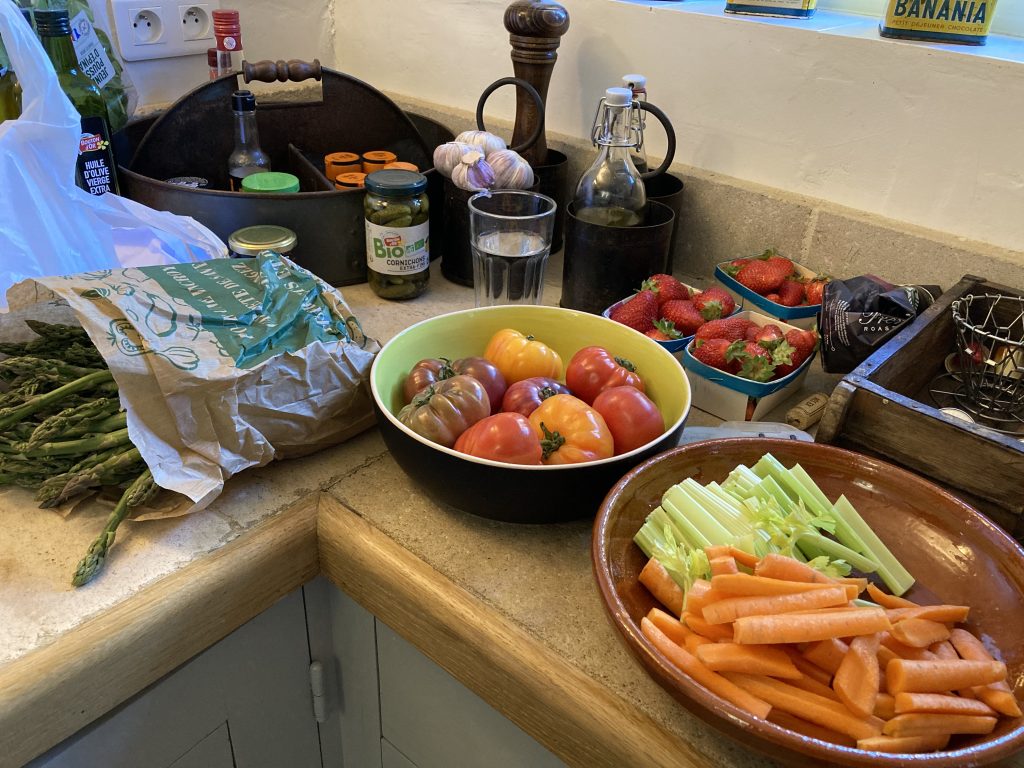 but Judy had other ideas—a meal perhaps? Was it the produce, or was it our imaginations? The food tasted incredibly fresh and flavorful. The strawberries were, for sure, the sweetest I have ever eaten, perfect in color and condition and impossible to let alone.
The cool April air did not keep us from spending as much time outdoors as we could. My regret for leaving Virginia in springtime was somewhat alleviated by the red bud tree at the back of the garden.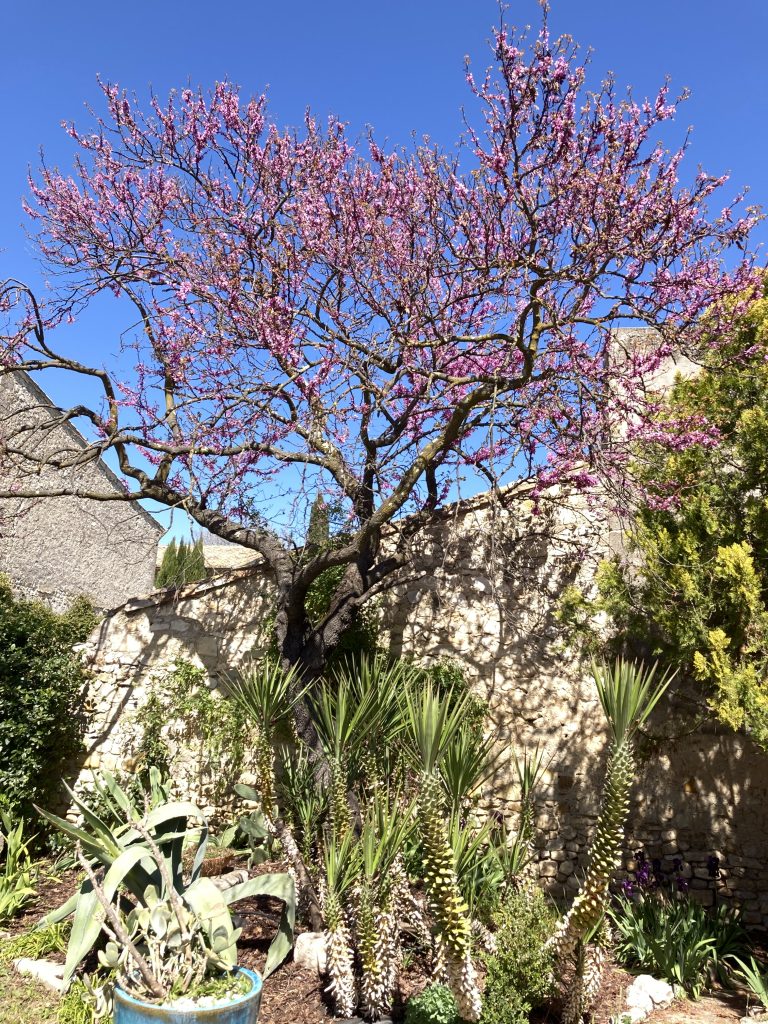 Added to that was the realization that the tiny leaves beginning to open on the pergola under which we ate many meals was Virginia Creeper. In disbelief I googled "Virginia Creeper in France" and learned that it is a "well-loved" plant in Paris. Who knew?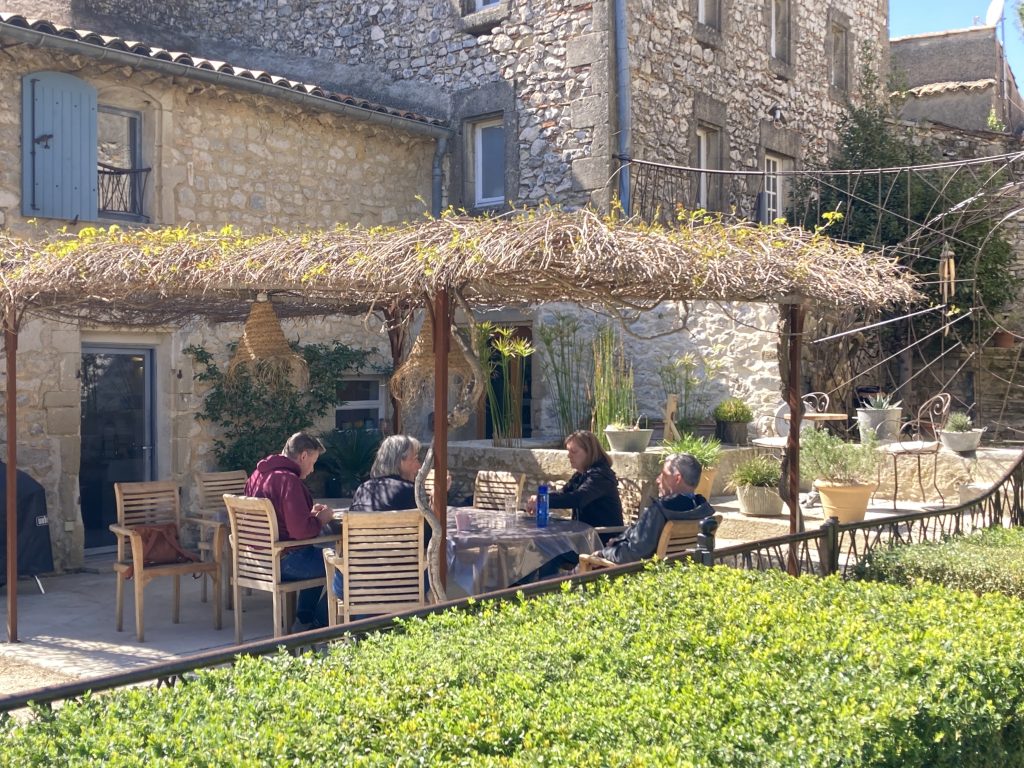 Wayne played ping pong, we hung out laundry,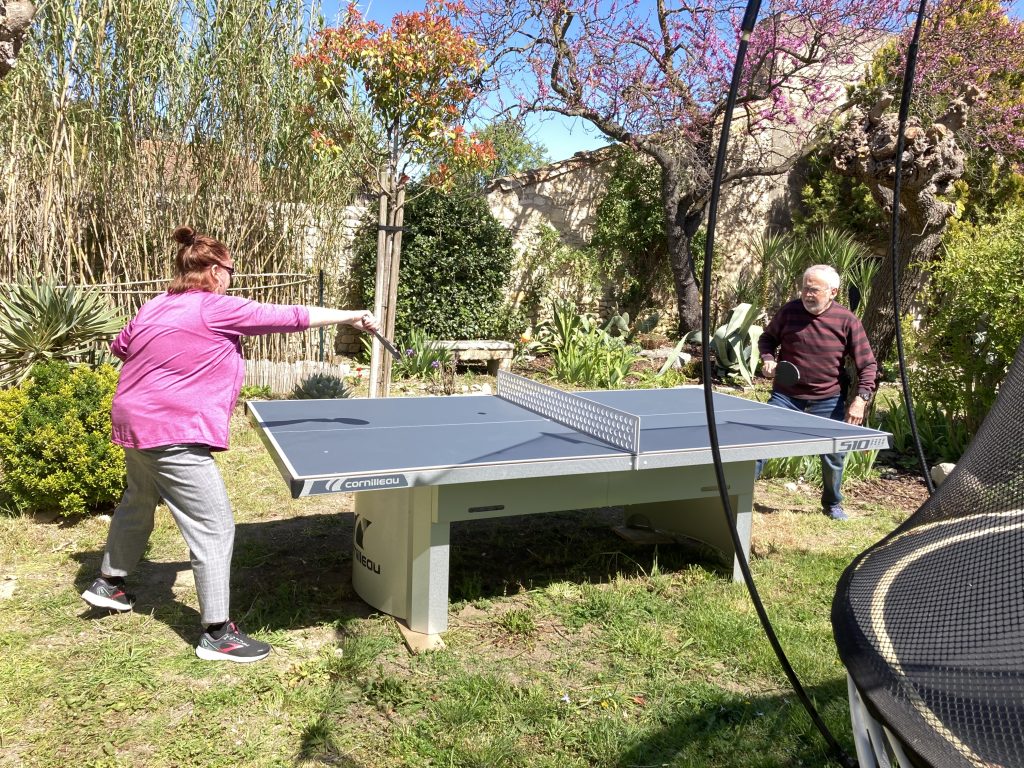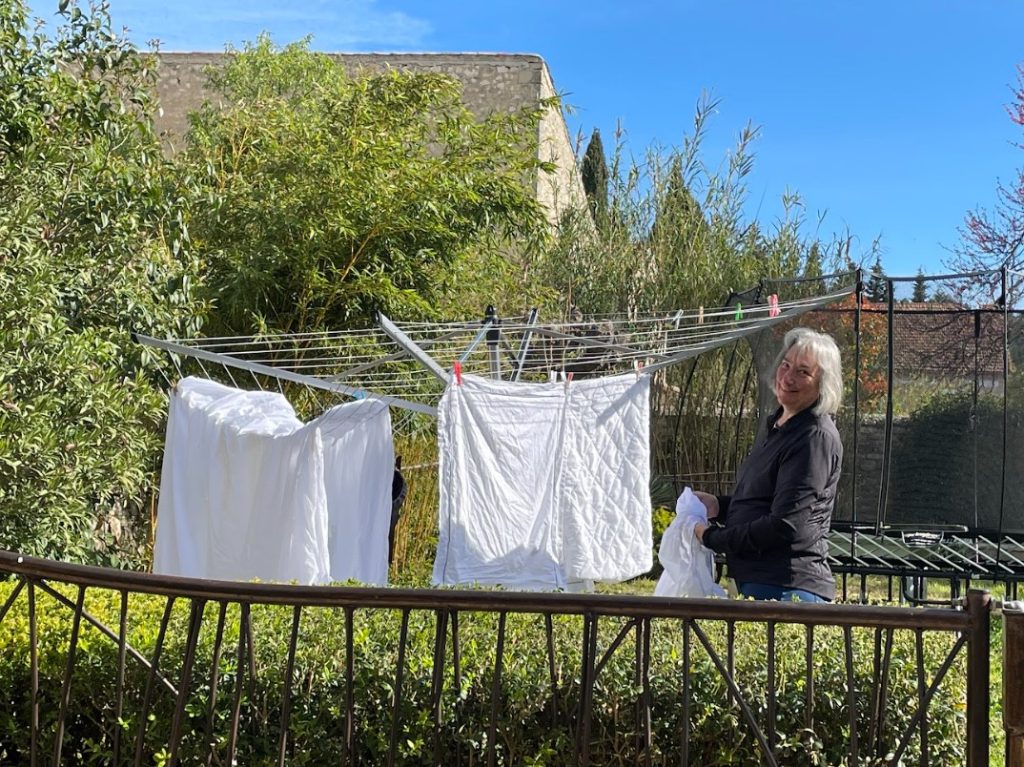 and I even got in my requisite weed-pulling, documented by Wayne.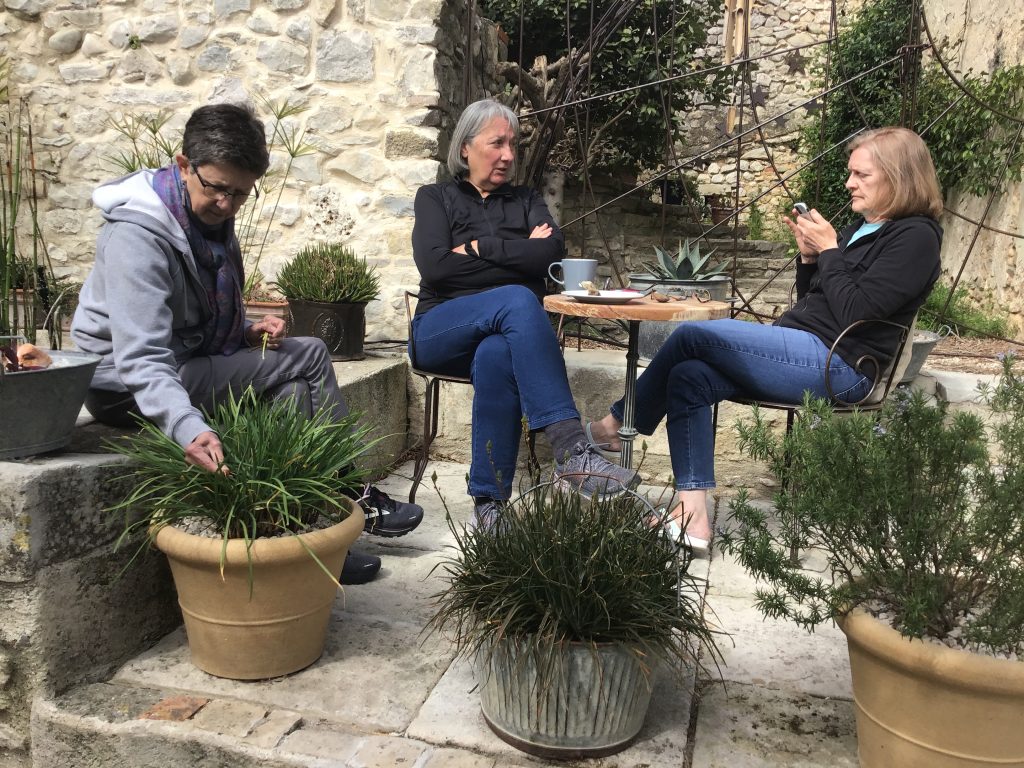 We walked around in the village, both old and new,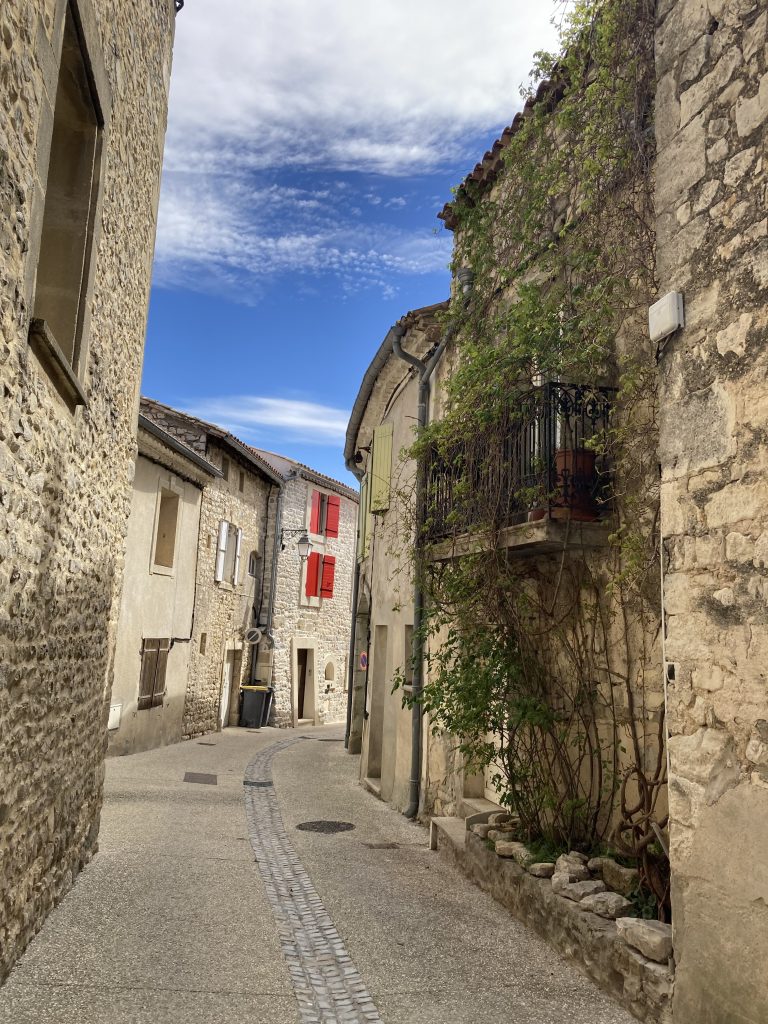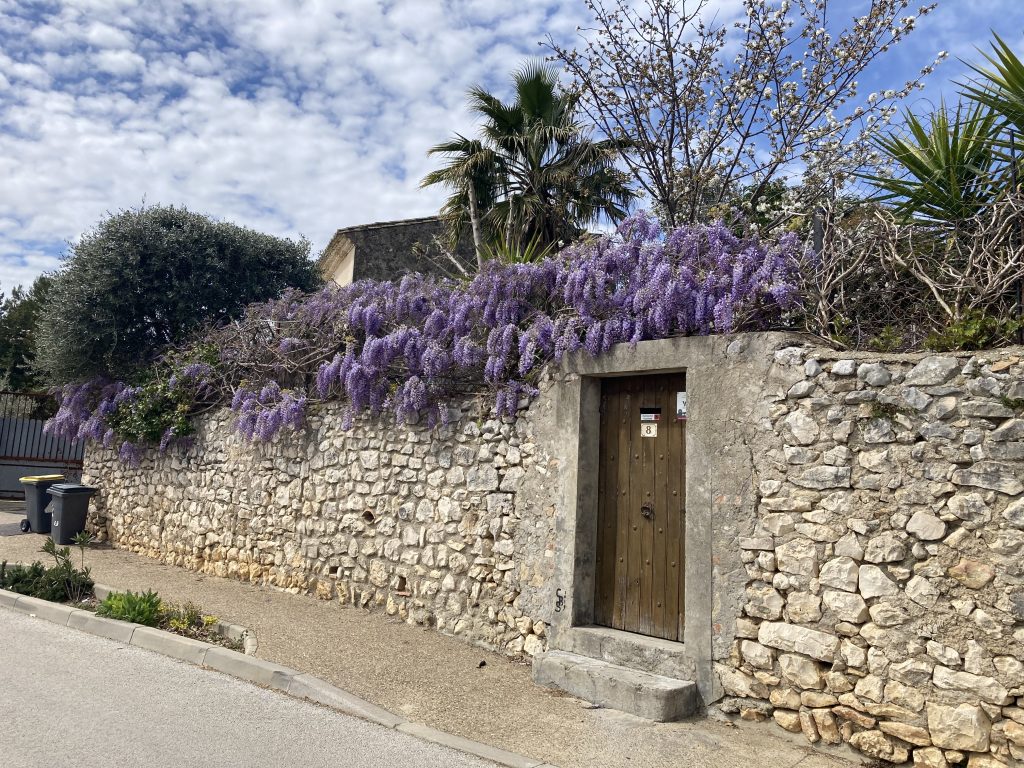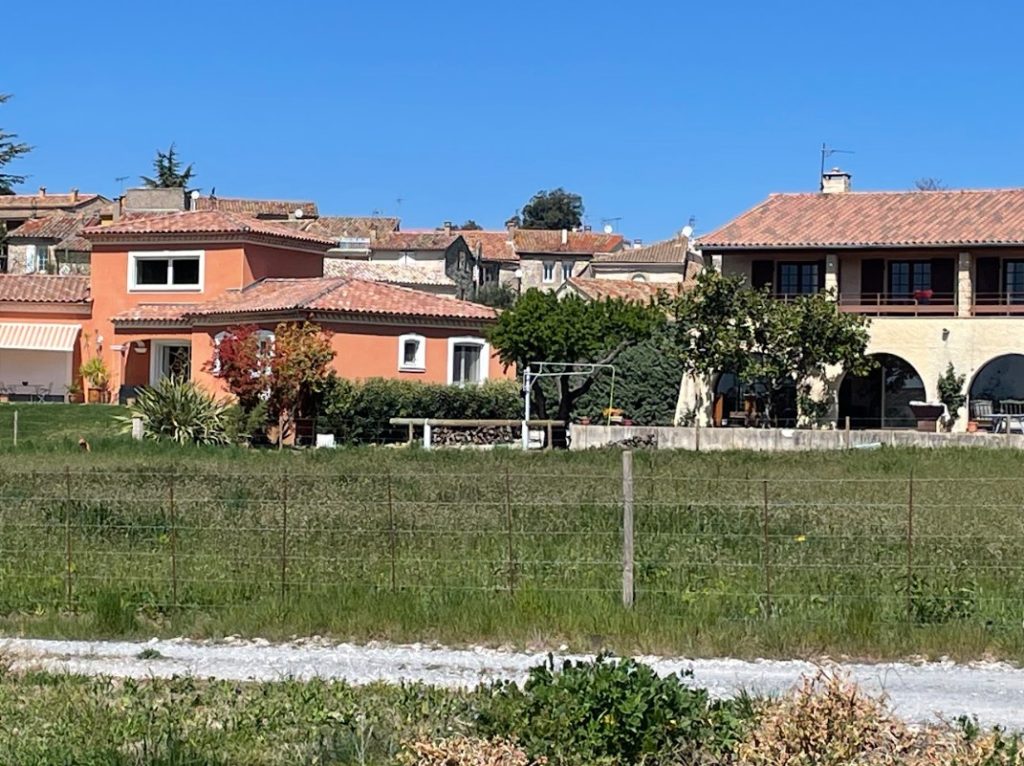 and beyond, where olive groves and vineyards were coming into leaf.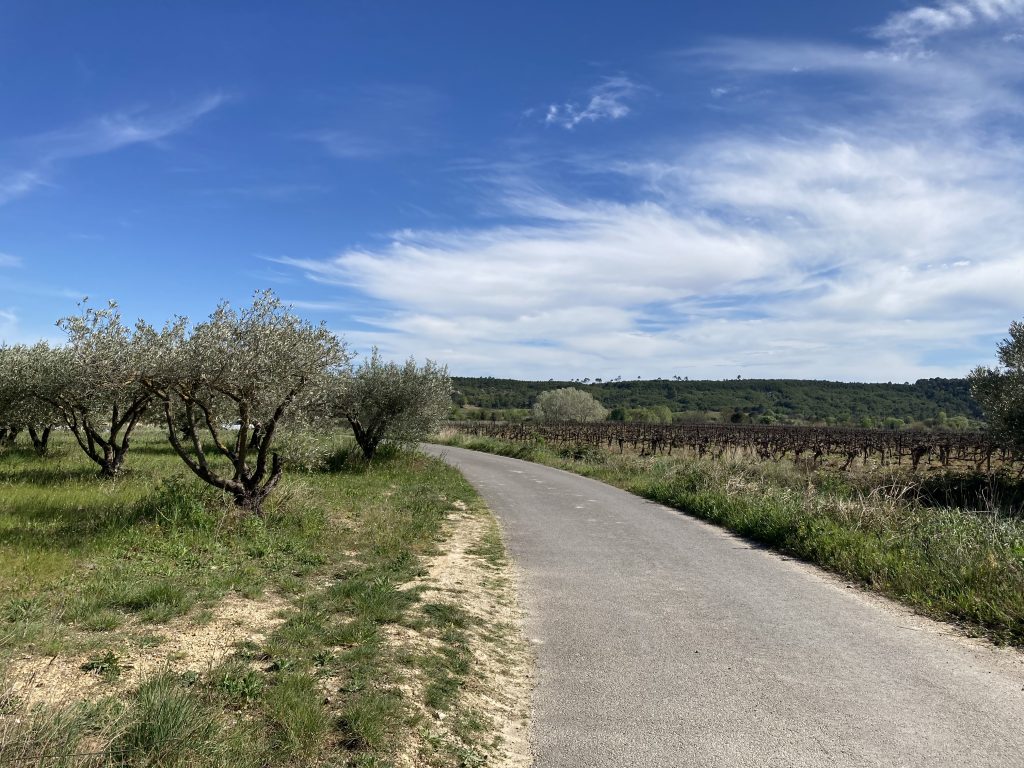 We had an outdoor cookout, and decorated the table with thyme and foil-wrapped chocolate Easter bunnies,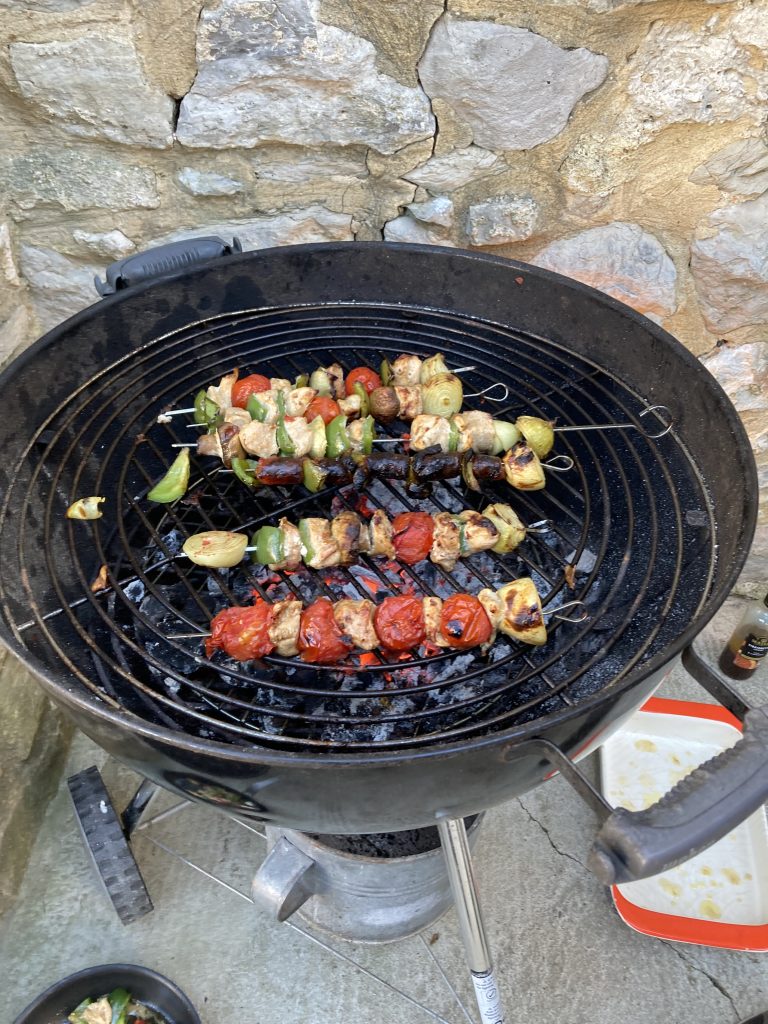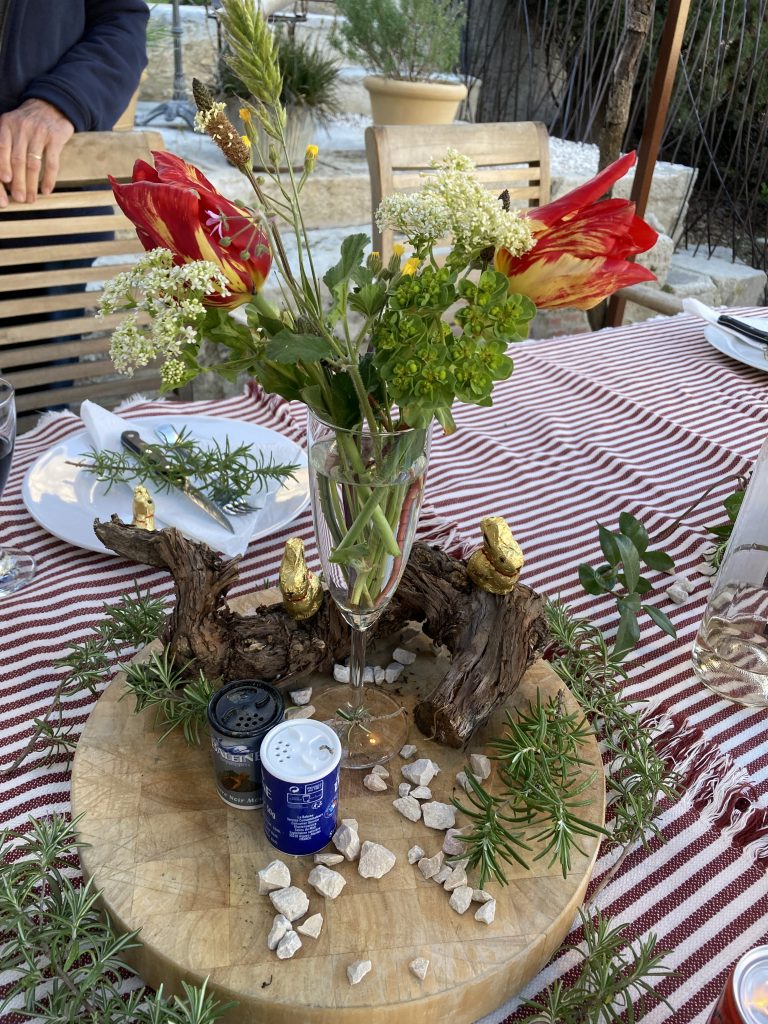 and then . . .
first Wayne, who quarantined in our bedroom for several days,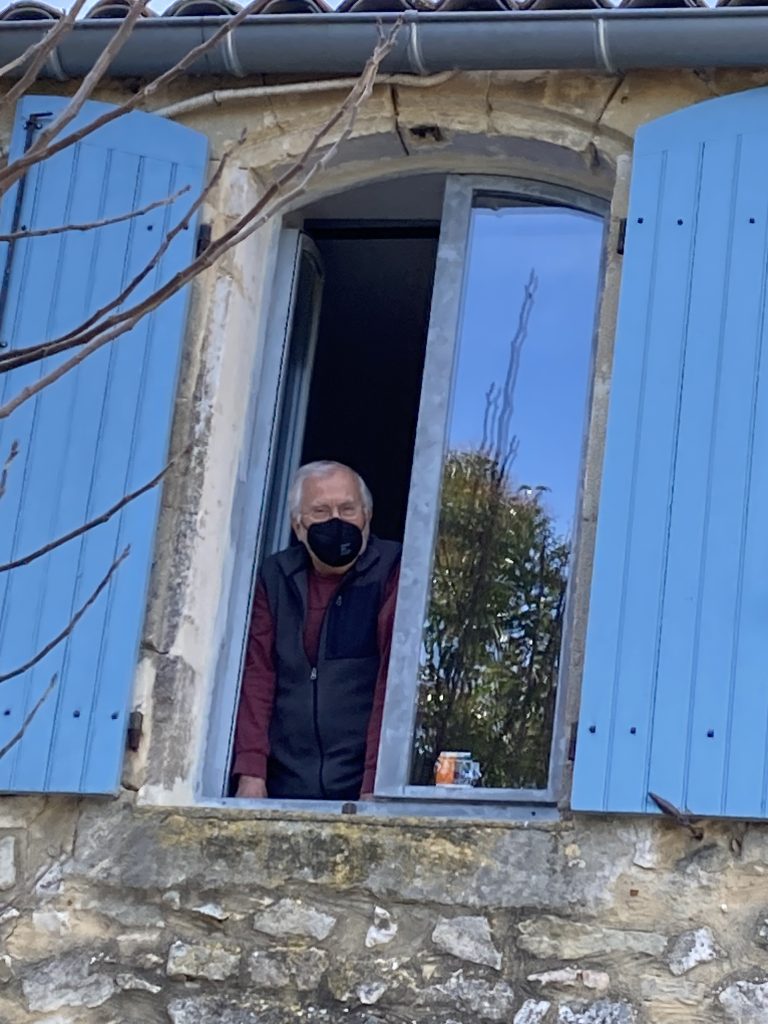 and two days later, me.
Neither of us felt sick for long, but it meant the end of the fun communal meals. Even then, with Judy's loving care, we continued to dine in style.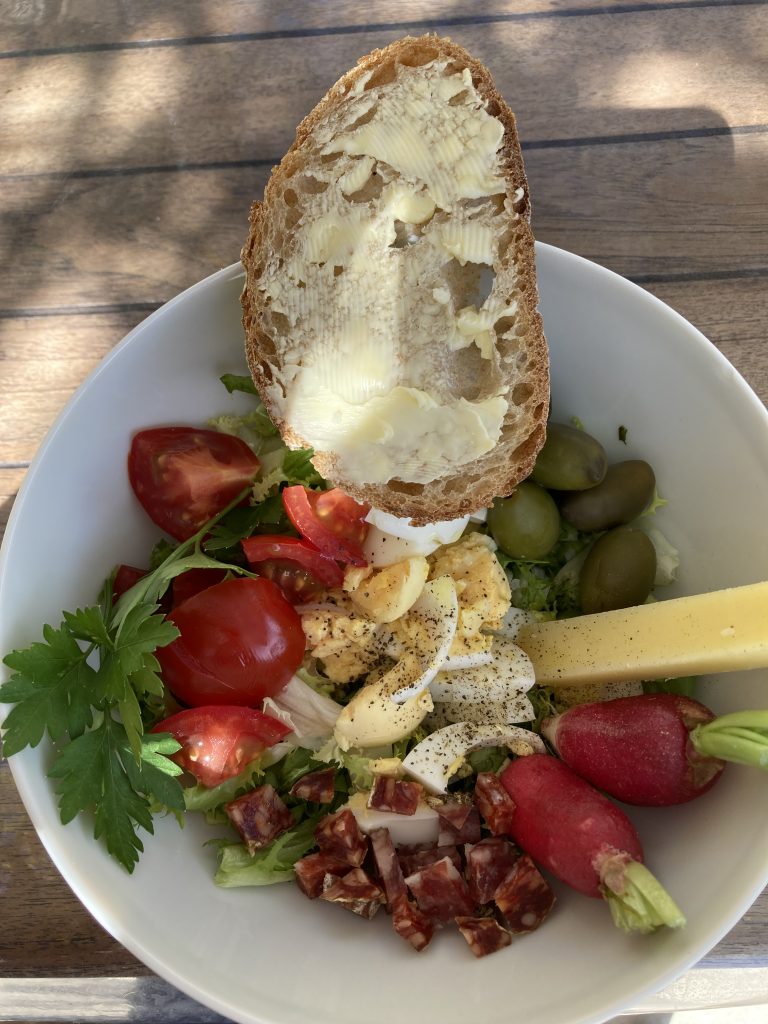 We could still spend time outside, even though we were a bit achy. So, as our son commented, we recuperated at our sanitorium in the South of France.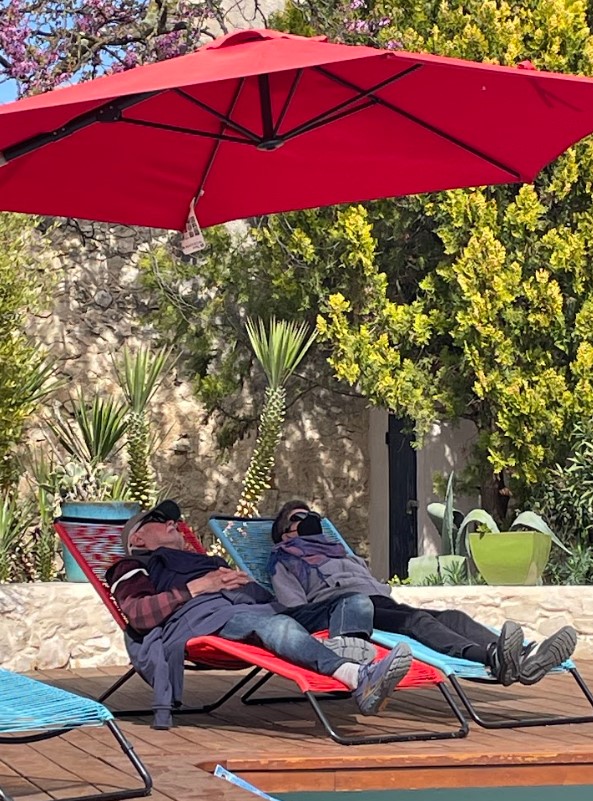 On our last day, we rode with Doug, who was unintimidated by Covid, to Millau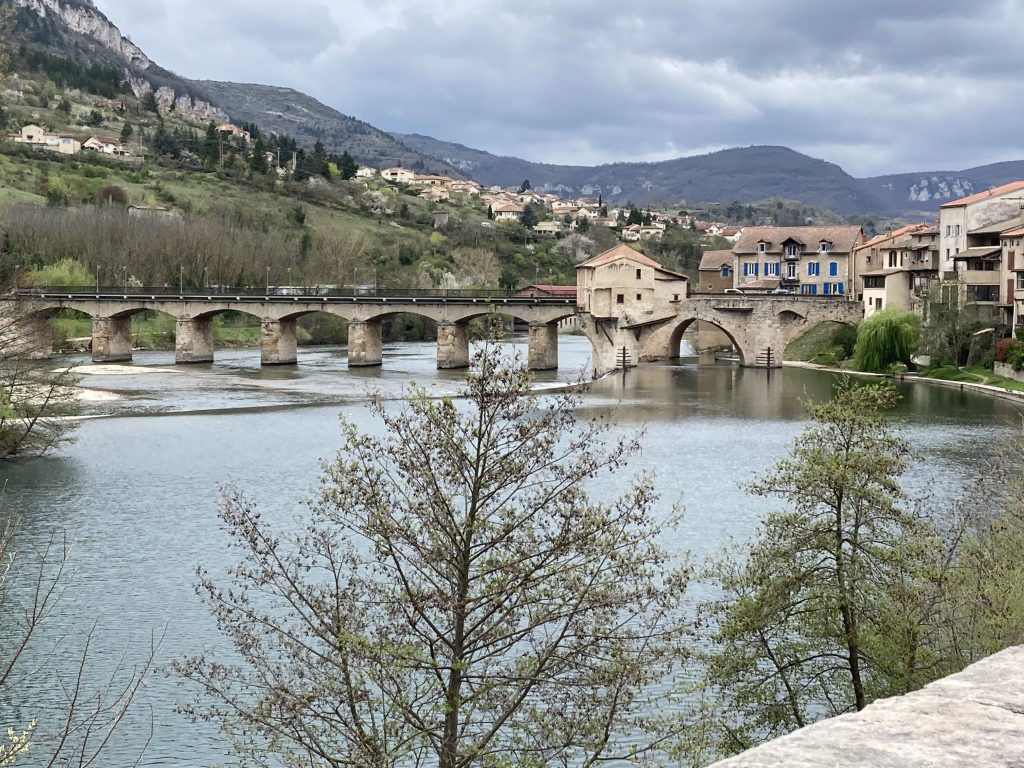 to see the tallest viaduct in the world, a place of interest that Wayne had picked out.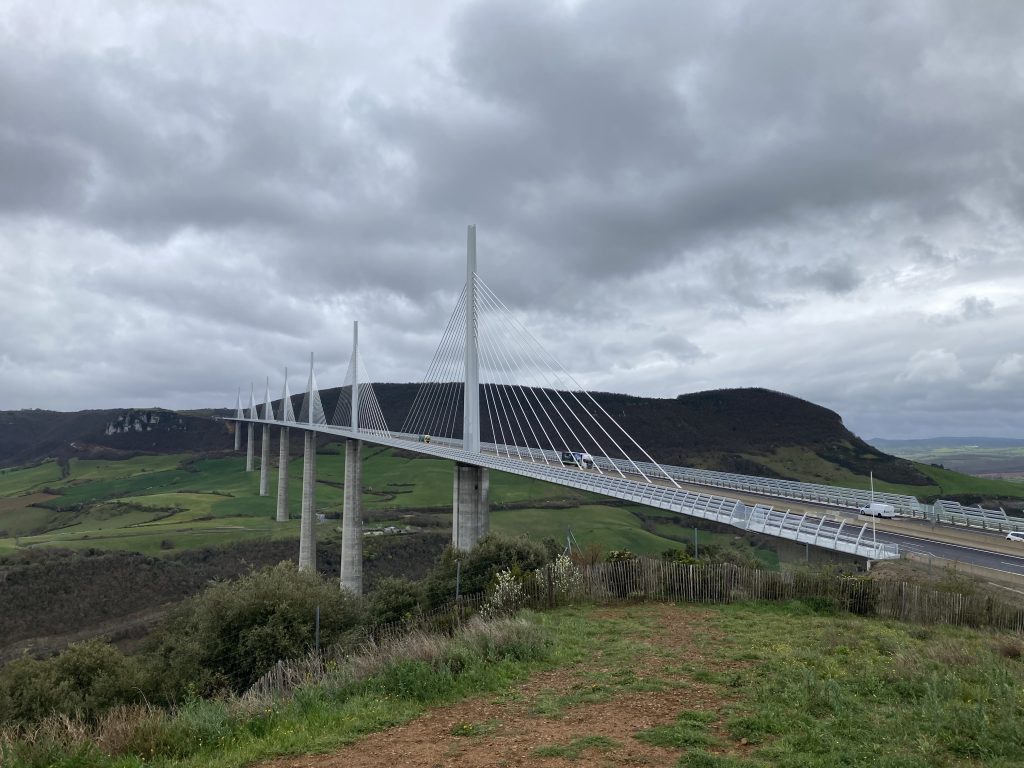 Then it was farewell to Combas, to the early morning garden and ancient stone walls,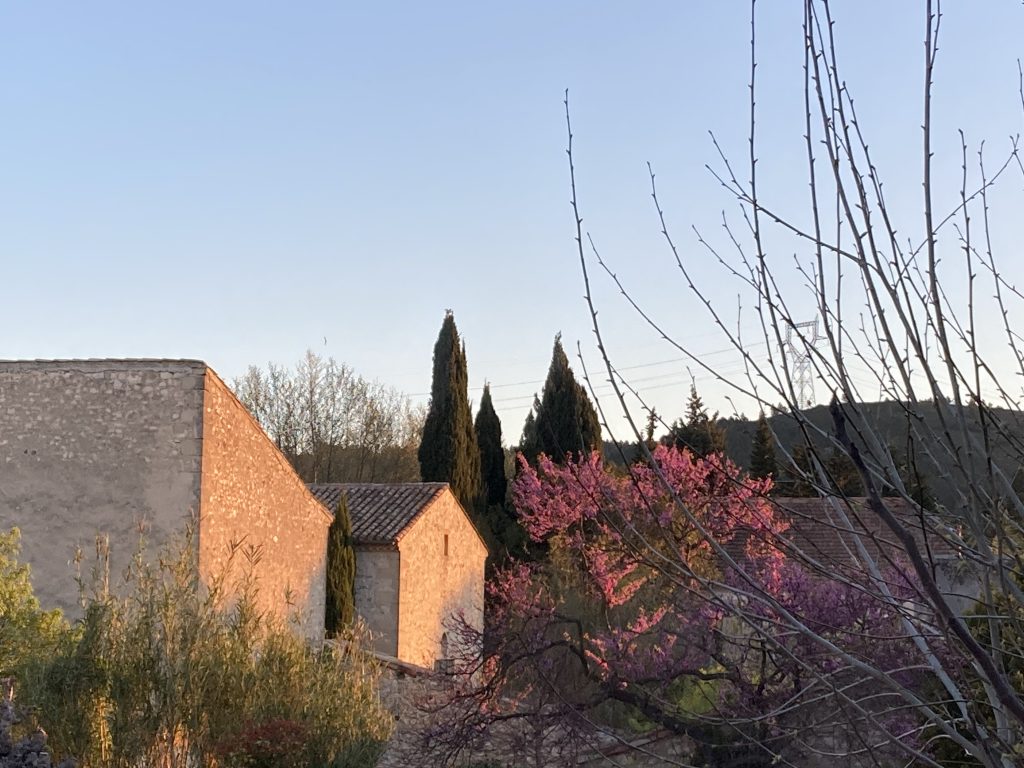 and a long and wearying journey back to Virginia and our garden, where springtime flowers were still in bloom. I hadn't missed them after all!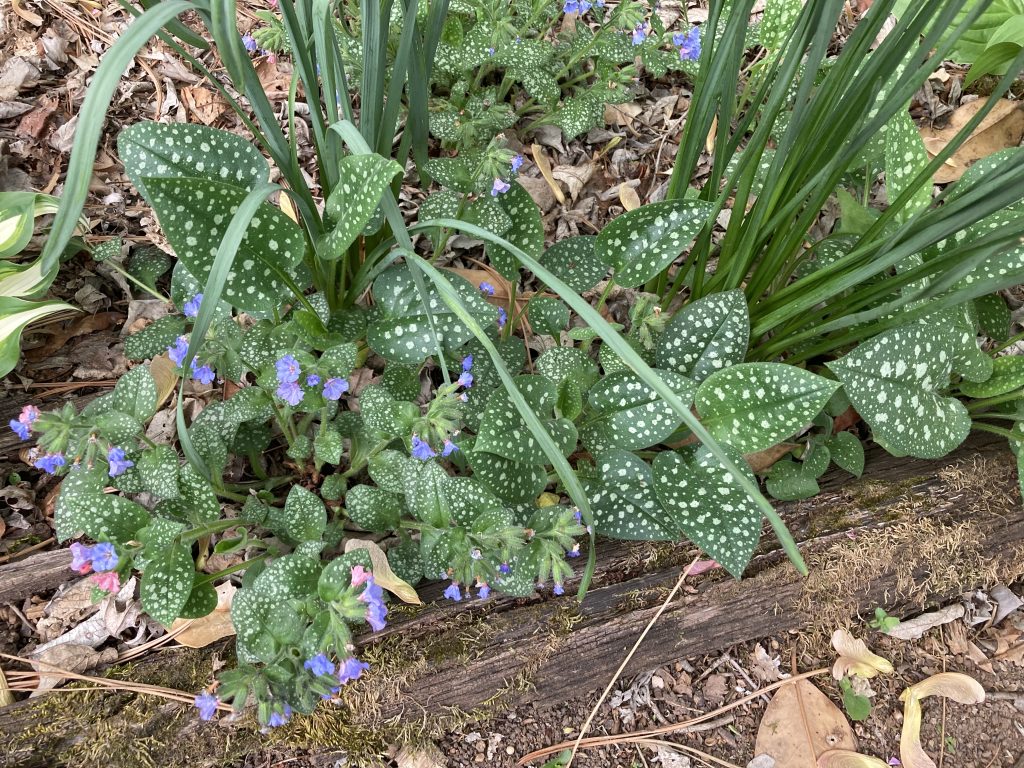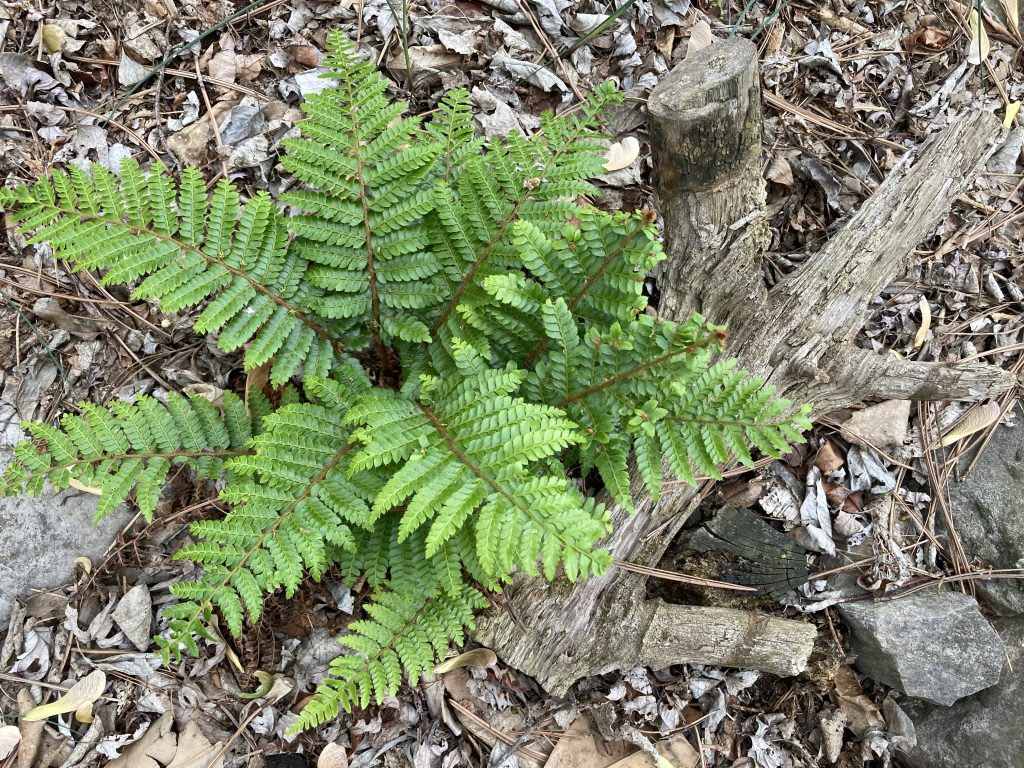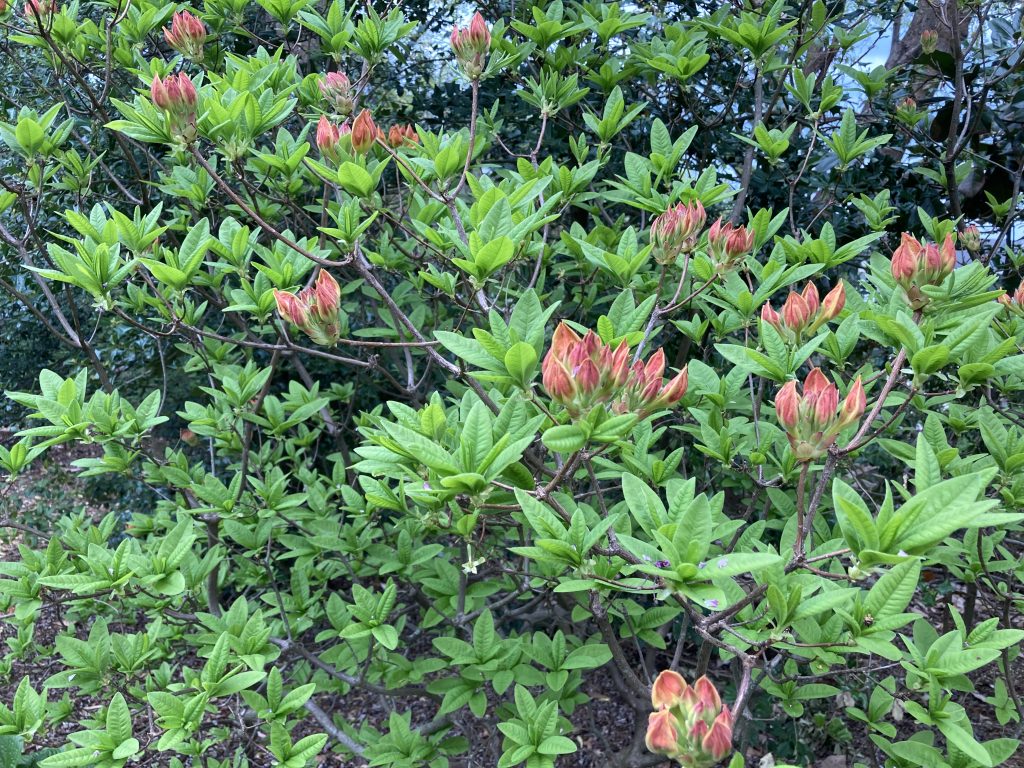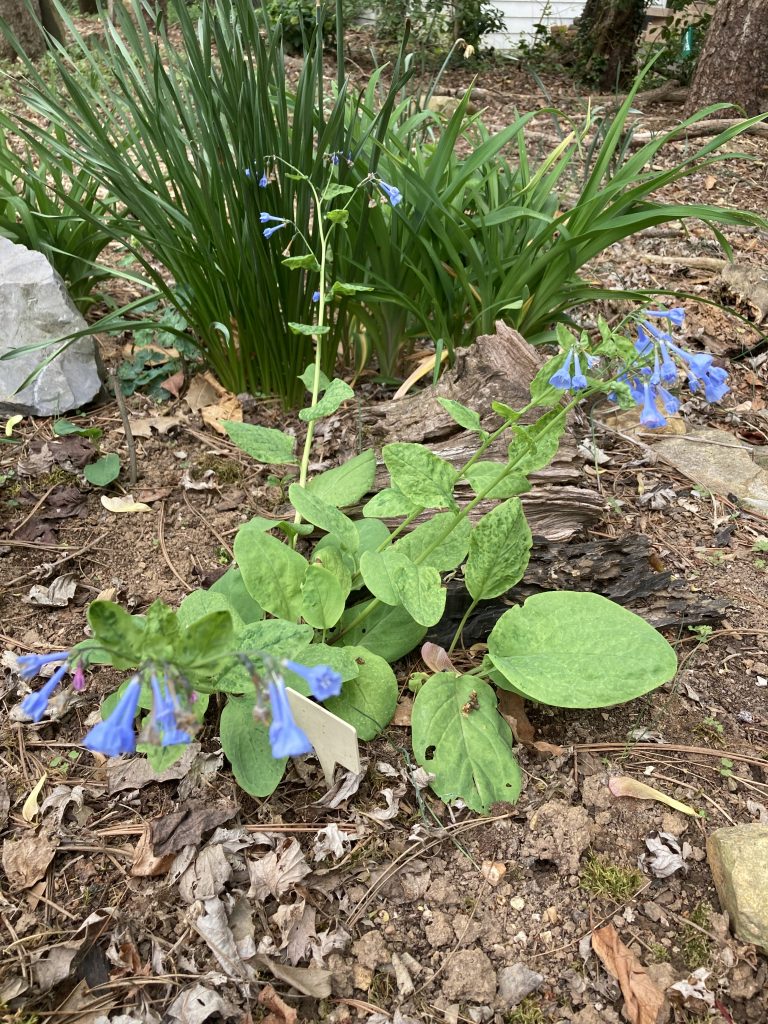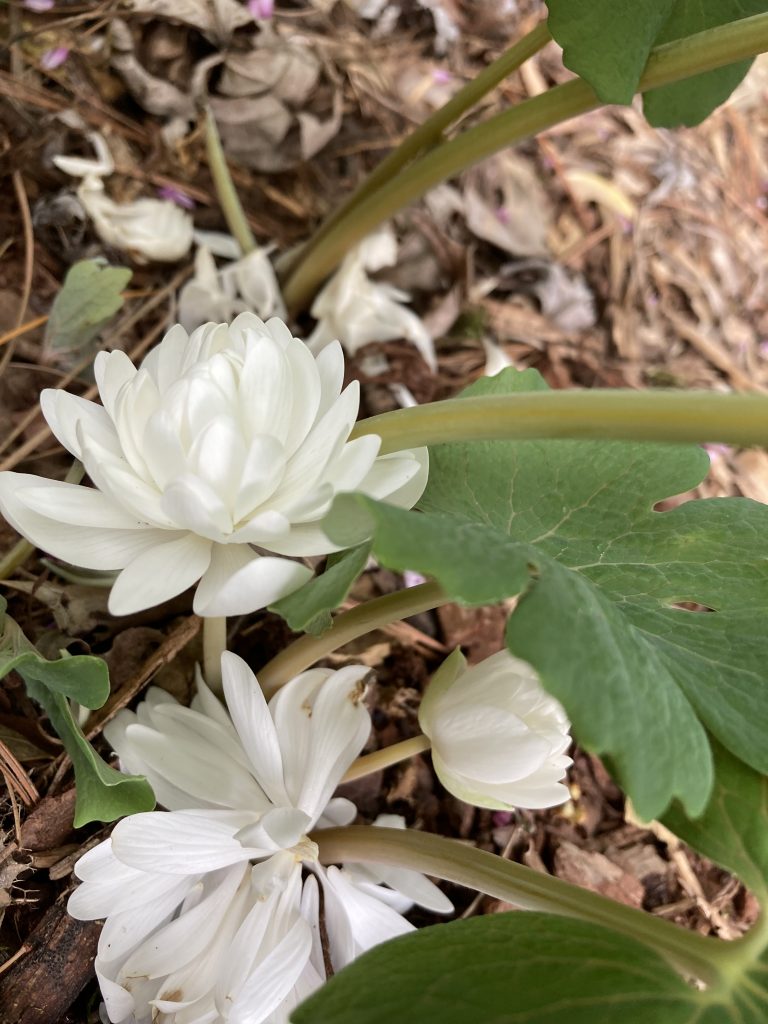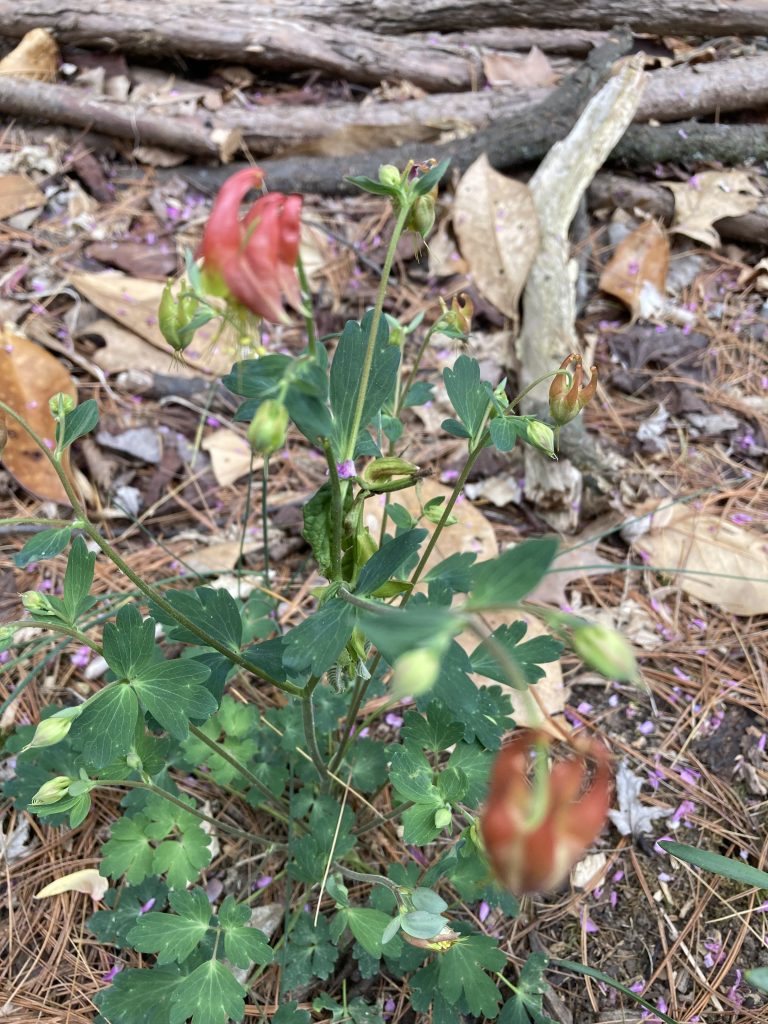 Most of the picture are mine, but credits also go to Wayne Kurtz, Jim Lehman, and Connie Lehman.