Life feels full of questions right now, with answers and certainty sadly missing. That is why it was appealing to put to rights a world I can control—Doll House Land where house cleaning and reorganizing was due. For the past year the doll house has stood uncovered in the middle of the basement room. It had lots of activity at Christmas when Juniper and Ginger diligently kept house for a week. Then, with Juniper back in California, Ginger played there sporadically. Now Ginger is back in Brooklyn, her family's year in Harrisonburg ended, but for months I haven't had the heart to touch it.
This past week, finding it hard to settle into anything, I decided to clean the doll house and put it back against the wall with its cover in place. This was a job I could actually accomplish. After a year of collecting dust and being played with by housekeepers less tidy than I, it needed to be cleaned and put to rights. I also wanted to return a few delicate objects that the girls agreed would be too tempting to play with if left in the doll house, and of course there was the loose card of two-year-old Lennox who wandered by from time to time, fascinated by all the tiny things.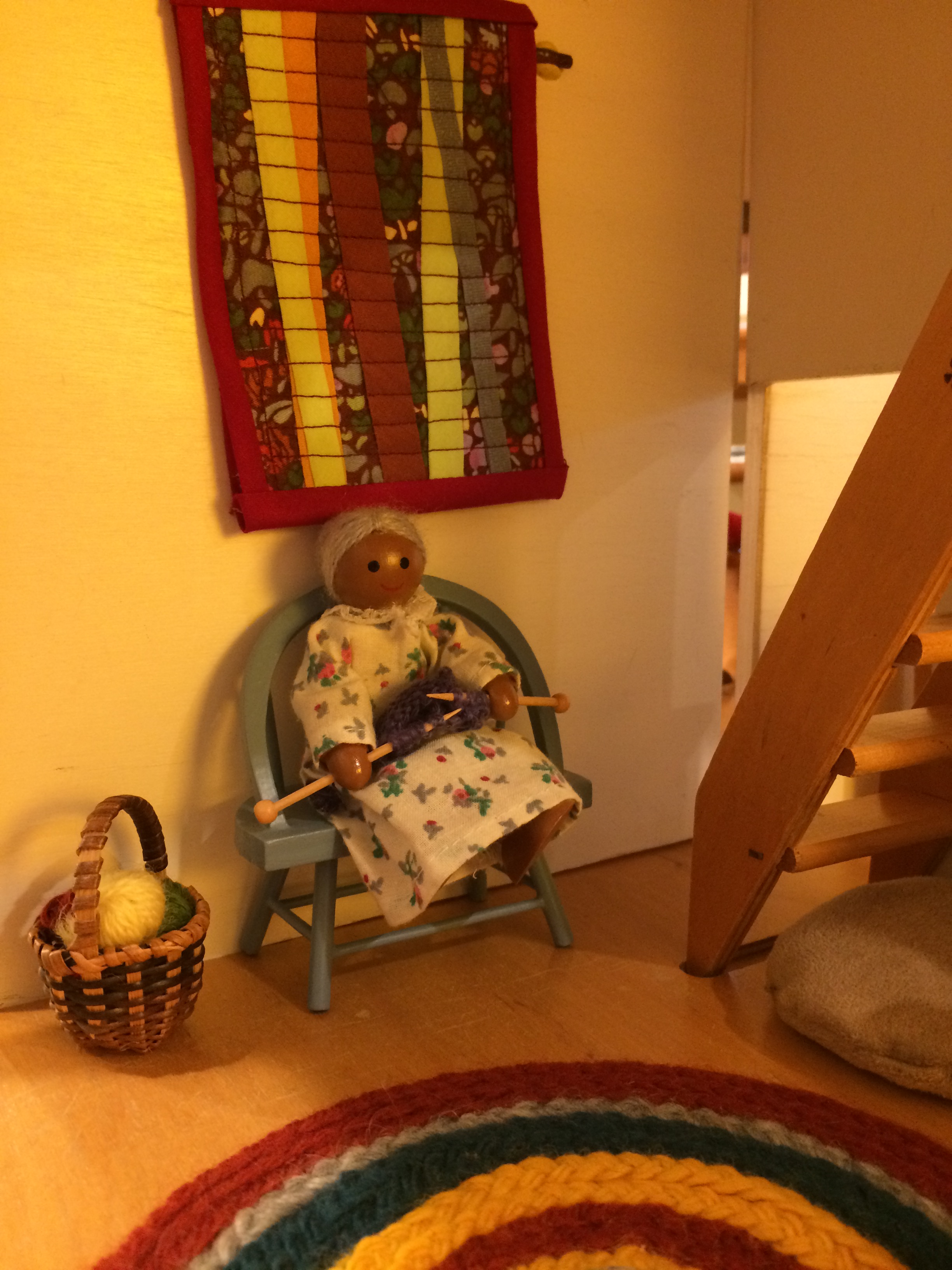 Grandma got her knitting back again after a year's hiatus. Re-knitting on tooth picks is not my cup of tea.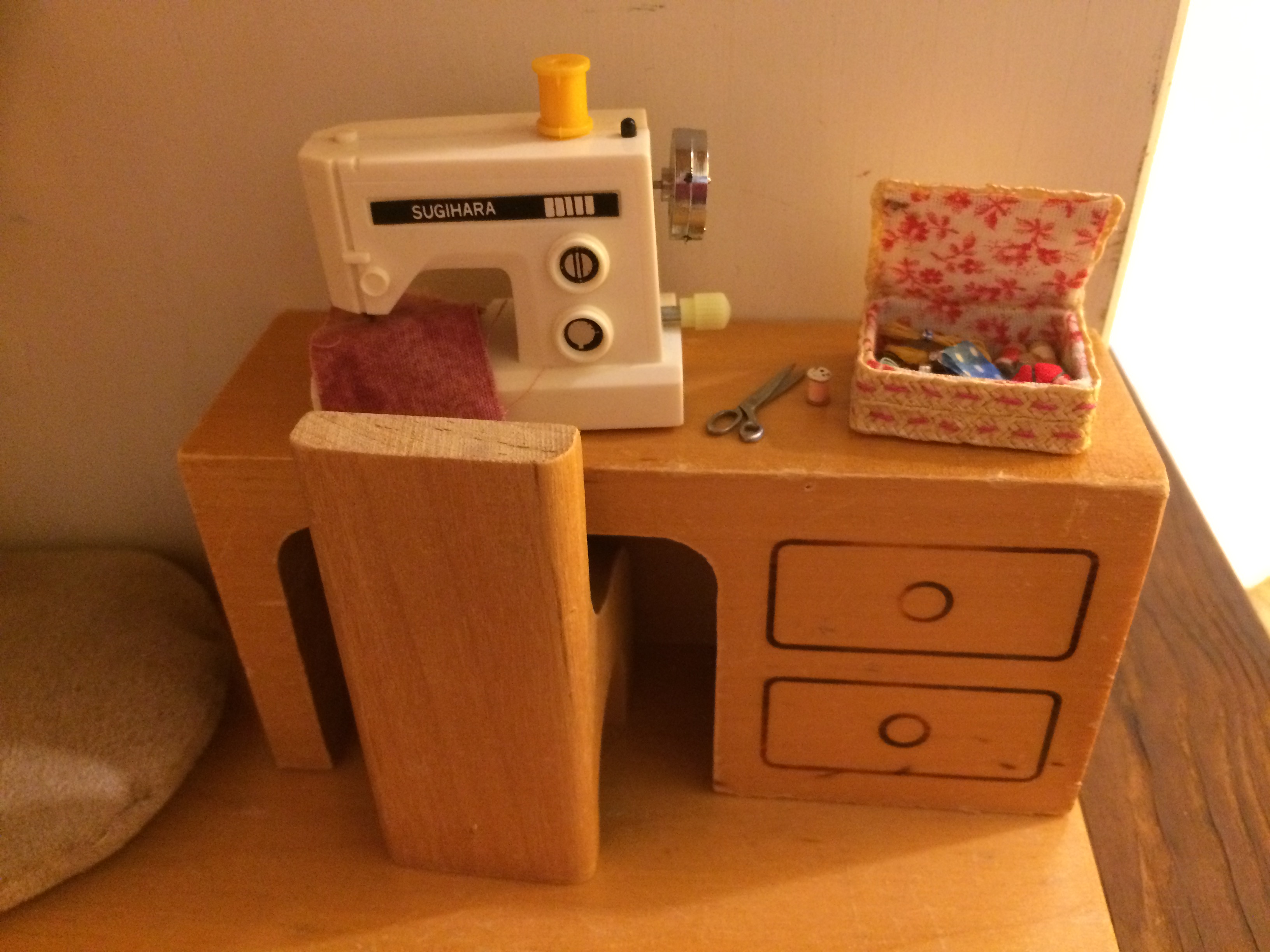 Her scissors and sewing box also reappeared.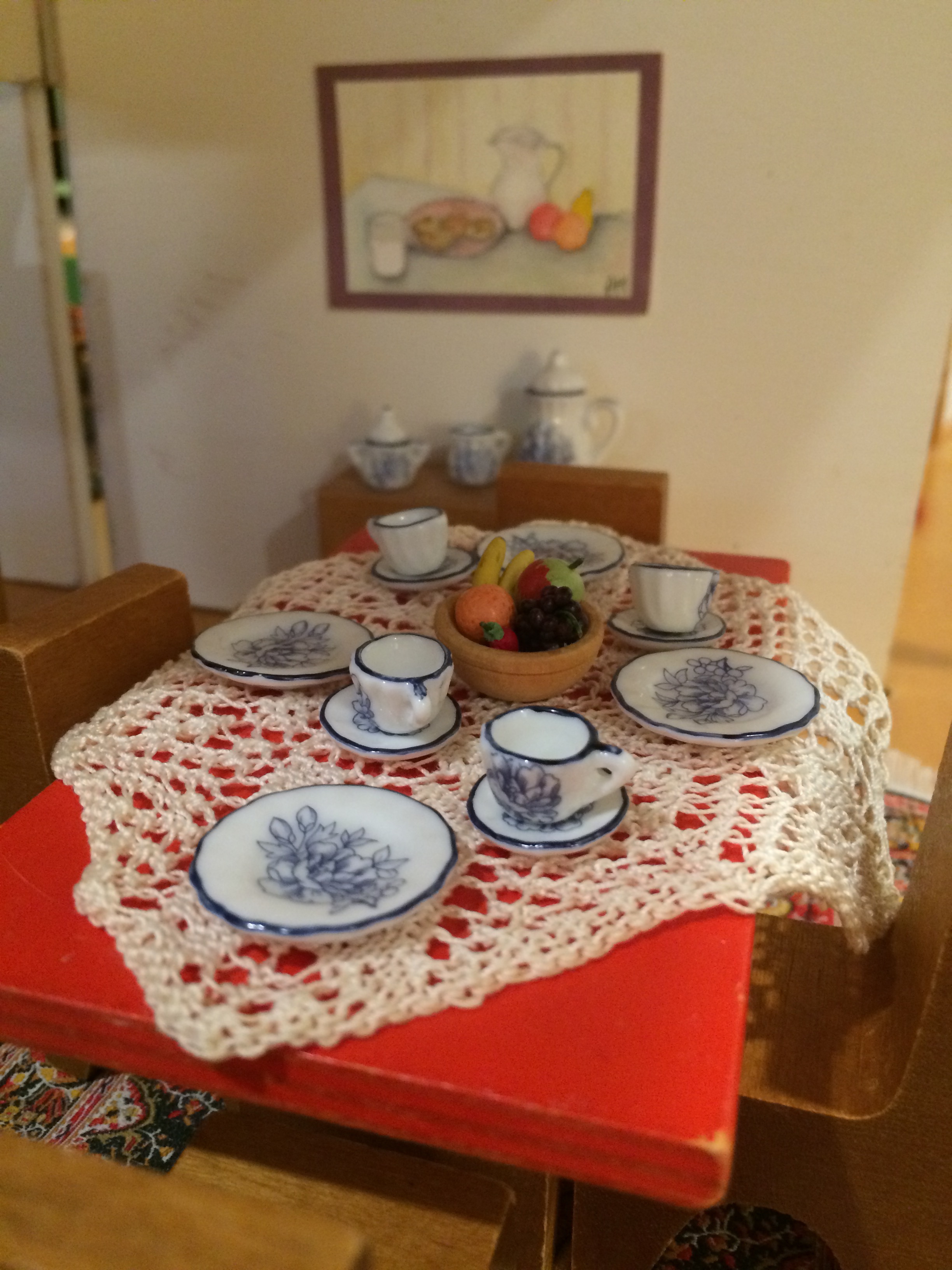 The table was set for tea—original art work by Pat Martin in the background.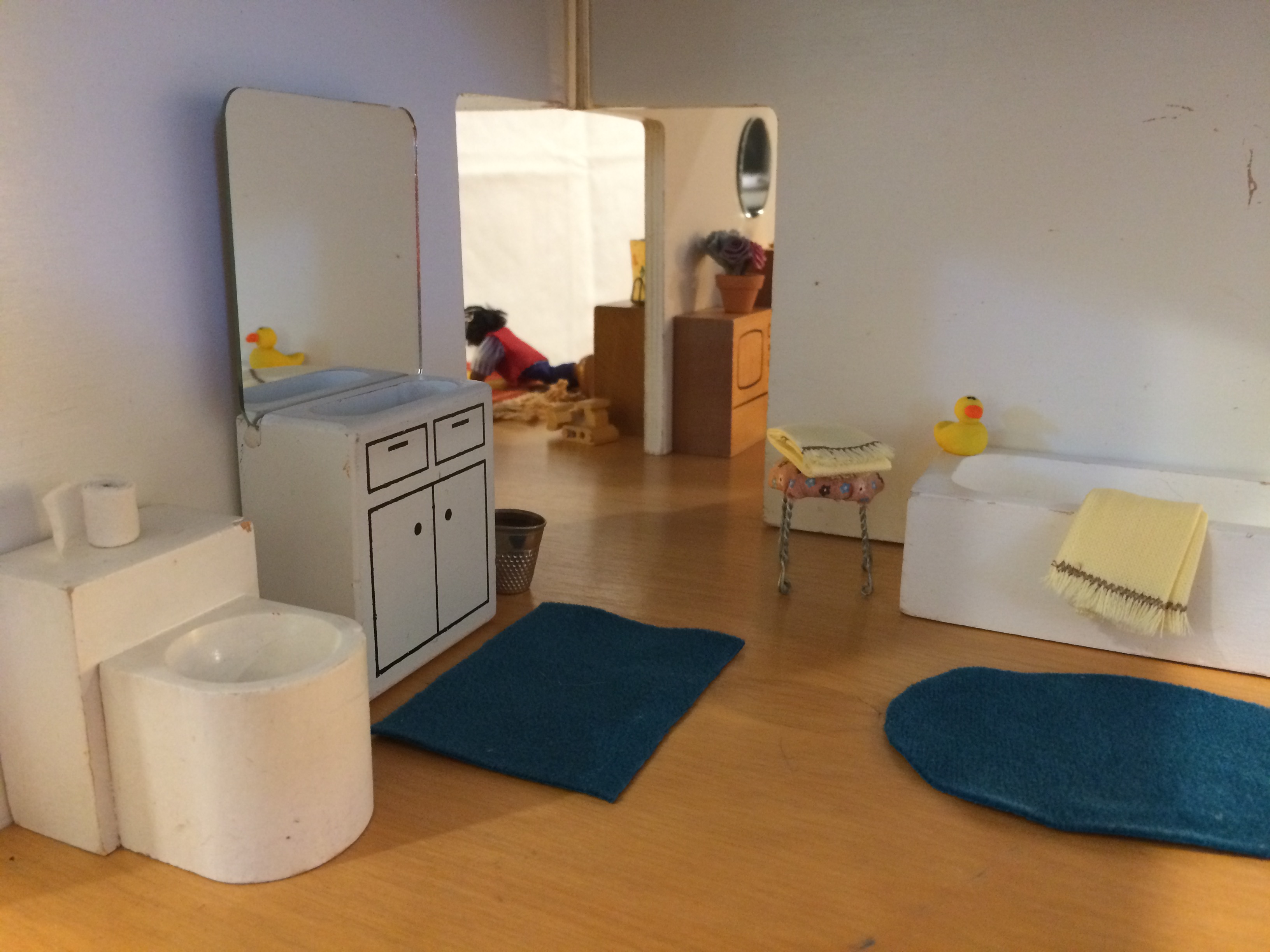 Towels arrived for the bathroom, a new addition, and toilet paper was replenished.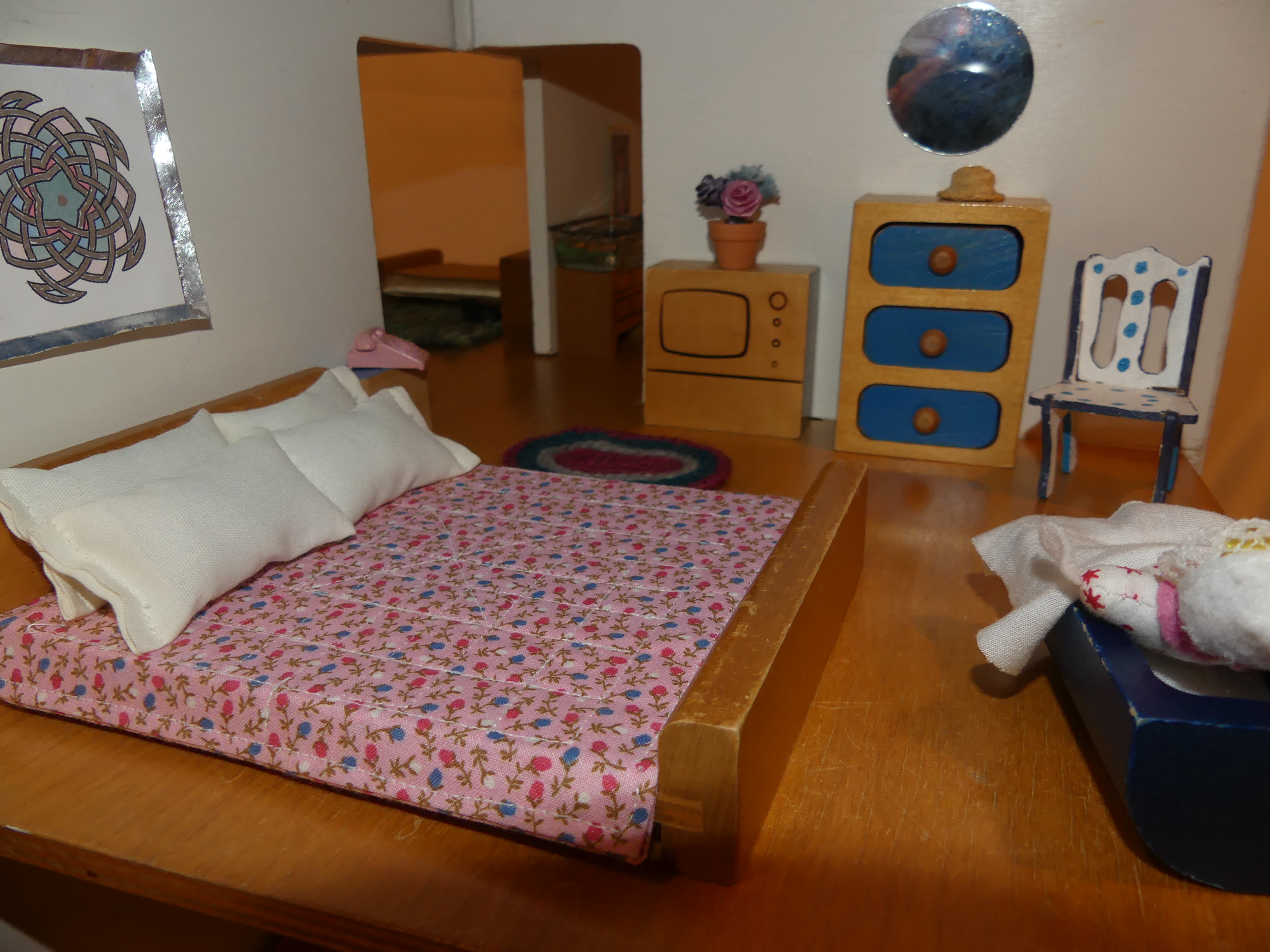 Mama and Papa have a fresh, new "quilt" after years of makeshift covers, but the original mandala created by Sandy Fox remains on the wall.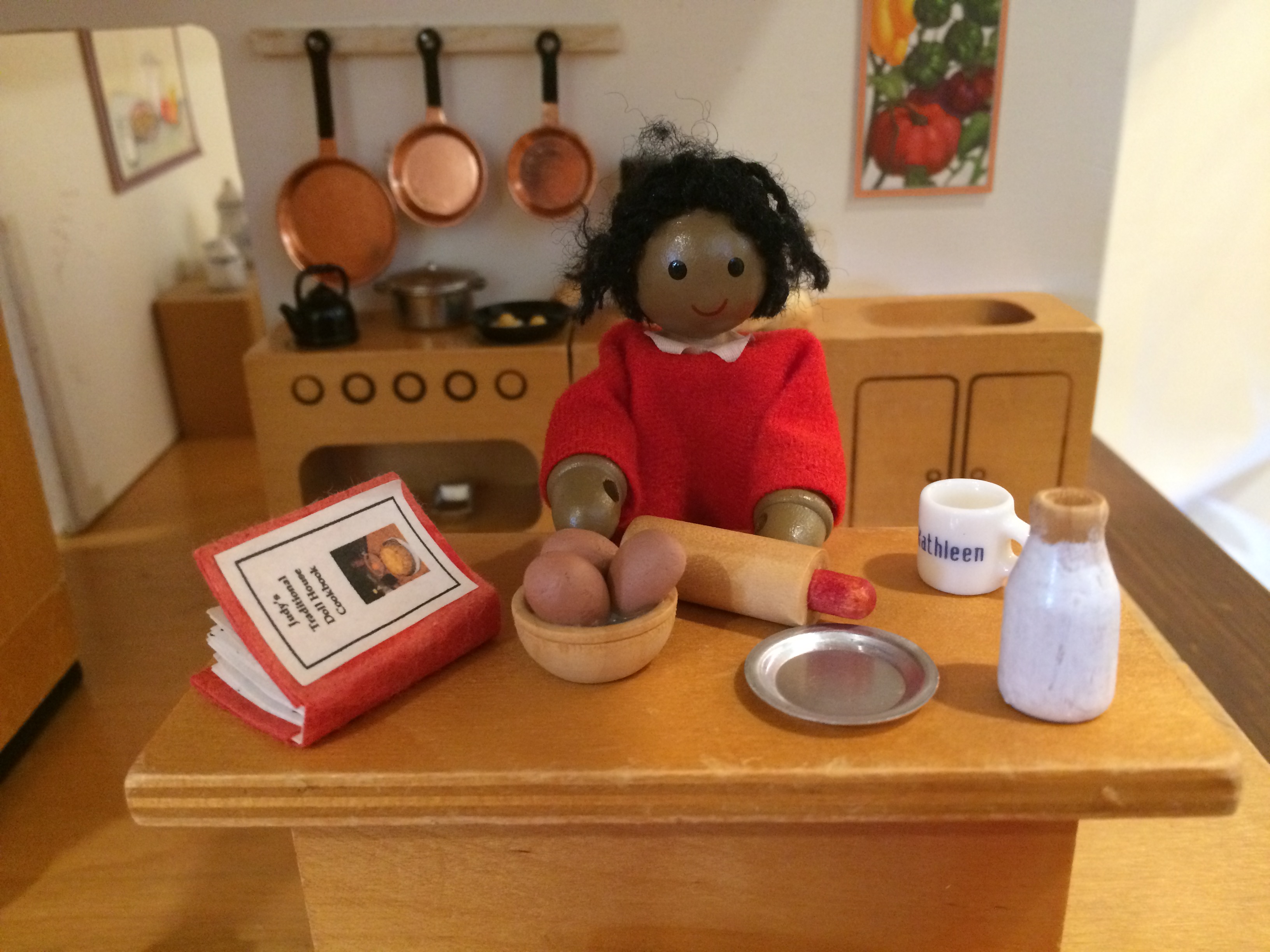 Papa resumed baking from Judy's Traditional Doll House Cookbook, authored by Judy Lehman,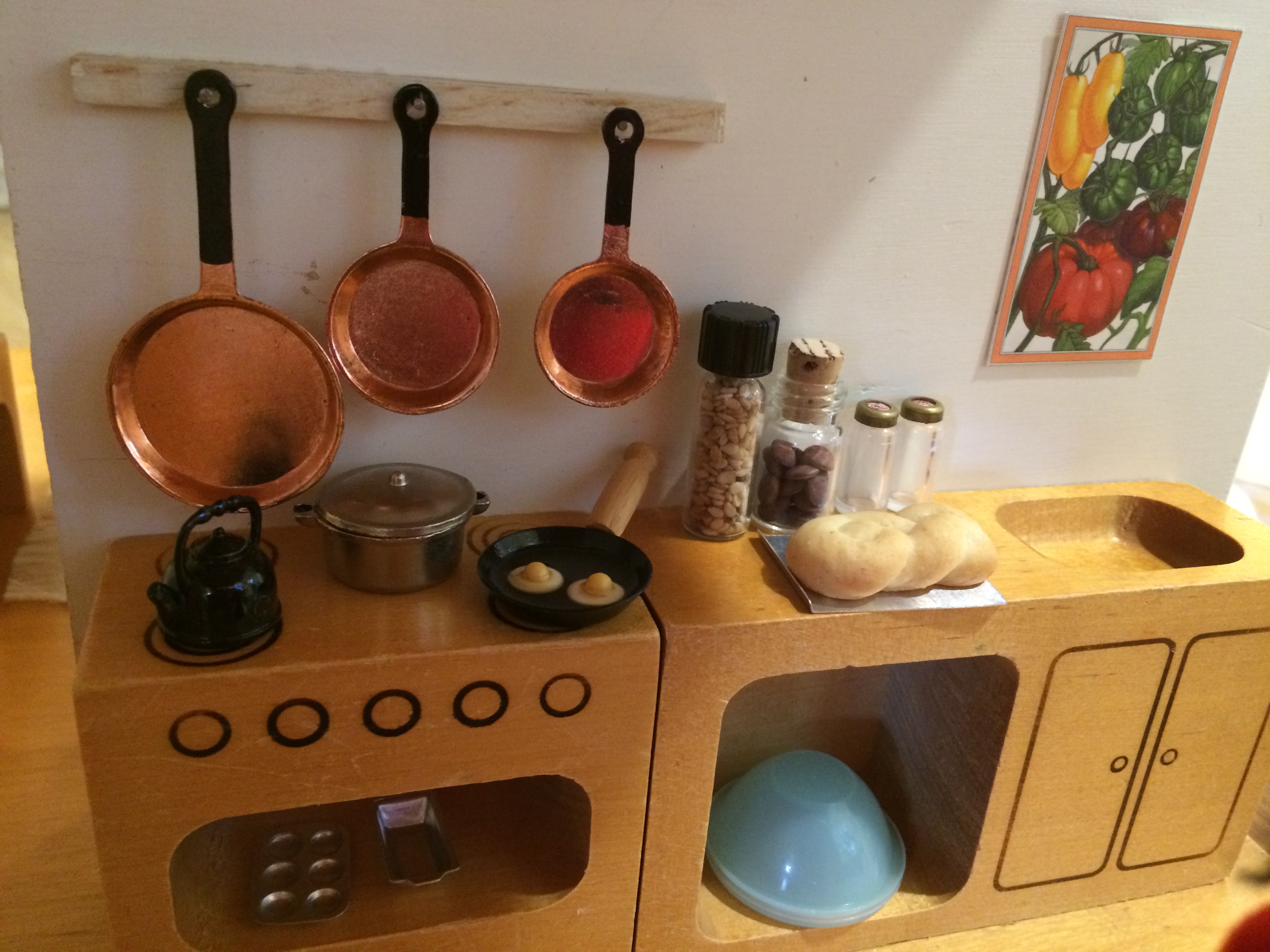 while the same eggs that have been frying for years continue to fry and Judy's braided loaf of bread waits to be cut.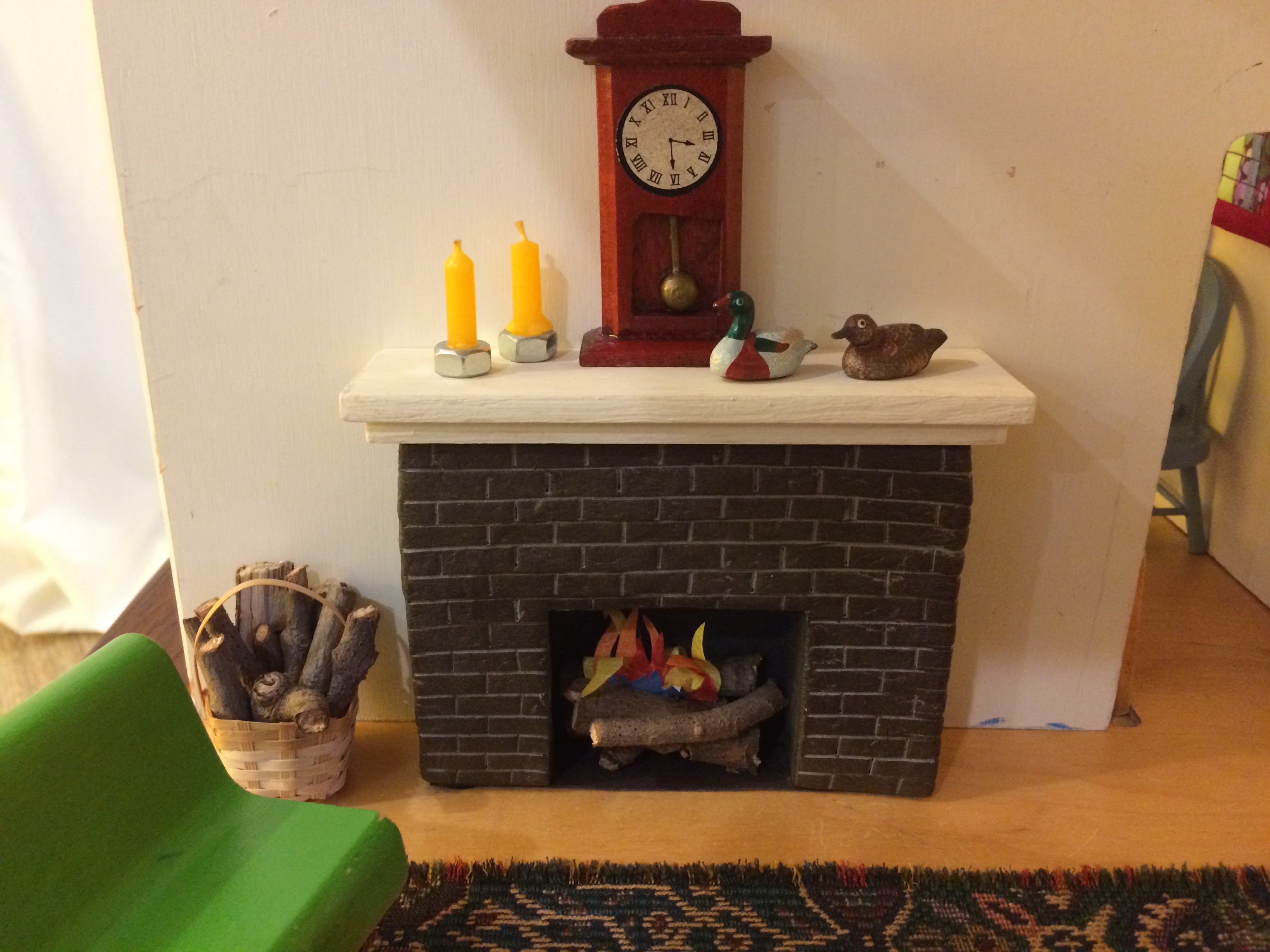 Meanwhile, in the living room the logs are back in their basket,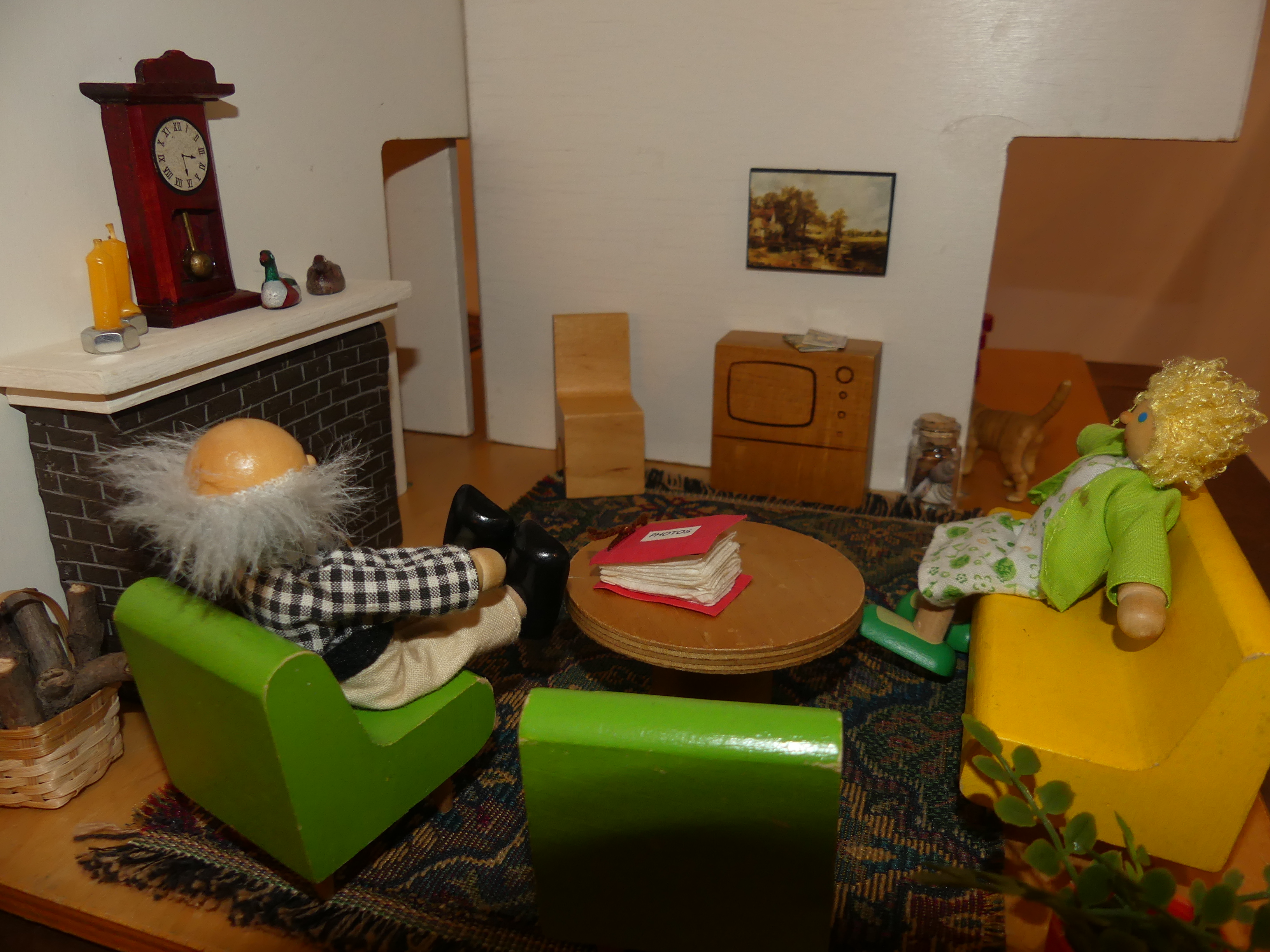 and Grandpa and Mama watch television in peace.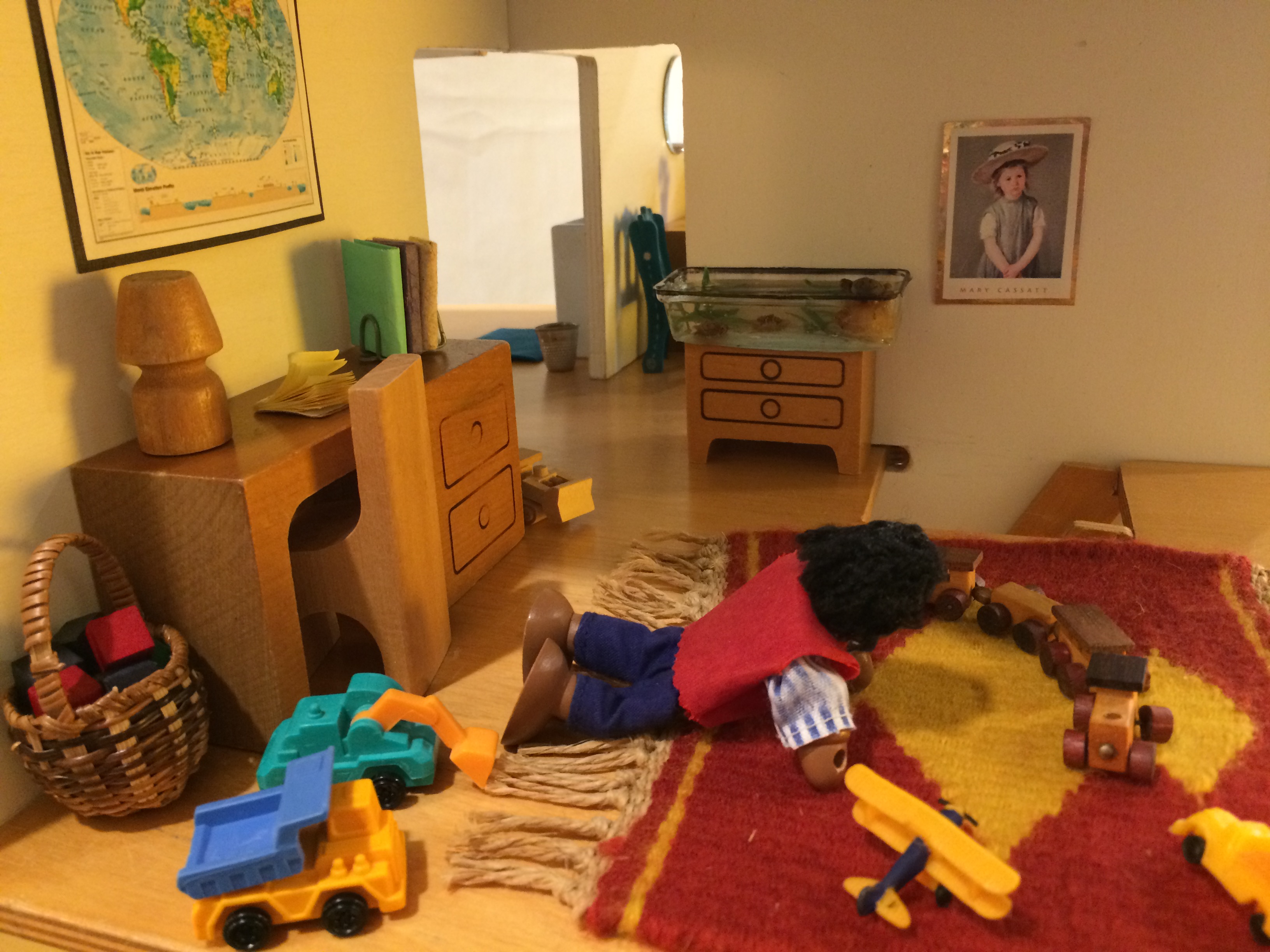 Brother's blocks got picked up, and he was delighted to play with his (fragile) train once again,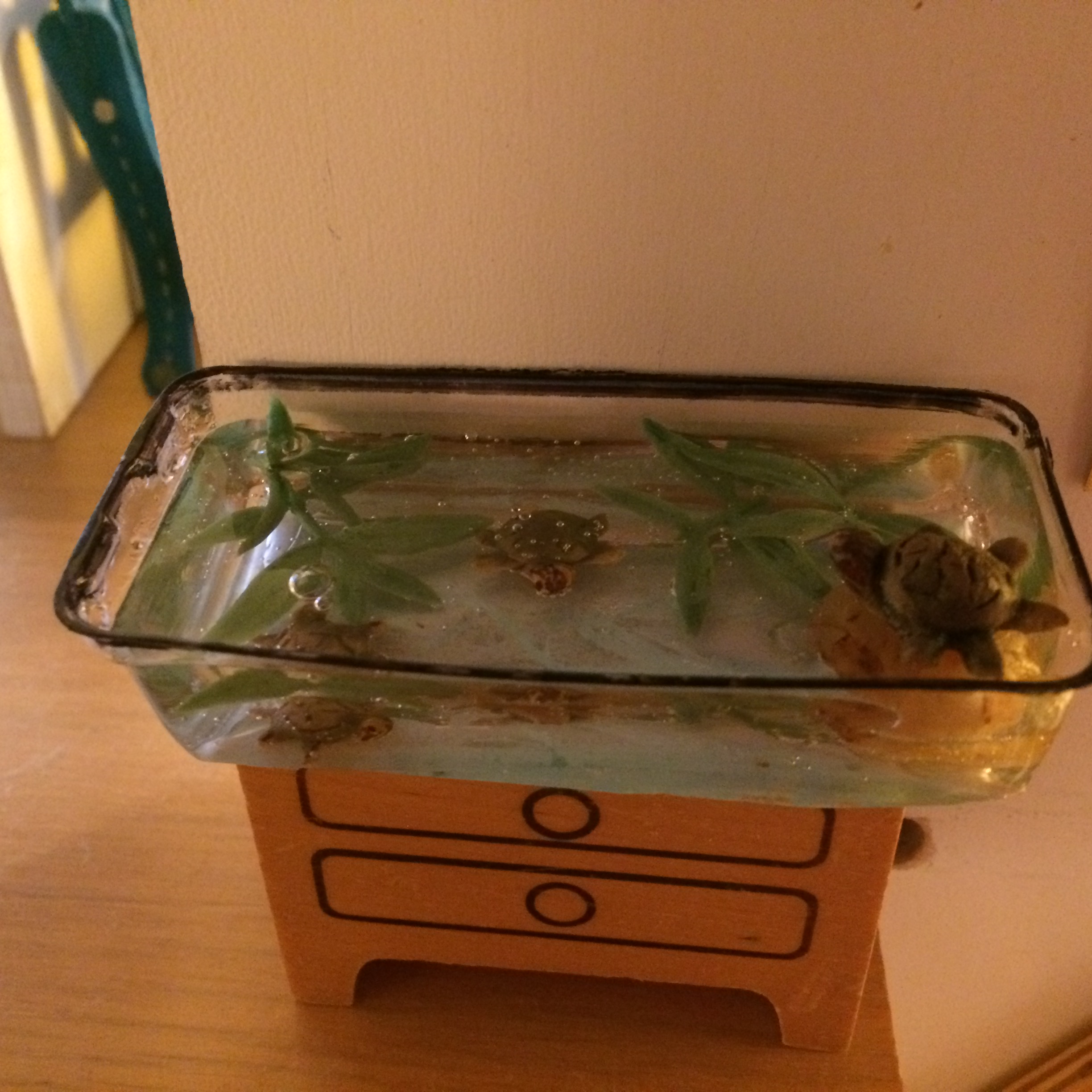 The turtles were given fresh "water" with the hope that small fingers will know not to poke it again, and water plants were added for the first time.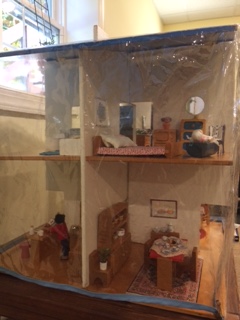 The plastic cover is on again and the doll house no longer stands in the middle of the floor. It's time to return to the larger world, but I do so with renewed hope for the time when "the smalls," as my daughter-in-law calls them, can come to play again.