(Note: If you missed my previous November 19 post, "Lullabies," it might be helpful to begin with that before moving on to this one.)
"Thank you for singing me to sleep last night," I said to my California daughter-in-law the morning after she and her two children arrived at our house the week before Christmas. They had come earlier than our son who had concerts scheduled up until Christmas. It had been a long and exciting day for the children, and they were still on California time, making it hard for them to settle down. Finally, we were all in bed, and as I clicked off my bedside light, I heard a lullaby coming from the other side of the wall—"Baby's boat's the silver moon/sailing in the sky . . . ," one of the songs I recorded for my granddaughter, Miriam, now being sung to her cousin. I sang along softly and then lay and listened to my daughter-in-law sing on. I knew she had not grown up hearing that song, but she was helping to pass it on to her children. That process was continuing.
This is not what I planned to write about, however. By that night I had already started a second part to the lullaby post. I'd had requests for a song from the CD, and as reluctant as I'd been to let anyone beyond the family hear me singing, I'd decided to take the plunge, intonation problems and all. Here I am, along with Wayne, singing "All Through the Night." When this was recorded, Wayne was already having problems with his voice, so I particularly treasure the songs he recorded with me. They help me remember his beautiful tenor voice.
And since I had taken the plunge and figured out (with help from Jeremy and Wayne) how to link songs to the post, there was another lullaby I wanted to highlight. It was one that Jeremy had taken in a totally new direction—not on the lullaby CD but on another one. I should have known better than to give Jeremy the recordings of our entire sessions to edit—chatter, false starts, extraneous noises, and all. I knew he would put together the lullabies in a satisfactory way, but I also know he is never satisfied with doing only the expected, straightforward job. He is most happy adding his own twist to whatever he does, and this project proved to be no exception. At Christmas that year he presented me with a CD titled "The B-Sides." It contained three tracks, not me singing lullabies, but take-offs on the lullabies themselves. One was a collection of the ones written in 3/4 time, playing them on his bass as waltzes. Another he called "Outtakes," a collage of sounds, words, and snatches of songs that he cut from the recording and put together into a clever and funny piece.
The third was his version of "Swinging 'Neath the Old Apple Tree." It was a song that I learned from Grandma, one I assume she learned in school when she was a child. It created in my mind a sepia picture of a turn-of-the-century child swinging under a blossoming or fruit-bearing apple tree with cows in the background, grazing contentedly in an open, grassy field. I also remember it as the song Mother sang to my sisters and me and then to her grandchildren as she pushed us and them on a swing.
I had done an internet search to learn what I could about the song and found out that Oren Robert Barrows wrote both words and music and that his music began appearing in 1856. Grandma was born in 1896, so that meant her learning it at school fit chronologically. I also found the score in the December 1929 issue of a LDS Church children's magazine, The Children's Friend, but nothing more.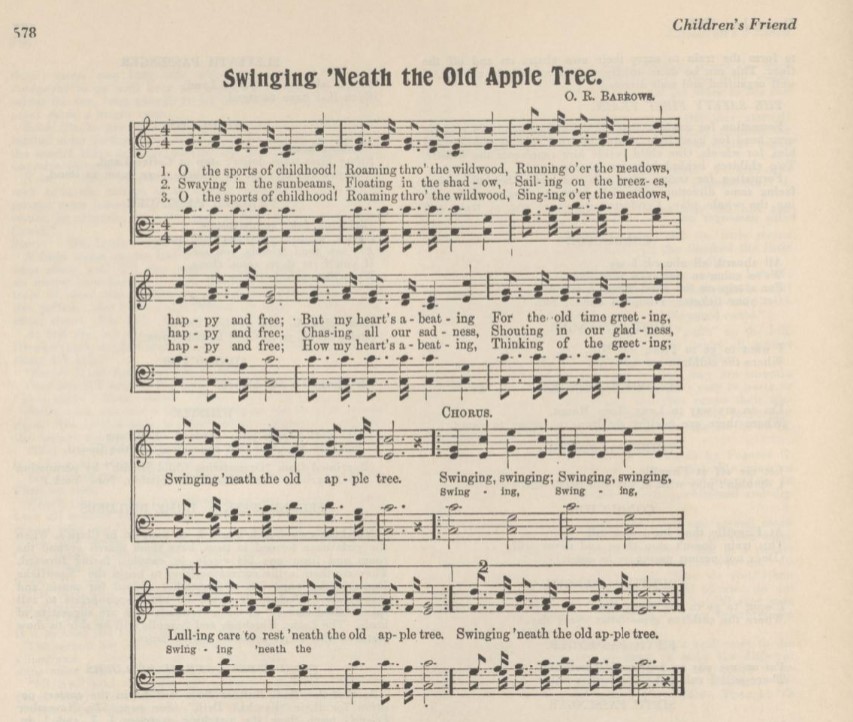 When Jeremy (who had taken swing dance classes) gave me the CD he said that every time he heard the title of the song, he pictured something quite different from my mental image. He titled the track "Swinging." He recorded it on his bass with two friends, a drummer and a sax player.
So, here is me singing a rather sedate version of "Swinging 'Neath the Old Apple Tree," as I envision a bucolic, long-ago summer day.
and here is Jeremy's much livelier swing version.
I wonder what version his son will create.