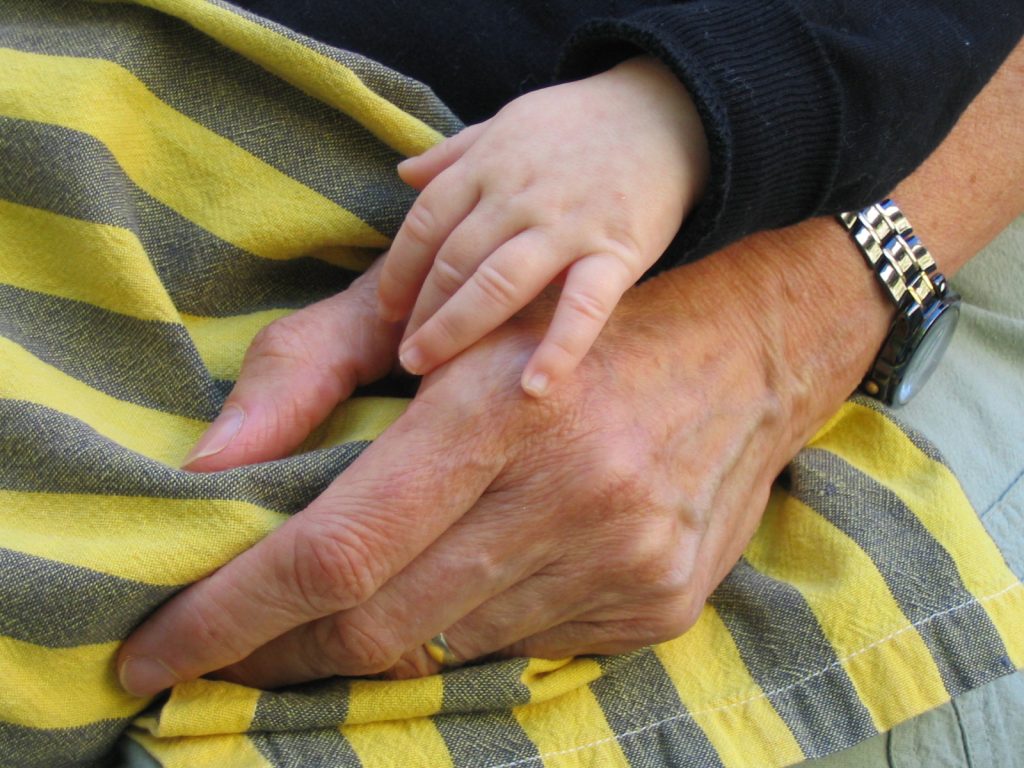 Part I
I've been catching up on some podcasts from the past, and the other day I listened to an episode of "We Made you a Song" by The Steel Wheels. The person for whom the song was written in this episode requested a lullaby. She described singing to a child at bedtime as a "tender, intimate time." That brought to mind one of those "tender, intimate" times with my own sons at a point in our lives when those moments were few and far between. My sons were teenagers and bedtime songs were a thing of the past. In fact, Wayne and I were the ones more likely to be in bed first. Roles were shifting—I often went to sleep hearing Geoffrey play his guitar and sing in his bedroom down the hall from us.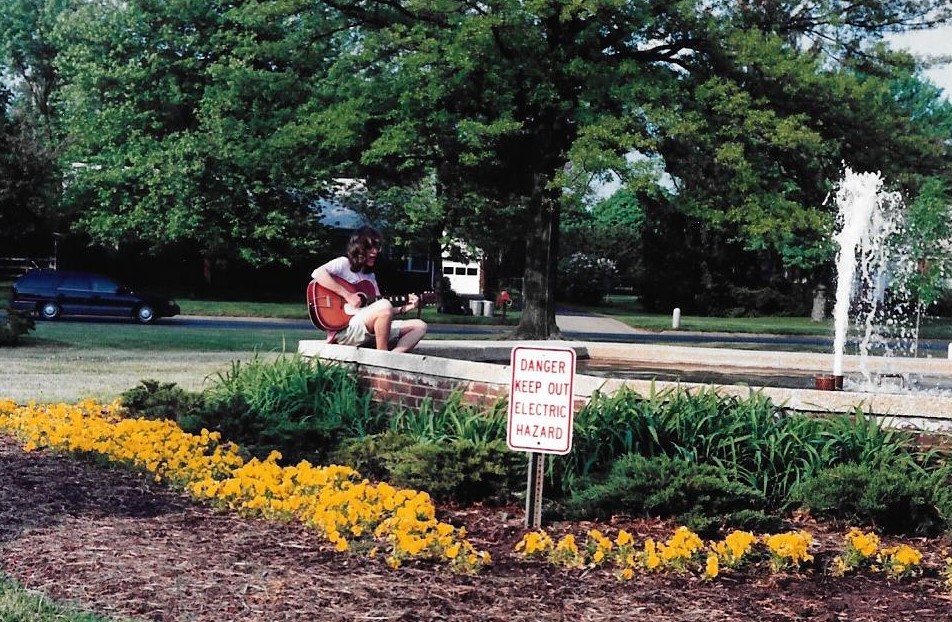 Now we were taking him to college in Florida. All four of us were in the car and we were driving late into the night because we needed to arrive by noon the next day. I had not anticipated how all-engulfing my grief would be at my first-born leaving home. I felt wordless—my throat aching with the tears I didn't want to shed. I knew that he had anxieties about this new stage of his life, but he did not confide in me. He now confided more in friends—he was no longer my little boy and mothering as I had known it for eighteen years was finished.
We drove together silently in the dark. No one had the energy for small talk. I had no idea what Geoffrey was thinking, but the other three of us were all feeling our individual versions of grief. Out of the silence came a question from the back seat. Our younger son Jeremy asked, "Mom, what were the songs you used to sing to us at bedtime?" I paused a moment but instead of naming them, I began to sing,
"Sleep my child and peace attend thee, all through the night,/Guardian angels God will send thee, all through the night . . ." 
Wayne joined, singing tenor as he often had. I barely paused before beginning,
"Sweet and low, sweet and low, wind of the western sea." 
Again, Wayne joined in. Once started, the songs seemed to flow on their own—"Twinkle, twinkle, little star," "Lullaby and good night" (Brahms Lullaby), "O hush thee, my baby." We went on to other bedtime songs—Sundays school ones, silly and fun ones—"The wheels on the bus," "How much is that doggy in the window," "This old man." We sang for miles and miles. When we could think of no more, the silence returned, but I felt strangely comforted.
Eventually we stopped for the night, and the next day we began setting up Geoffrey for his new life as a college student. I continued to feel sad as we returned home to resume our lives without him. It was not until then, as I told the lullaby story to a friend, that I thought more deeply about what had happened that night. I was not just singing songs to my sons that reminded them of the safety and comfort of childhood bedtimes. As I sang, I heard in my head, Mother and Grandma singing some of those same songs to me. I thought I was singing to my sons, but Mother's and Grandma's remembered voices sang to me as well. I was being loved and reassured. I too was safely enfolded.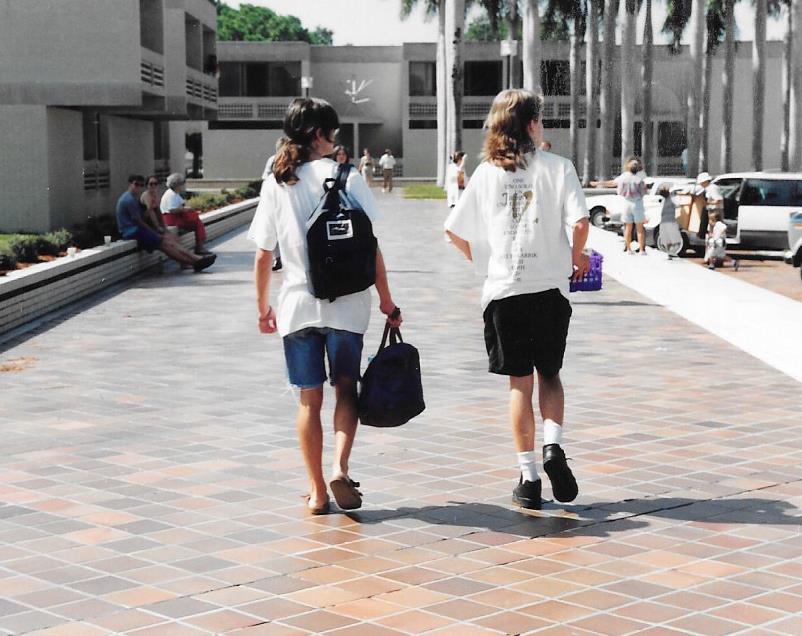 Part II
Fifteen years passed. Our first grandchild arrived. Geoffrey was now the parent who would be singing bedtime songs. I wouldn't be around to sing many lullabies, but I wanted to pass on this blessing to a new generation. Even though I don't consider that I sing very well, I decided to make a recording of lullabies as a gift. And as with many projects I begin, it grew into something bigger than I had imagined. I consulted with Jeremy and from there it grew.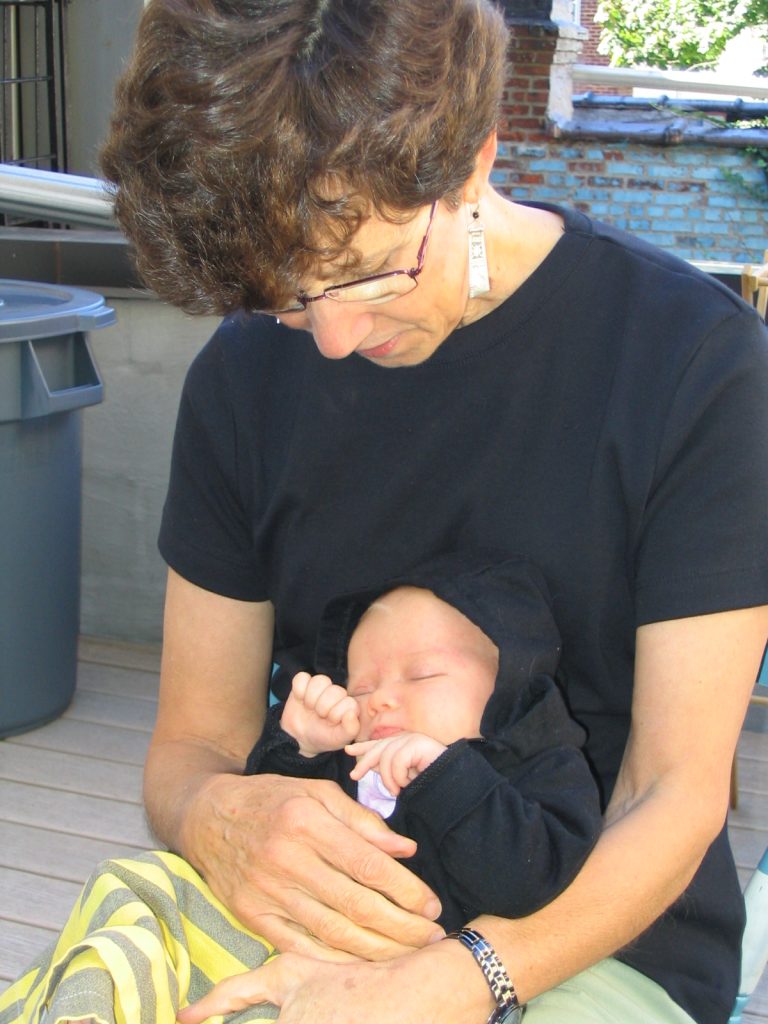 Our friend Margie, who had encouraged Jeremy and accompanied him on piano when he first studied bass, agreed to accompany me. Jeremy loaned me his digital recorder—the one he bought with inheritance money from his grandma, my mother. Our church allowed us to record in the sanctuary, using their piano. When our family was together in Brooklyn to welcome Miriam, the new family member, Jeremy and I plotted in secret at our hotel, comparing scores, discussing which songs he would accompany, and determining the best keys for my voice. I knew I was beyond my depth, but we kept going.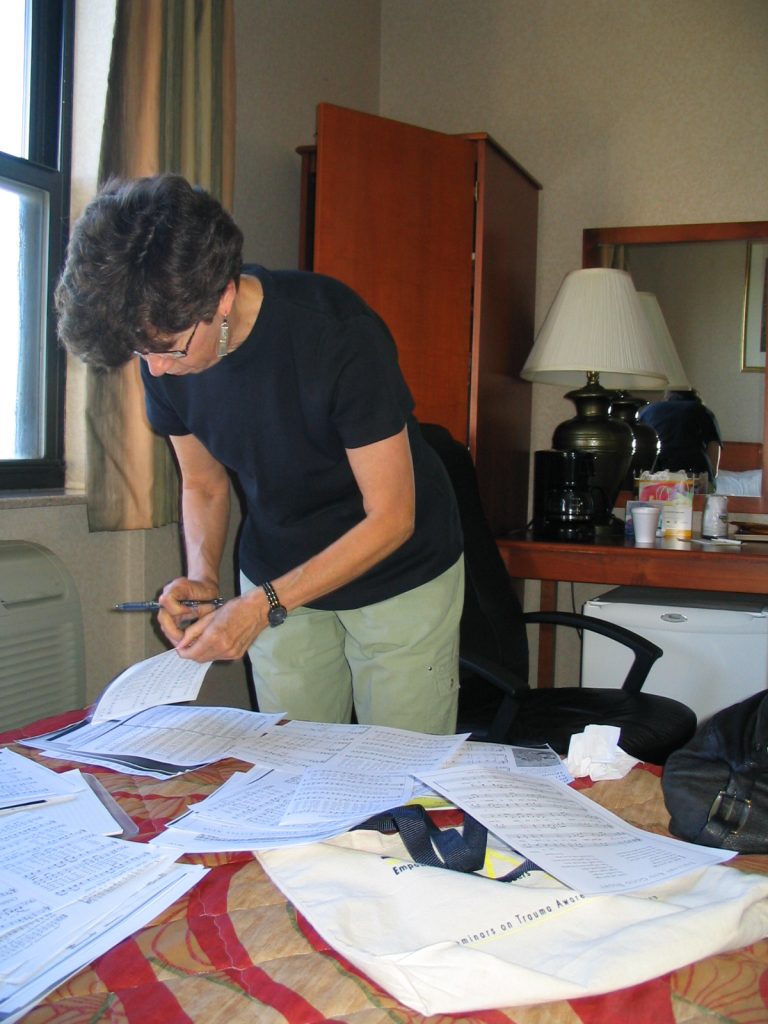 And then the "I can hardly talk" voice emerged from my past. I feared I couldn't do this. I took Jeremy's mic with me to a gathering of pastoral counselor colleagues, and sitting there, mic in lap, I told them that I felt once again like my three-year-old self standing paralyzed at the mic my father held out to me. But even as I talked about my fear, I knew I would do it. I now knew there was a difference between feeling like I couldn't and actually being unable.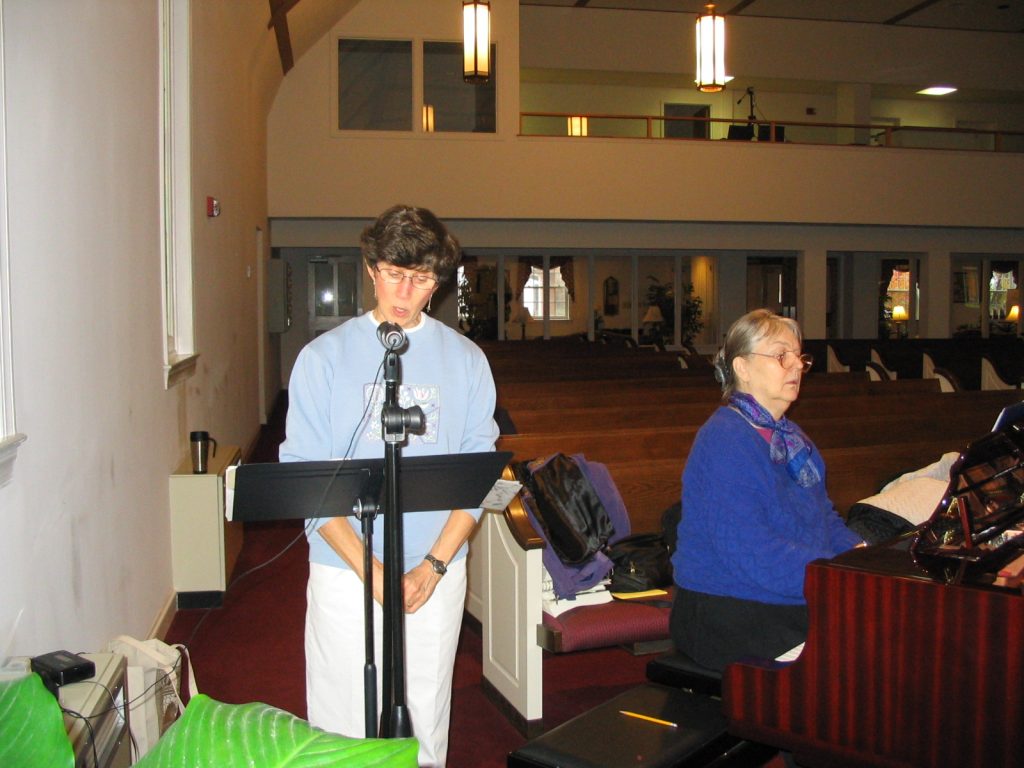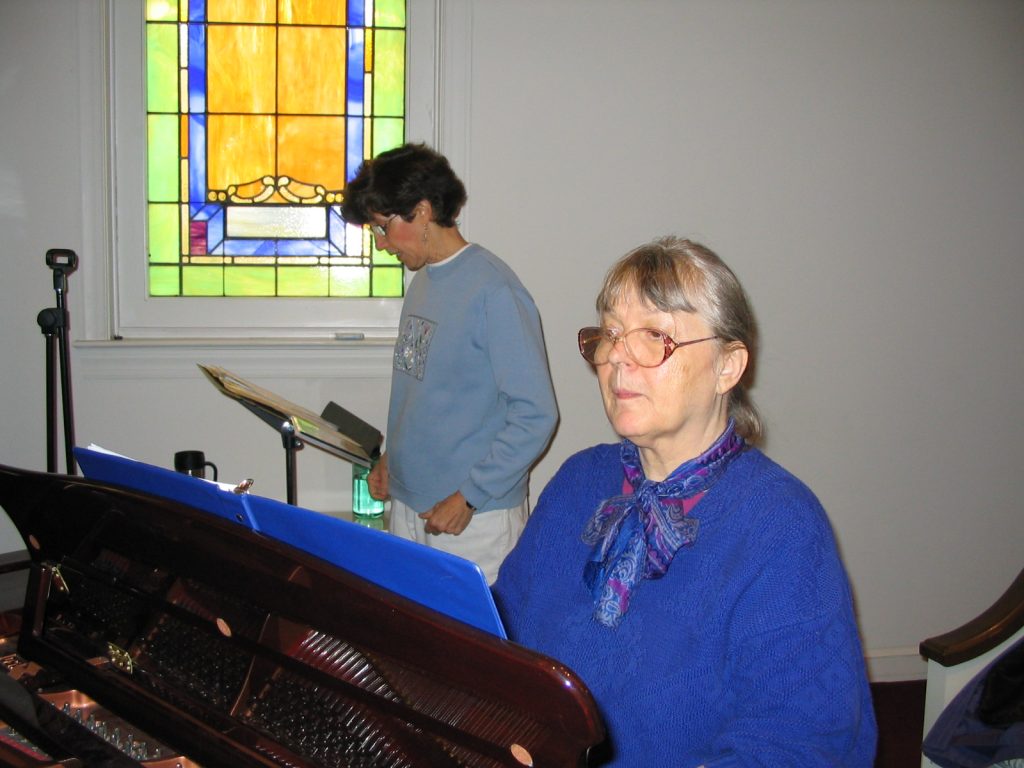 Margie and I met—several times—and I sang through my hesitancy. Wayne joined me on a number of songs. Jeremy, who had offered to put the CD together suggested that we just record everything, and he would edit it. He thought that would give him more options, but for me it eliminated some of the sense of being recorded. I didn't have to face the pressure of that "you're on" moment with each song. I also kept a picture of Miriam clipped to the music stand to remind me to whom I was singing. This wasn't a performance—I was simply singing songs to her.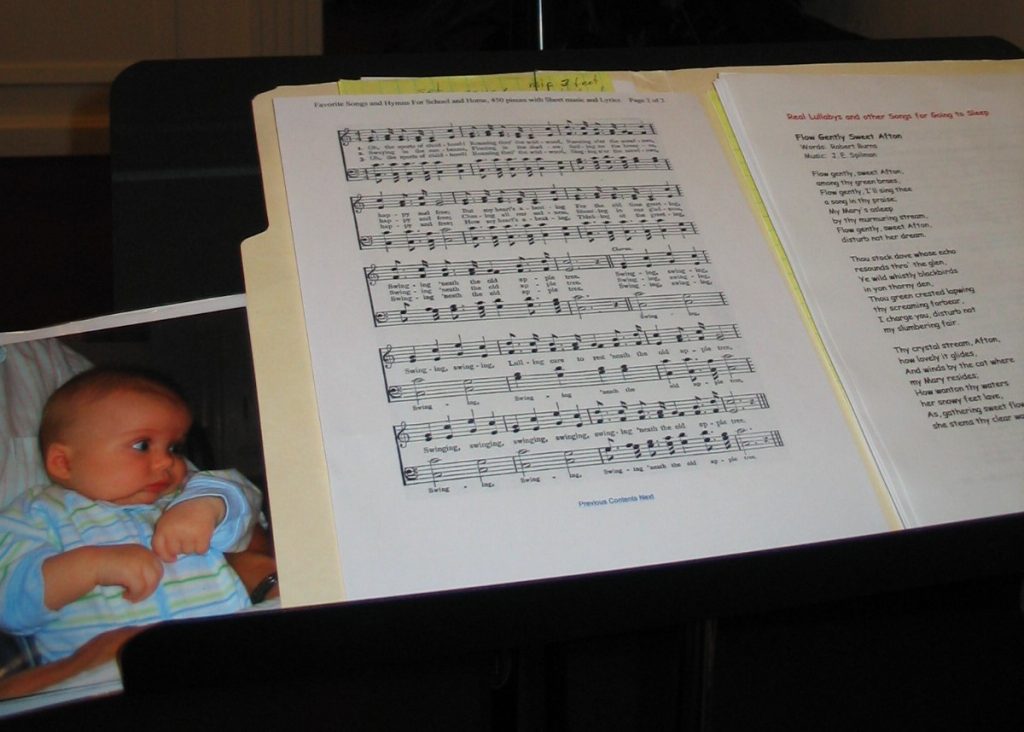 We completed the CD by Christmas time with Wayne designing and printed the cover. Even though I knew it would be a long time before little Miriam could understand the words I was singing, I knew the songs would seep into her world carrying the generations of love they held. That was 15 years ago. The CD has now helped quiet or entertain four other grandchildren as well. It has given us a common "vocabulary." When I visit in Brooklyn or San Diego, the grandchildren know what songs to request when I put them to bed. They will never know the grandmothers from whom they came, but I like to think that the songs tie them together in some ineffable way.
In the booklet I made to go with the CD I included these pictures.
Generations Through Which These Songs Have Traveled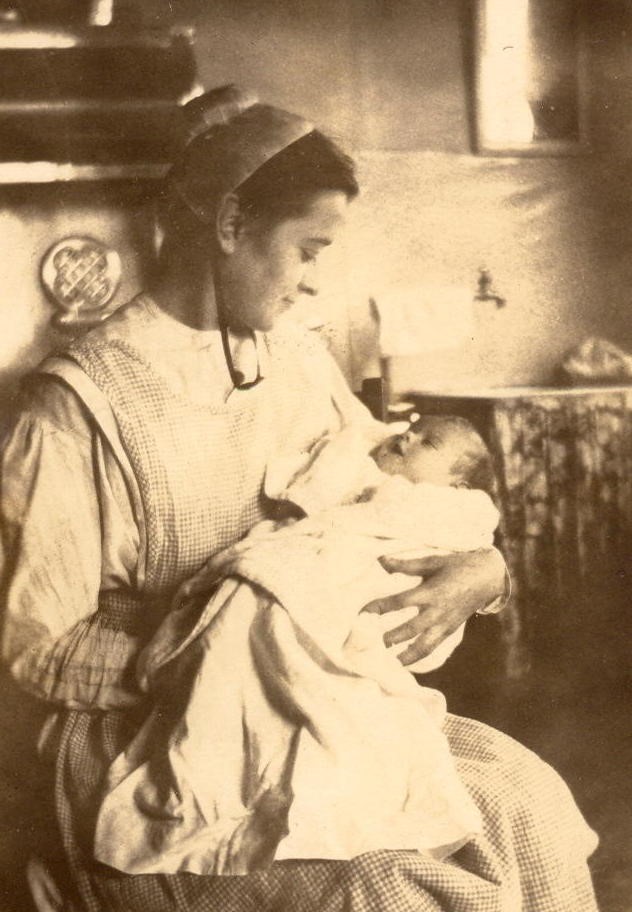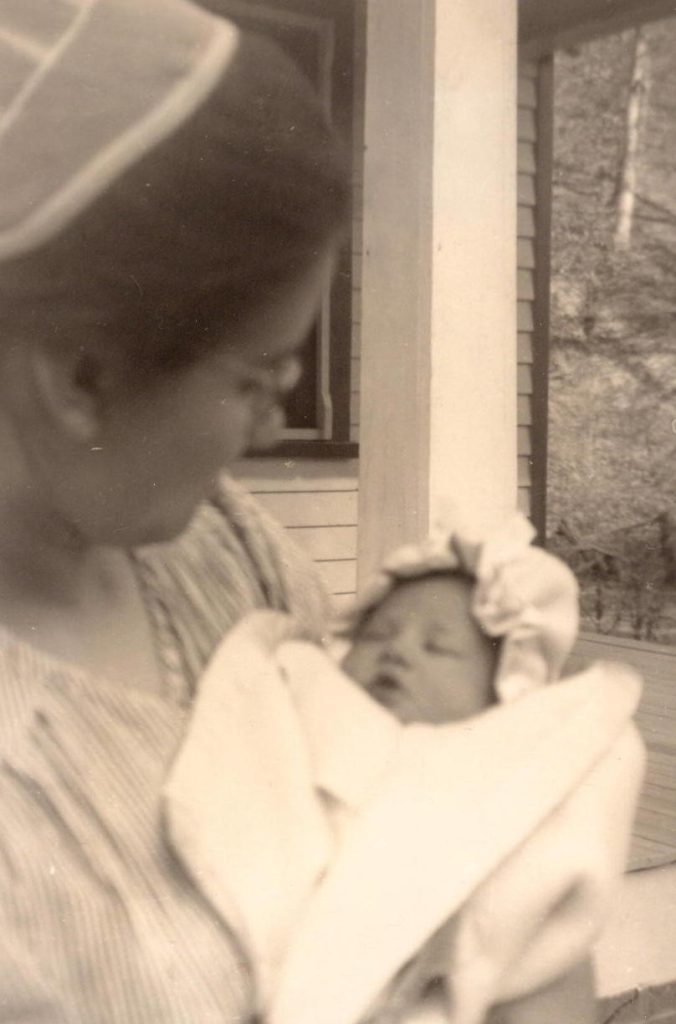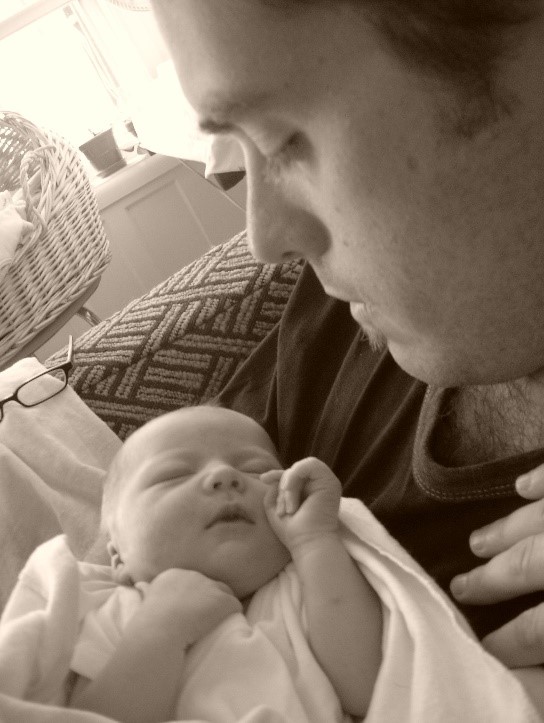 And for those who love detail, here is the list of songs on the CD.