One of the people I think of on Mother's Day is Rosa. For twenty-four of the years we lived in Manassas, she was my next-door neighbor. Our backgrounds were very different. She was of French Huguenot ancestry, grew up Methodist, and converted to the Catholicism of her husband. There were political issues on which we differed, and generational differences. She was almost my mother's age and I could never decide whether she was more a mother or a friend. We shared more together than many neighbors do–she was always more family than casual neighbor both to me and to my family. In all the years we knew each other, I always felt acceptance, respect, and unconditional love from her. I miss her still.
Since I have been traveling for several weeks, I am only now home again and ready to post this "Mother's Day" essay—a shortened form of what I wrote for her son soon after her death.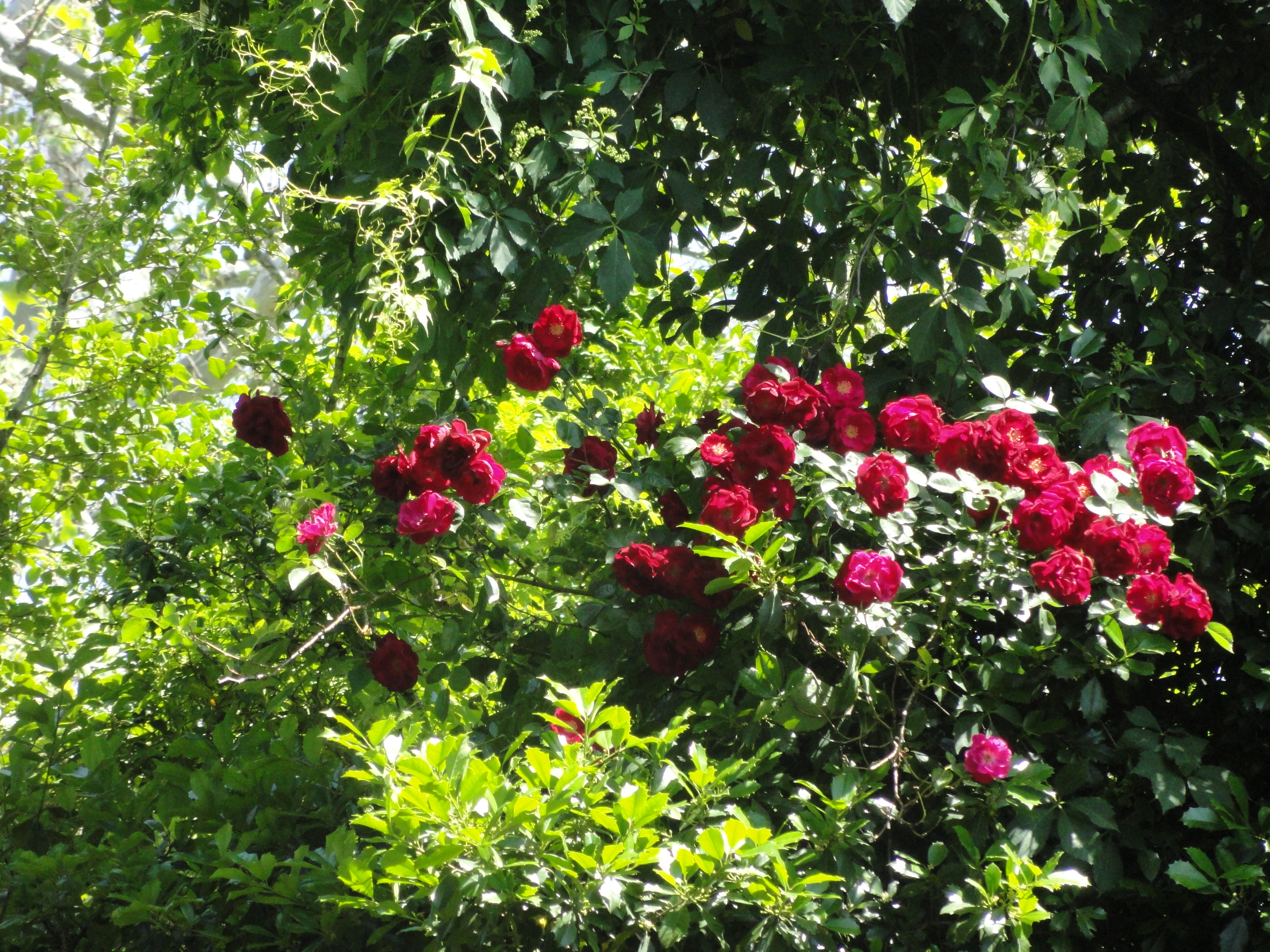 Two summers before Rosa's death I stood talking with her in her back yard. She said she had hired a lawn service because she had two more summers to live and wanted to enjoy her back yard as long as she was here. I said, "Oh, Rosa, I hope you have more time than that," and she replied matter-of-factly, "No, I have two more summers, and that is okay." She was stooped and had more bad days than good, but, in my denial, I didn't want even to think about her being gone. I pushed the thought out the back door of my mind and quietly closed the door.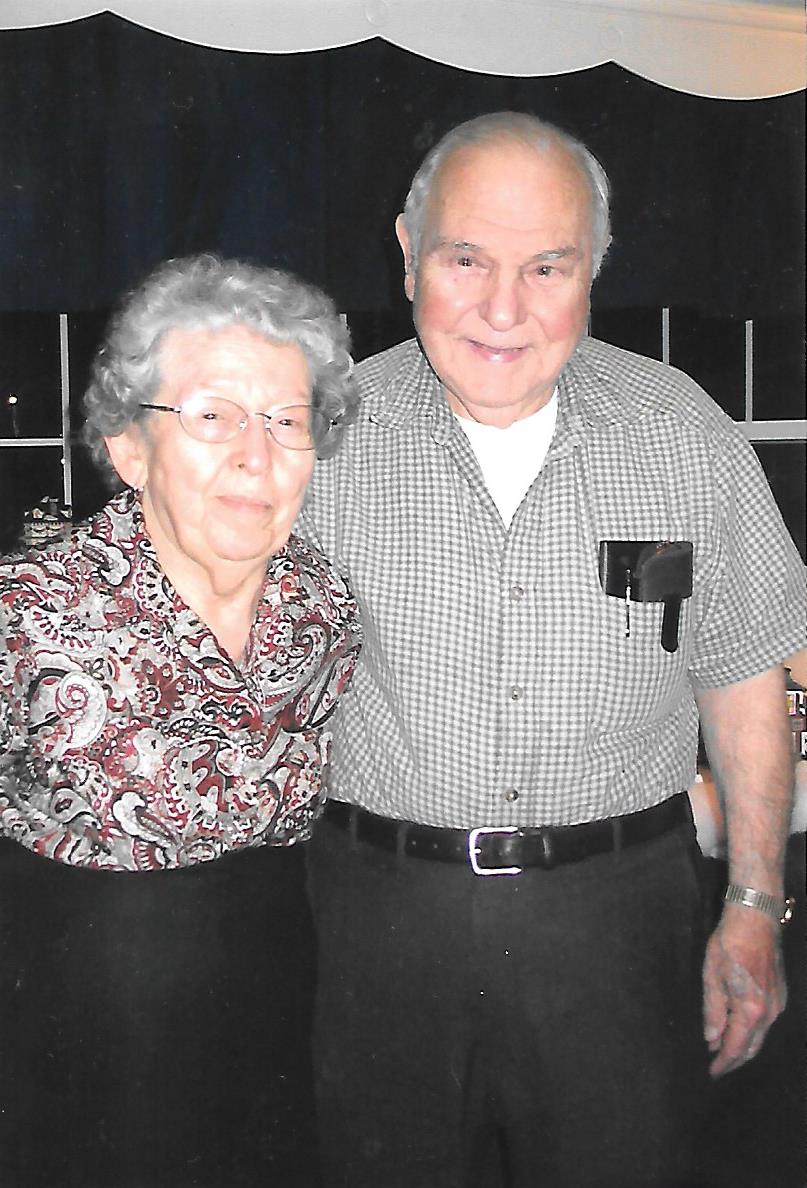 Twenty-two years earlier we had moved to Manassas, a place where we had no connections. It didn't take long, though, to meet our next-door neighbors, Butch and Rosa. From the beginning it was if we had known them a long time.
My first clear memory of Rosa comes shortly after our move. I was leaning out of the upstairs bedroom window to wash the outside, and she called up to me from her flower bed saying that it was good to see the windows sparkling again. This moment marked the beginning of many years of knowing that Rosa was seeing me, not casually observing, but making a place for me in her awareness and in her heart. A few days later she came over to bring us a copy of the local paper that had an article about Wayne and his new job, and she commented that already we had made our house more of a home than any previous owner. How did she know that, I wondered?
Rosa quickly became our go-to person for almost everything—where to find a good hardware store, who would be a good plumber, what nursery had the best plants. She taught me the pronunciation of Catharpin (cat⋅har⋅pin) "so you won't sound like an outsider," and she took me to the Benedictine sisters at Linton Hall to get starts of herbs. Whether I needed an egg, an extra garden rake, or a patio table, she willingly shared. If I wanted a particular size of baking pan, she usually gave me a choice among several. One of her favorite sayings was, "I have two of almost everything, and of some things I have three." Rosa's loans came with more than the object borrowed. She gave of herself as well. When Grandma lived with us for several months following hip surgery, Rosa not only offered us a wheelchair, but she and Butch came and rolled Grandma across the street to hear Geoffrey read his Arbor Day essay in Nelson Park. When she discovered that Grandma loved to read the news, she and Butch read their papers promptly, and she brought the Washington Post and Richmond Times Dispatch over for Grandma to peruse. These deliveries usually included a short or sometimes longer visit, adding a social contact to Grandma's day.
Rosa seemed to sense just what help was needed, even when we didn't ask. Two instances stand out in my mind. Jeremy missed a lot of school in his early years due to undiagnosed allergies. One of those times was the day of a Halloween party at school, and he was inconsolable. I happened to mention it to Rosa that morning on the phone. It was a dreary, drizzly day and when the doorbell rang a few hours later I opened the door to a big black umbrella. Nearly hidden beneath it stood Rosa holding a small flower arrangement which included an orange pumpkin candle. It was for Jeremy, to help make up for his disappointment. Jeremy and I followed the directions and carved a jack o' lantern face on it before we lit it.
Then there were the tickets. Grandma developed congestive heart failure during her stay with us, and I was coping with oxygen tanks, visiting nurses, round the clock care, and all the other things that go with nursing an elderly person at home. I was worn closer to the breaking point than I knew, but Rosa noticed. One day she phoned asking me to come over because she had a surprise for me. I walked across the yard to her back door and knocked before letting myself in. Rosa leaned against the sink, facing me and began with one of her often-quoted sayings, "Well, you win some and you lose some." She put her name into a drawing and won a three-part prize. One part was a tour of houses, (her ongoing mission was to find a house for her son). The other two parts she was giving to Wayne and me—a pair of tickets to a concert at The Barns of Wolf Trap and an overnight stay at an expensive Tyson's Corner hotel. I was overwhelmed by the gift, but what I remember even more clearly was Rosa's delight and pleasure in being able to offer it to us. I didn't realize how much I needed that night away, but Rosa knew.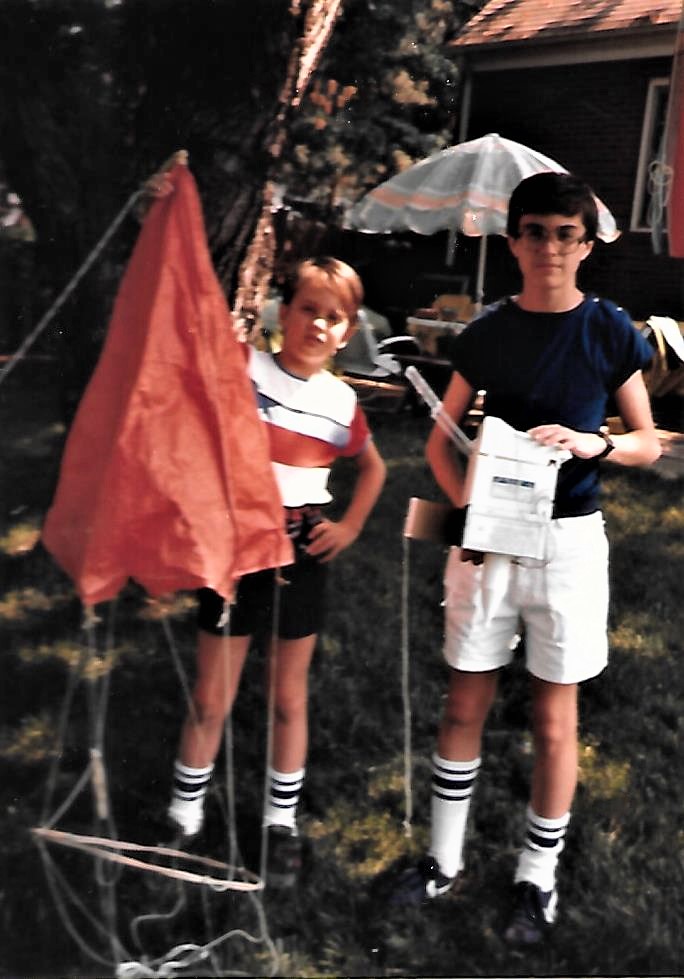 Rosa was a keen observer, aware of what would catch the interest of two young boys. One morning she called and asked for Geoffrey and Jeremy to come over to see something interesting. It turned out to be a U.S. weather balloon caught in one of her trees. She was always on the lookout for things that might interest us—a book, a magazine article, a TV program to tape for us. It was Rosa who suggested that the boys ought to record Grandma telling stories from her youth. She wanted them to preserve the rich store of memories from their great grandmother. Rosa hired Geoffrey to paint her shed and showed him how to do it. She praised Jeremy for his newspaper deliveries and tipped him generously. I believe that one reason both boys loved Rosa was that she never talked down to them. She treated them like unique individuals who had valuable thoughts and ideas.
One of the commonalities of our friendship was our love of gardening. Working in our respective flower beds often provided the occasion for us to talk together. We traded plants, praised each other's successes, and consulted about our problem plants. A lover of bargains, she often bought more plants than she could tend and the excess spilled over to me.
Being Rosa's neighbors meant more than a friendly "hi" across the fence. We exchanged house keys for those times we locked ourselves out and for emergencies when the other was gone. When we left for trips, we knew that our mail would be brought in, our plants watered, the cat, not only fed, but played with. If it rained hard the basement would be checked for water When we returned Rosa almost always commented that it was good to see lights on in our house again. Her name appeared on both boys' school forms as the emergency contact. She instructed her snow removal person to clear a path between our two houses because we needed to be able to reach each other. In the summer we enjoyed the wide expanse of our adjoining yards which we both agreed to keep open between us, giving the sense of a park-like space.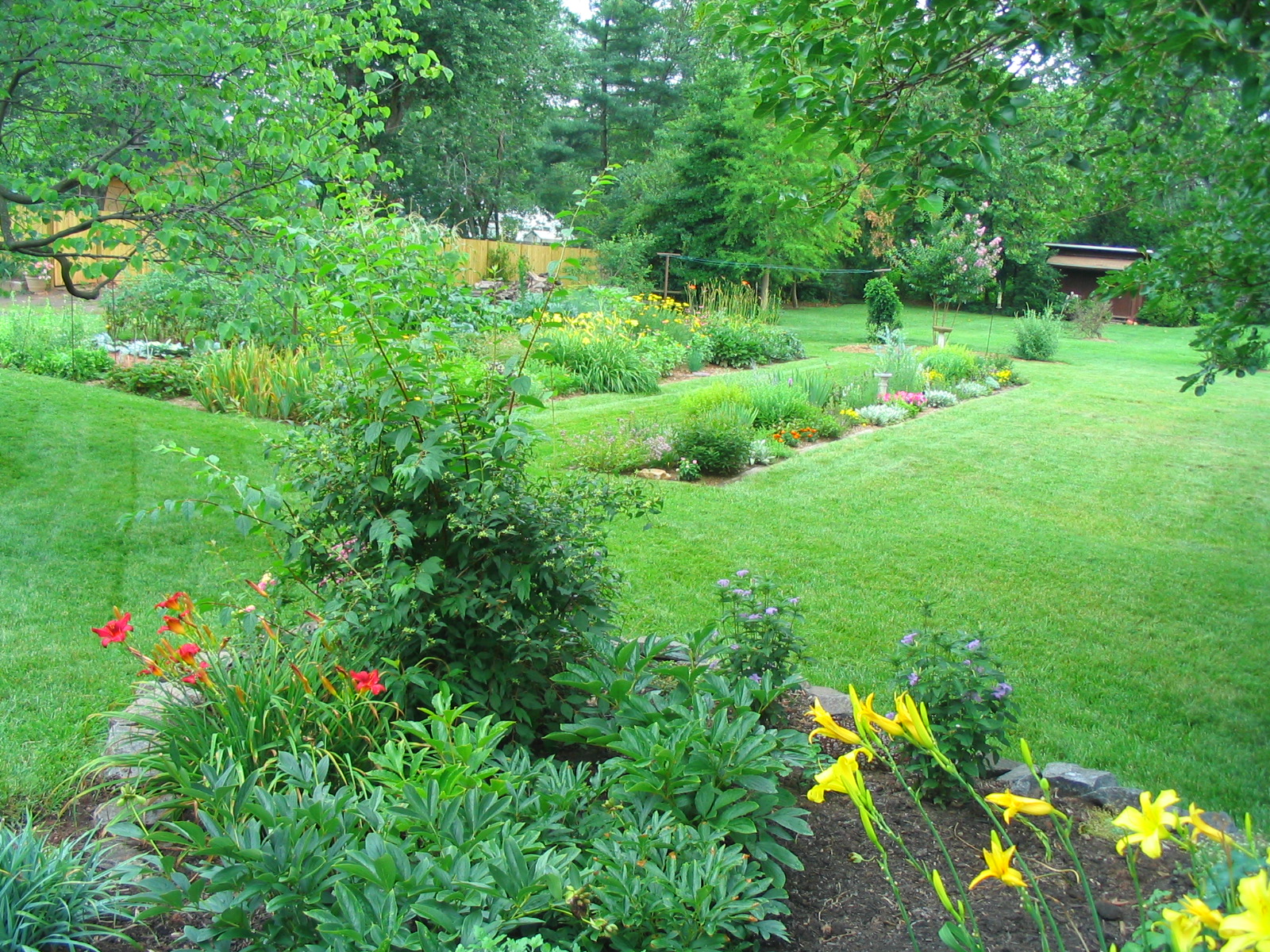 Rosa knew more than her share of loss and grief. She and Butch had three sons. The oldest died of leukemia at age twenty-one, years before I knew her. She spoke of him from time to time, sometimes with a catch in her voice, but often with enjoyment, telling me about his interests and abilities. For many of the years I knew her, she was worrying over her youngest son who suffered from severe, uncontrollable diabetes that eventually claimed his life. At his funeral I was touched by how little and old and tired she looked, but she determinedly went on, refusing to give in to despair or self pity. She talked freely to me about her sons, but never once did I hear her complain about the unfairness of losing two of them so early. She worried about Butch, getting teary more than once in concern for his health and the grief he carried for his lost sons.
Rosa continued to embrace life. During her last summer our night blooming cereus* had multiple buds and one night three of them opened. It was about 10 p.m. but lights were on next door, so I called to see if Rosa wanted to come over to see them. She did. Wayne walked across our driveways to help her navigated her way, and when she had made it up our six porch steps, she sank gratefully into a chair. Together we admired the amazingly complex flowers. I expected that she would want to stay ten minutes or so, but she sat there for most of an hour simply enjoying the flowers, asking questions about them, and observing details—like a child in her wonder and enjoyment of their beauty.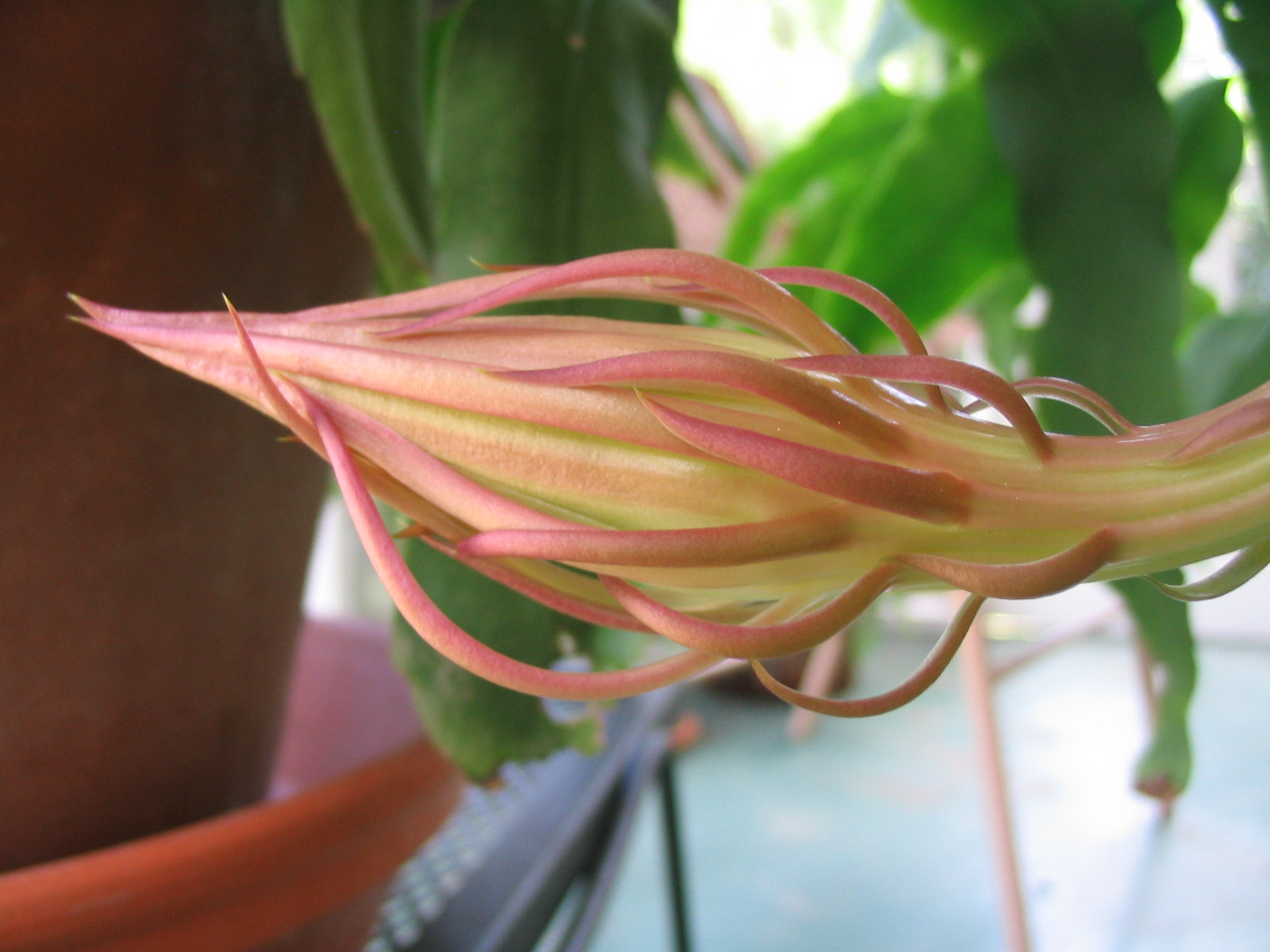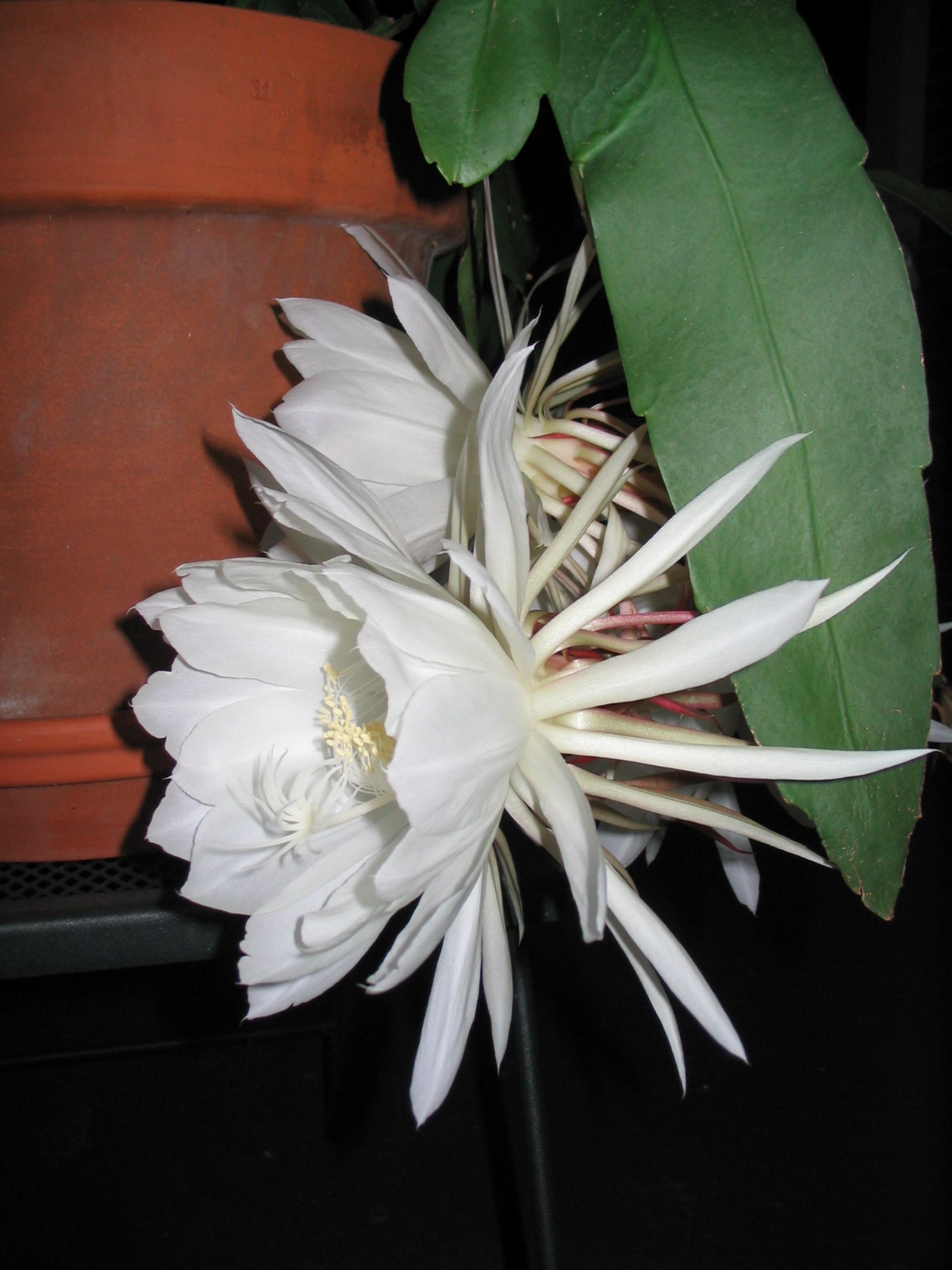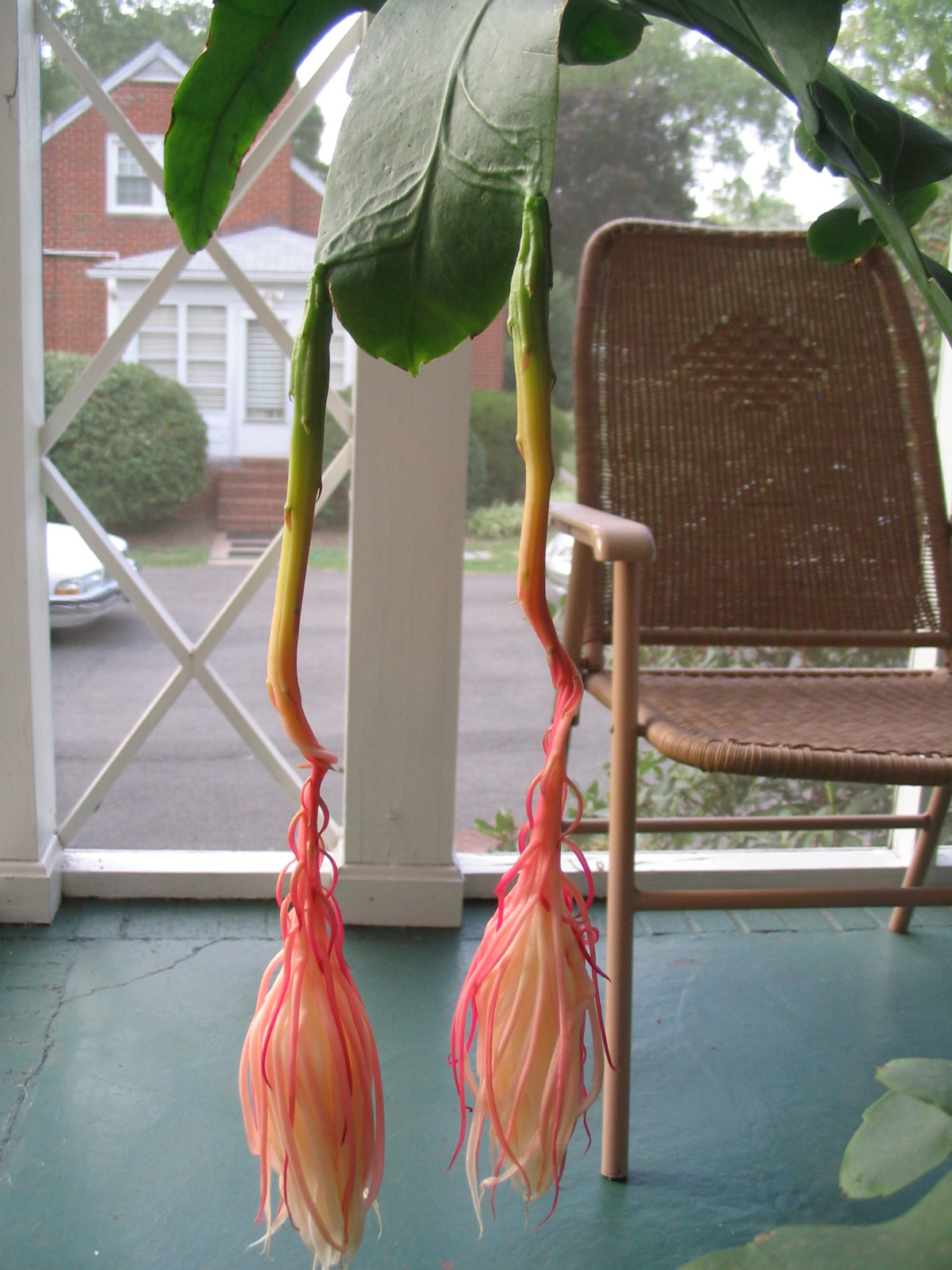 During that year we watched her become more and more stooped. She came out less often, but still in the summer evenings I would look over and see her slowly moving about the yard. She gloried in the basket of pink petunias given her by a nurseryman she had patronized over the years and talked repeatedly about the youth from her church who came to help for a day, filling her back yard with energy and laughter. When she felt up to it, she worked at cleaning out closets, tool sheds, and cupboards, sometimes calling me across the back yard, to come and see what she found, or to offer me something. Large hematomas developed on her arms. She looked like a shelf brace—the upper half of her body bent almost perpendicular to her legs. Clearly life was more and more difficult and she was preparing to leave.
Just before our summer vacation Rosa was diagnosed with leukemia and hospitalized. We all knew her frail body could not take much more. I visited her in the hospital just days before we left. She was in pain and not comfortable in her bed, but her first comment to me was not about herself. Instead, she asked, "Well, has the baby come yet?" referring to my soon-to-be-born granddaughter. Talking was hard so I tried to do most of it. I told her how much I loved her and valued our friendship. She talked about this not being the way she imagined she would go—leukemia was the newcomer to her already ample list of health problems, but that she was ready to go. She spoke of her concern for Butch. I positioned a pillow for her and kissed her goodbye, knowing I might never see her again. I didn't. We had e-mails from her son while we were gone, keeping us informed of her decline. She died just as our returning plane touched down at Dulles.
I stood at the funeral home looking at Rosa's worn out, well lived-in body and remembered her often-repeated saying, "You win some and you lose some." I thought to myself, "Well, Rosa, you won this one." You are out of pain. You are free. But we will miss you here.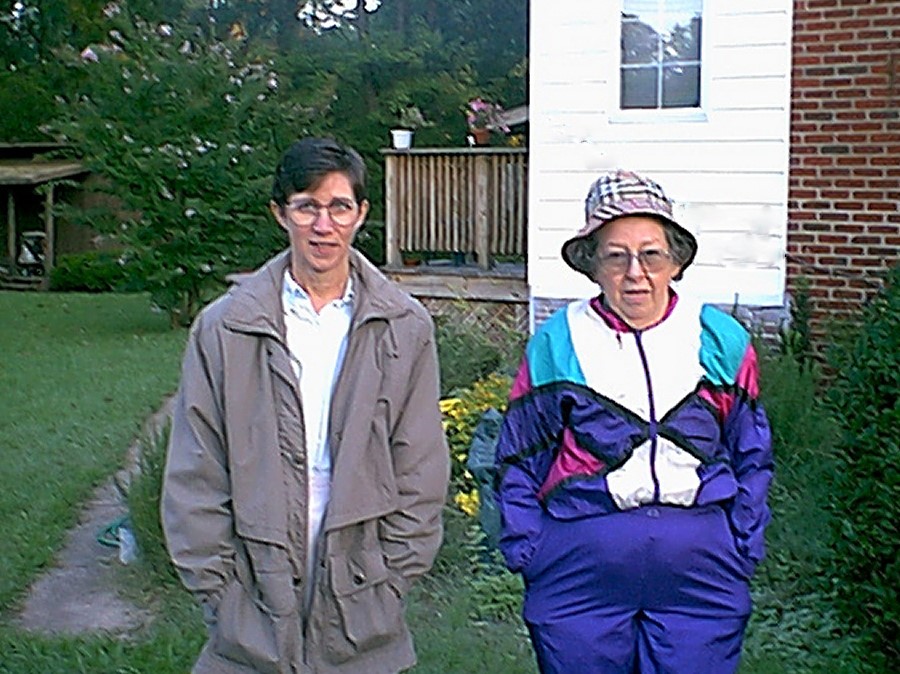 *Night blooming cereus, as their name suggests, bloom at night, for one night only. By morning they hang limp and shrunken. Hence the need to see them during the short time they are open.