The Mole had been working very hard all the morning, spring-cleaning his little home. First with brooms, then with dusters; then on ladders and steps and chairs, with a brush and a pail of whitewash; till he had dust in his throat and eyes, and splashes of whitewash all over his black fur, and an aching back and weary arms. Spring was moving in the air above and in the earth below and around him, penetrating even his dark and lowly little house with its spirit of divine discontent and longing. It was small wonder, then, that he suddenly flung down his brush on the floor, said "Bother!" and "O blow!" and also "Hang spring cleaning!" and bolted out of the house without even waiting to put on his coat. Something up above was calling him imperiously . . . So he scraped and scratched and scrabbled and scrooged and then he scrooged again and scrabbled and scratched and scraped, working busily with his little paws and muttering to himself, "Up we go! Up we go!" 'till at last, pop! His snout came out into the sunlight, and he found himself rolling in the warm grass of a great meadow.
I love this iconic opening to Kenneth Graham's Wind in the Willows. Every spring when I start feeling restless to get into my garden I think of it. "Divine discontent." I'd like to think that is what takes hold of me.
Not long ago I sent off my manuscript to the publisher after a process that didn't call for ladders or brushes or pails of whitewash, but was just as tiring—weary eyes, jangled nerves, and headache. Now I am more than ready to go outside, but I still identify with Mole. I'm in a "Bother!", "O blow!" mood. I want to be digging and planting.
The problem is that it's mid-April—the Bother, O blow! stage of spring gardening when I can be outside but not really doing what I want. The display of bedding plants at the farmer's market and the even bigger spread at the garden center tempt me to buy plants too early. I've lost more than one plant that way. Either they sit for weeks waiting until the frost date has passed, or I plant them and they freeze. So I reluctantly wait. I wish the arboretum sale were starting today. At least I could plant perennials, but I have to wait for that as well. Bother!
I did make a few exceptions—pansies and alyssum that can stand a bit of cold and a few perennial herbs to replace ones I had that didn't make it through this winder. I bought one perennial from the native plant stand at the market. Otherwise, I wait. O, blow!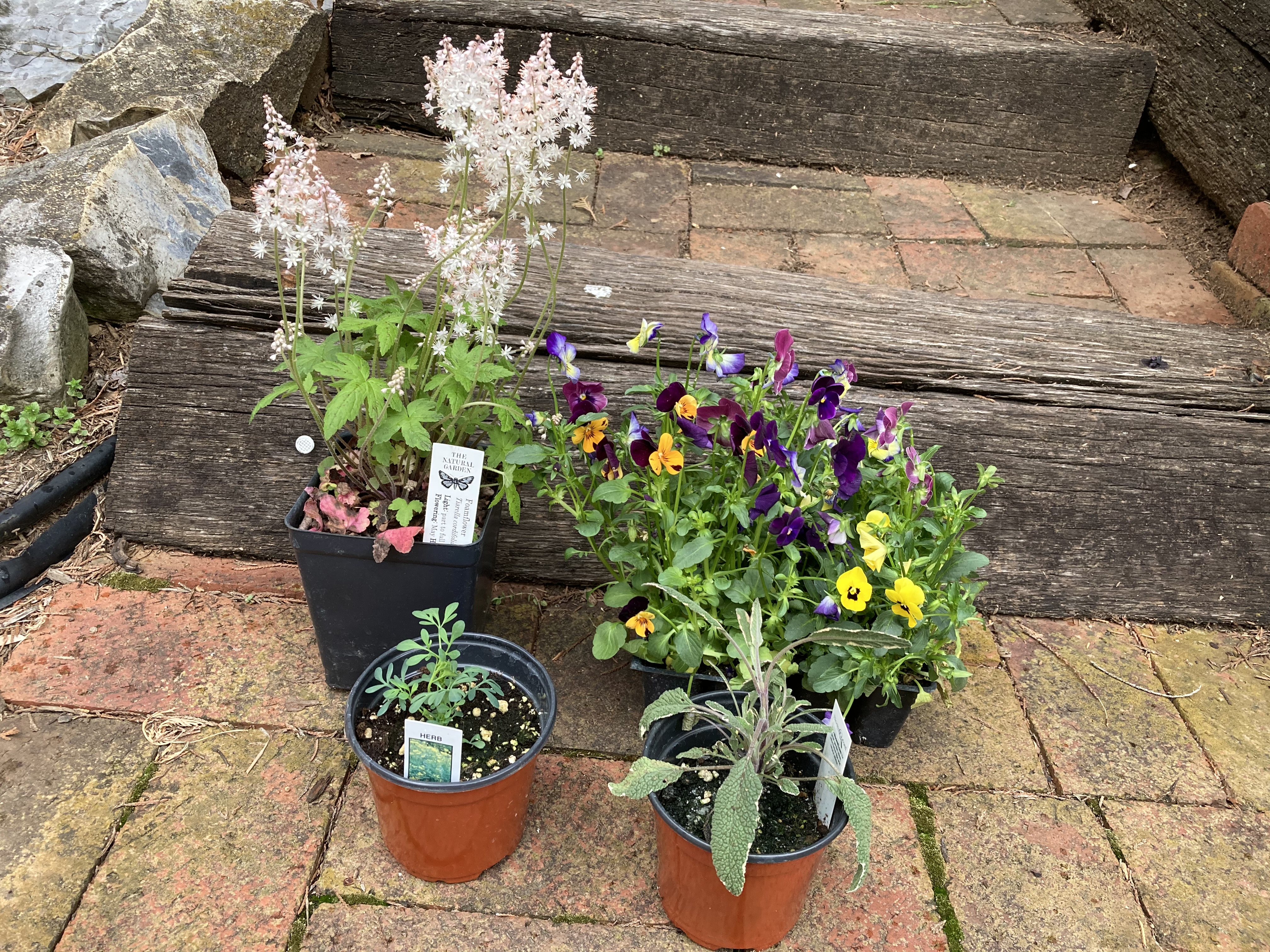 I wander out to our "woods," my hyperbolic name for the small stand of trees between our back yard and our neighbors. At least I can pull up the English ivy that keeps encroaching on the edges of our land. After a marathon of digging up ivy and periwinkle three years ago, accompanied by an unforgettable case of poison ivy, I try to keep those alien invasives away, alien invasive being the strongest swear word I know. Unfortunately, my neighbors are not concerned, and those pesky plants have no respect for boundaries. I don't want the ivy killing more trees than it already has, nor do I want them crowding out my woodland plants.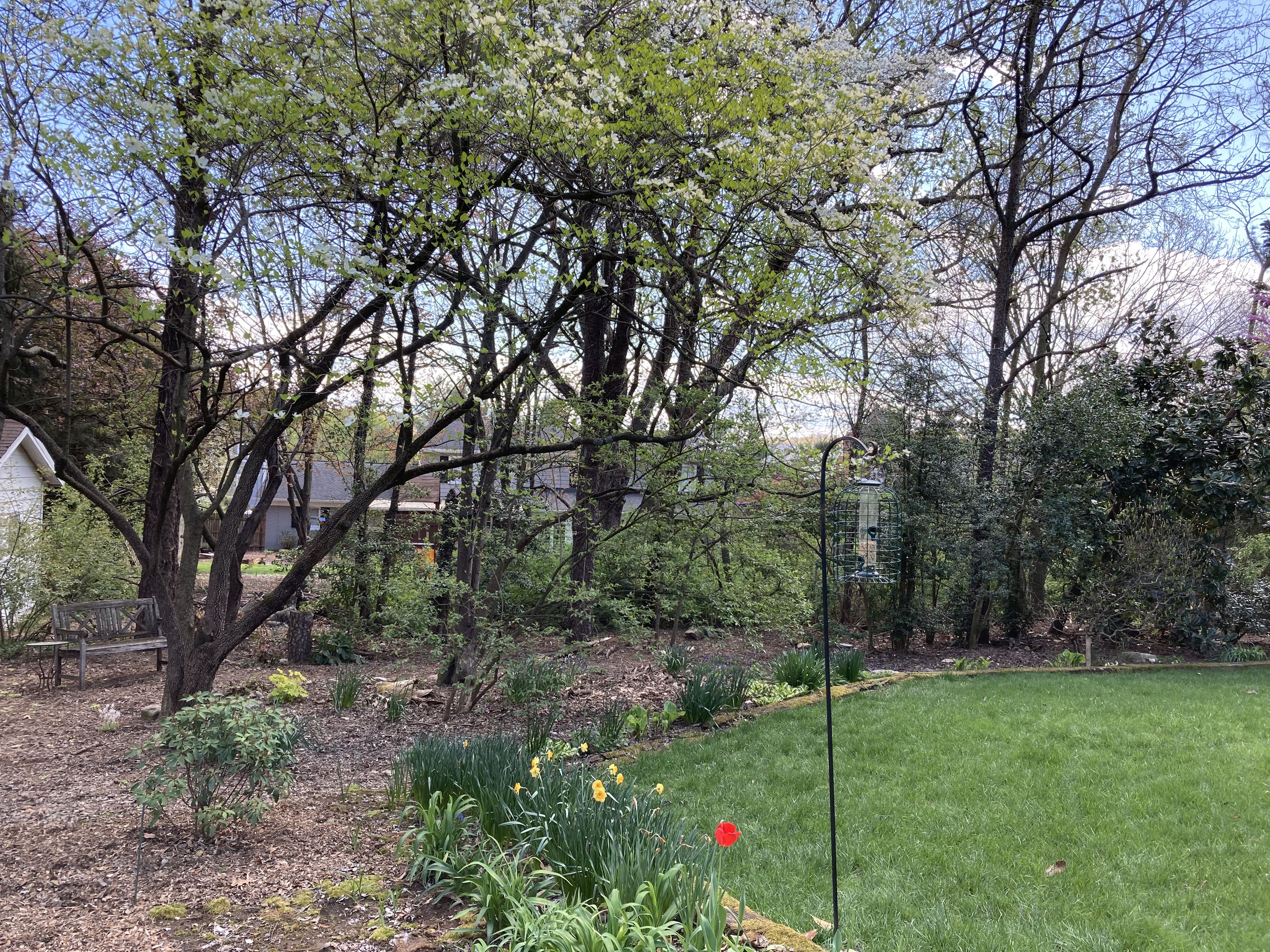 The woods is a work in progress (as are all gardens), so on this sunny April morning, I wander, noting what is coming back and what didn't make it through the winter. I marvel at the annual miracle of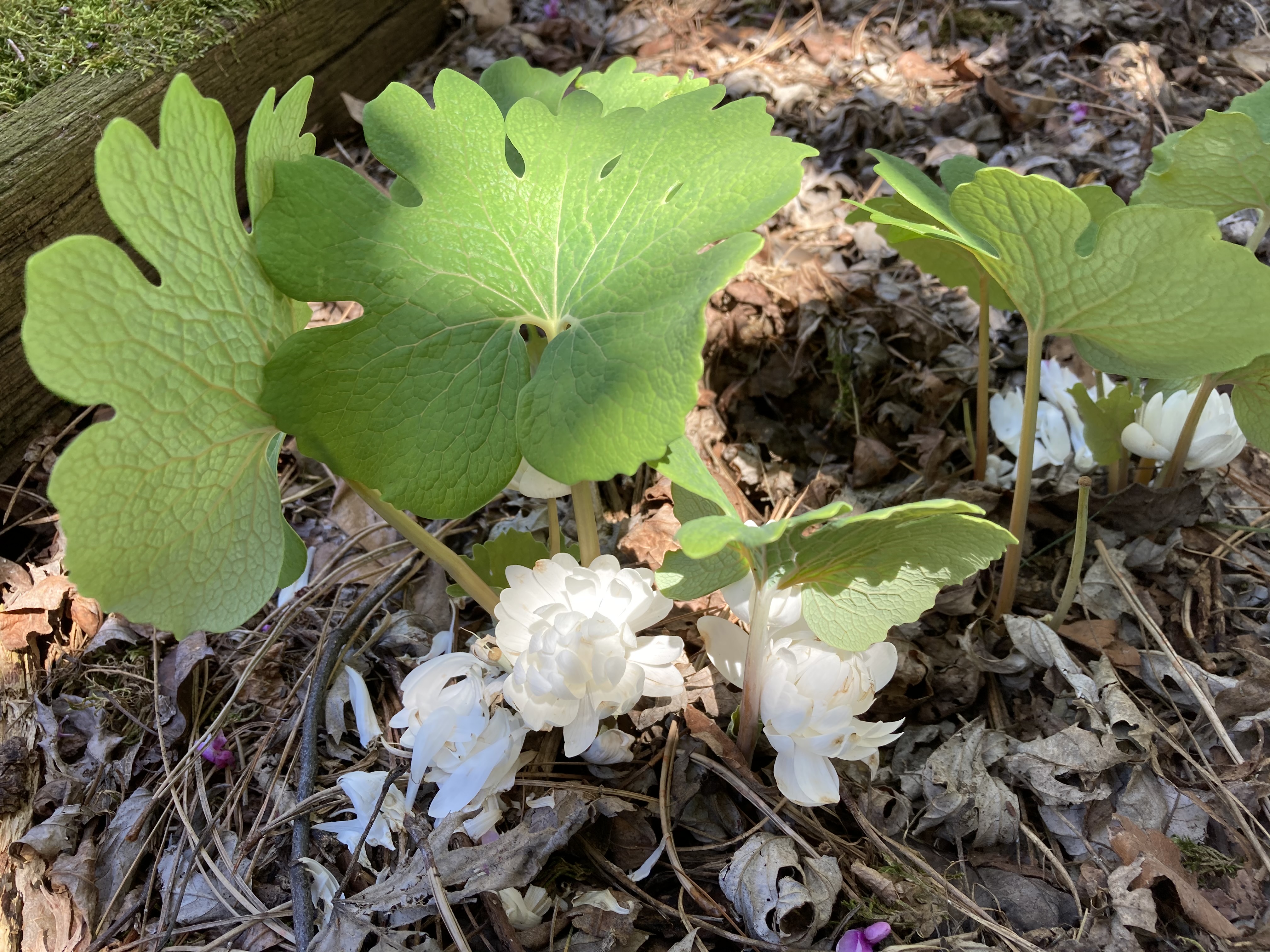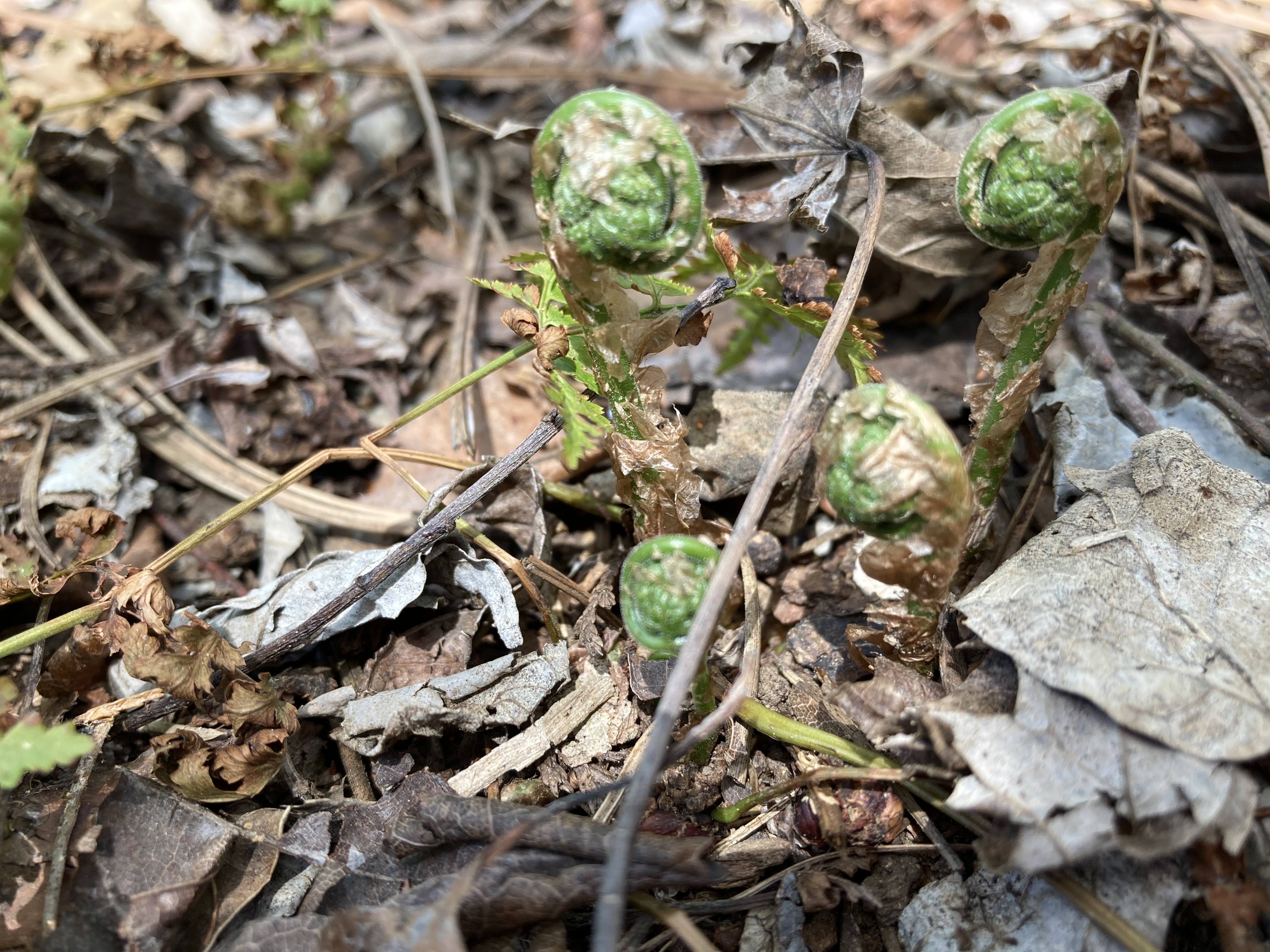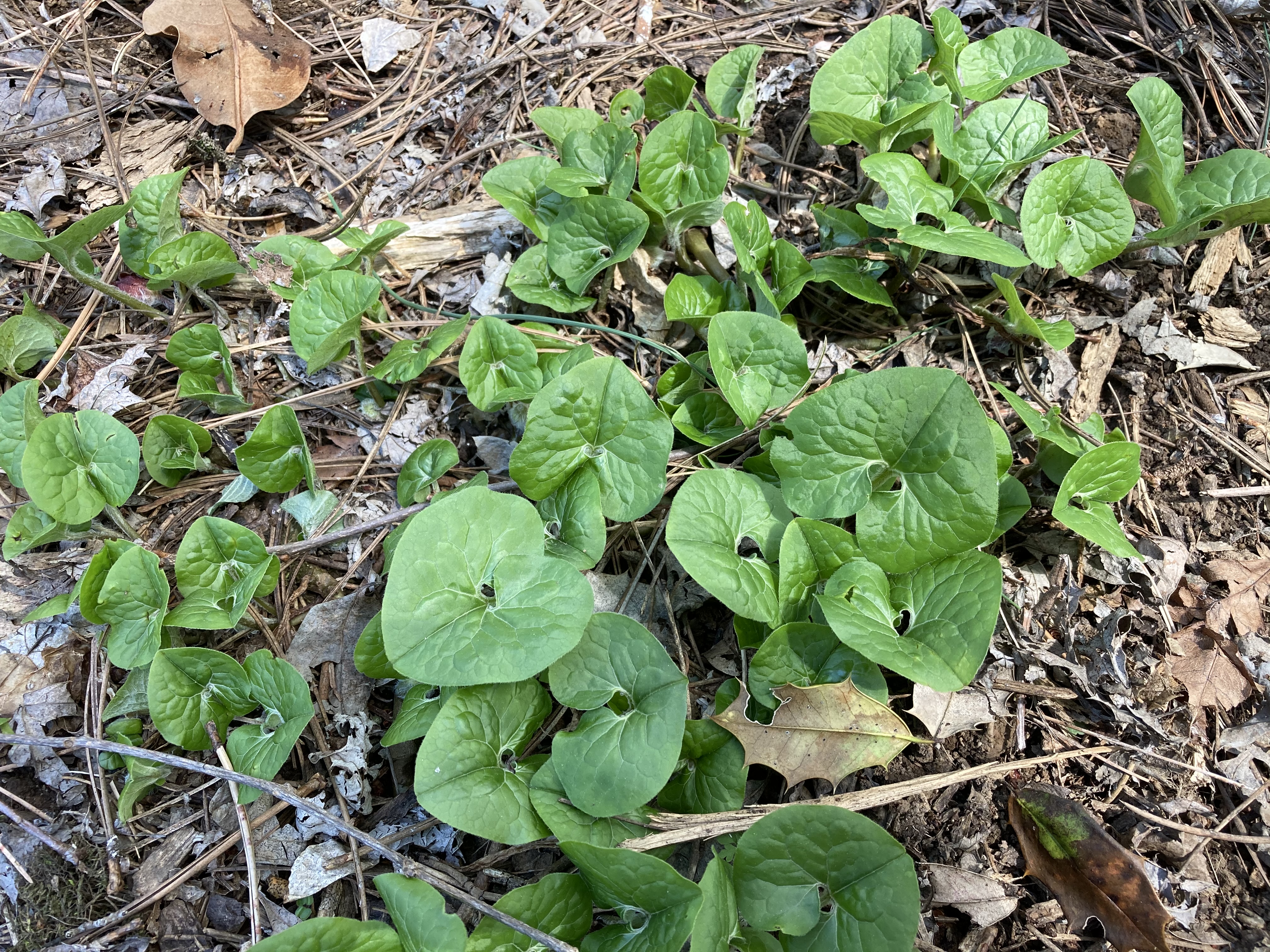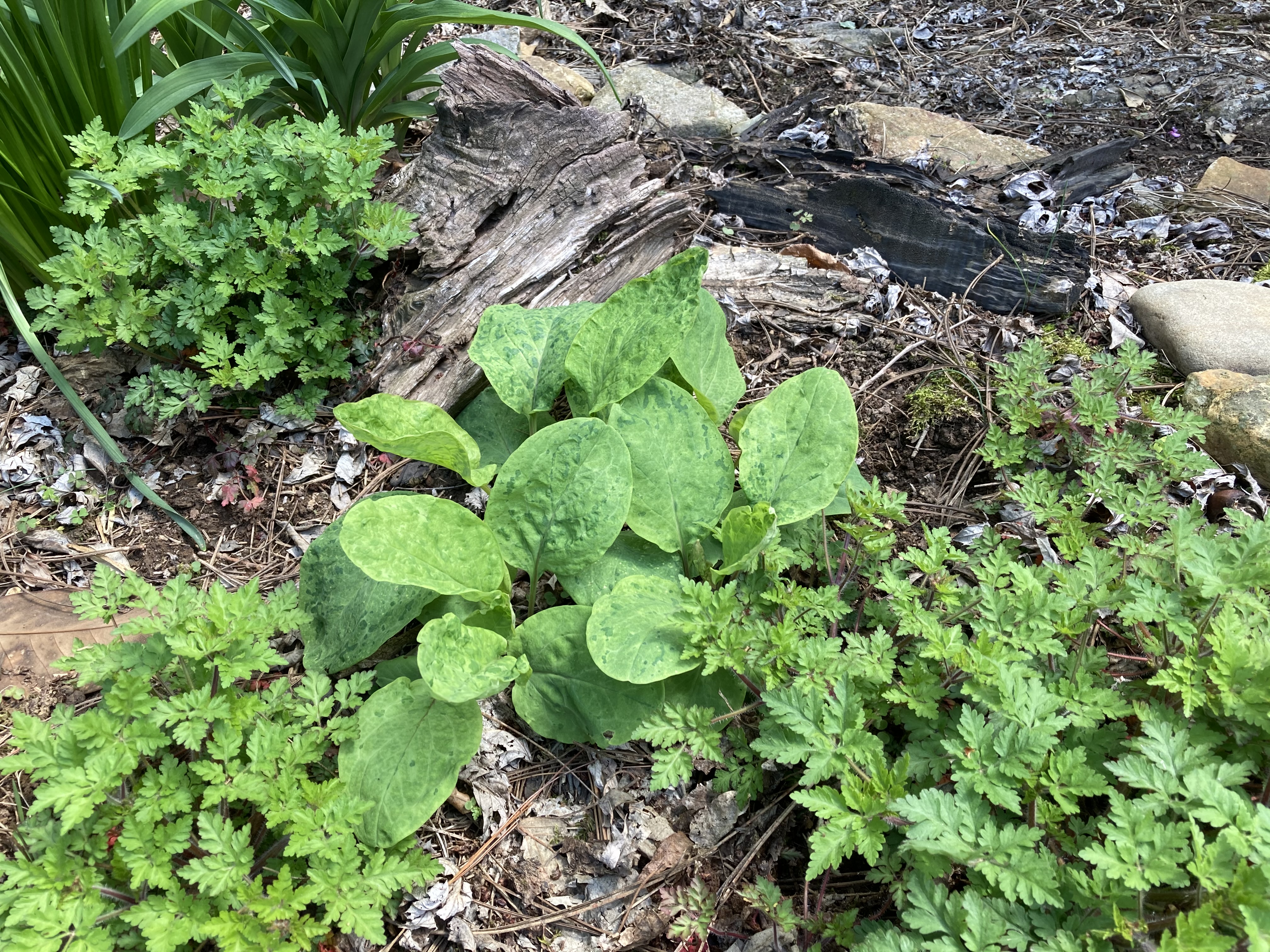 But the woods is a work in progress (as are all gardens), so on this sunny April morning, after observing what is doing well, I continue to wander, making a list for the arboretum sale next week. That is next best to planting.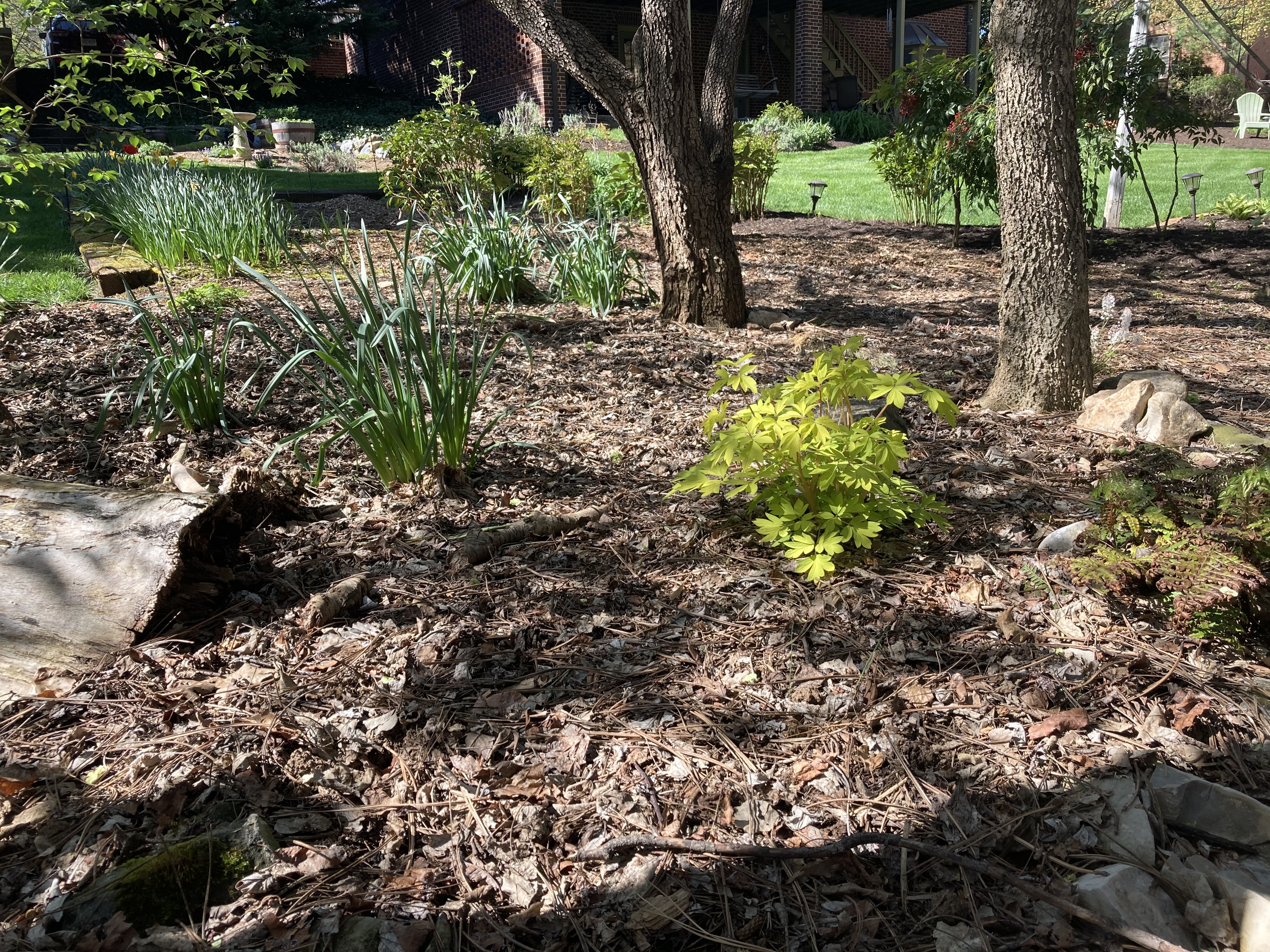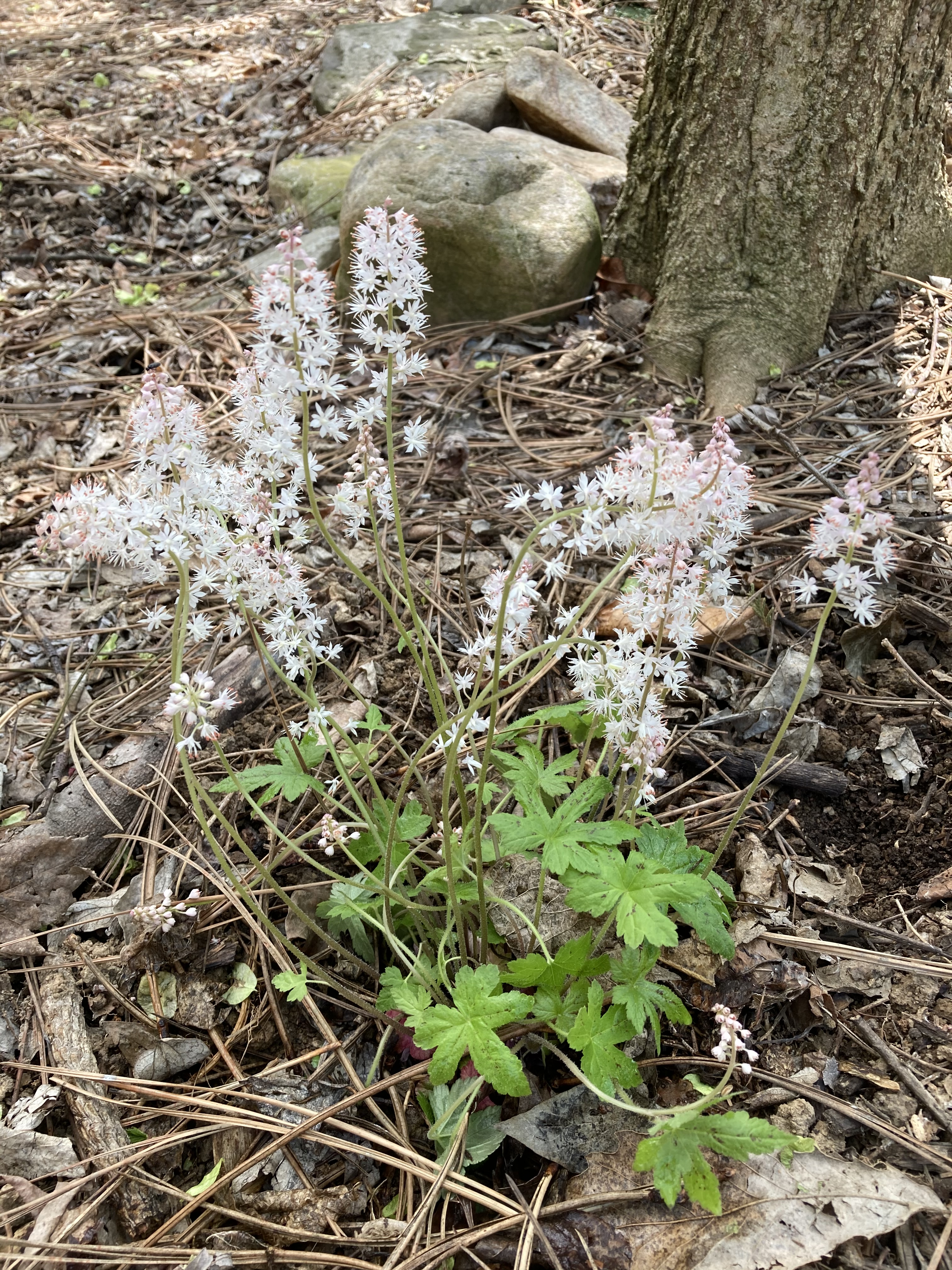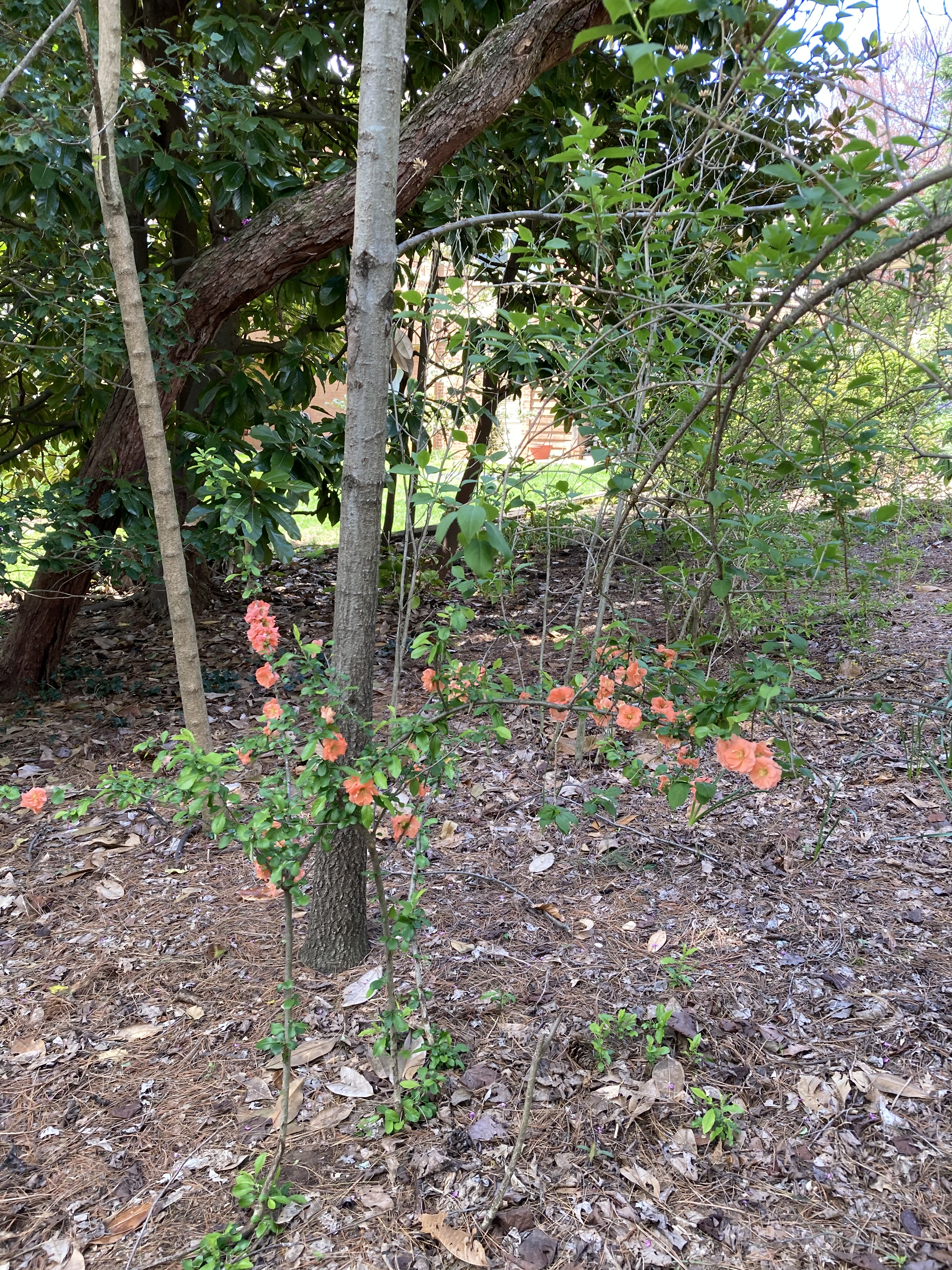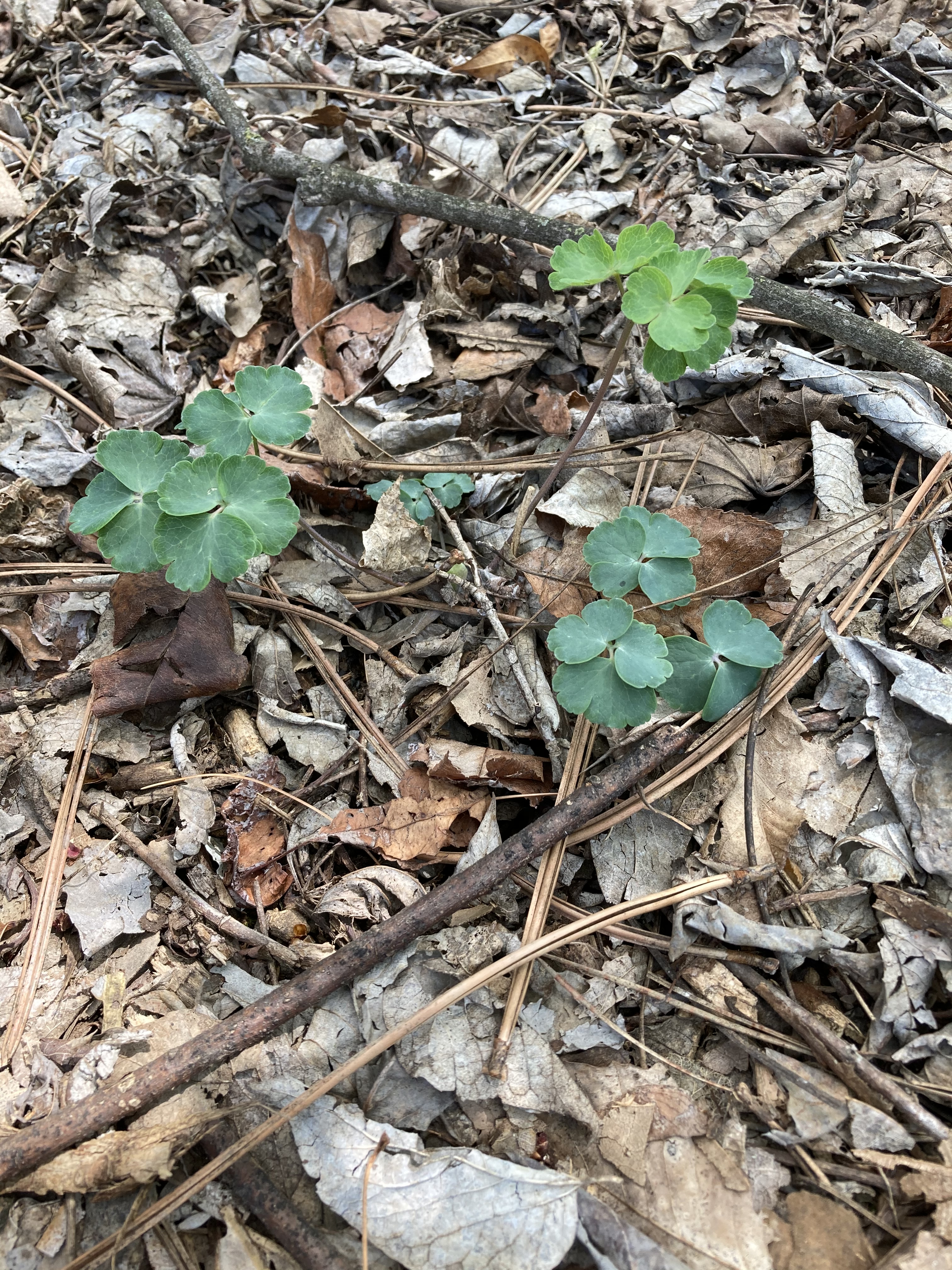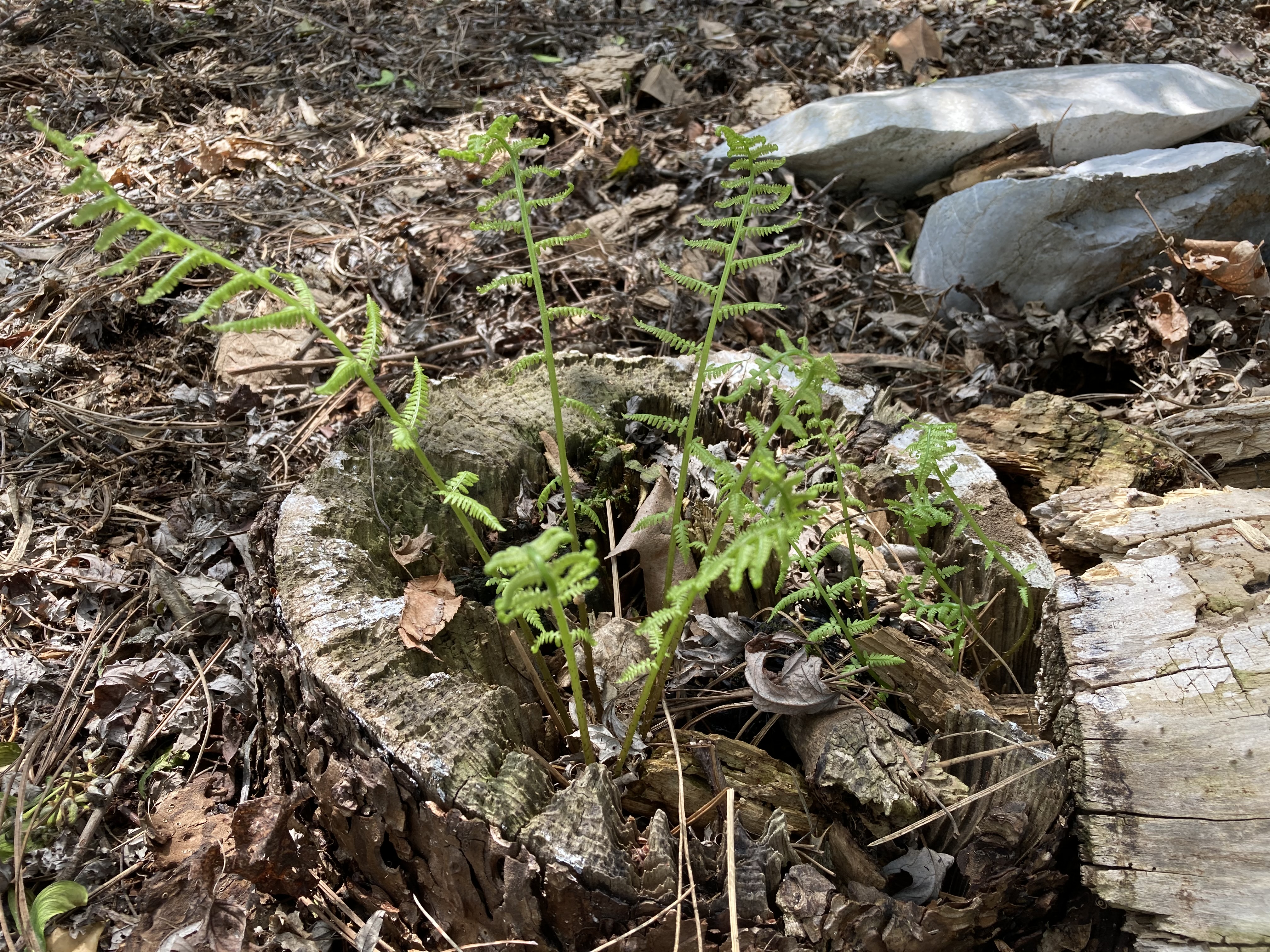 I have circled the woods and am back where I started, at the sign my former work colleagues gave me when I retired. They had envisioned a different kind of stone, a less tomb-stone-looking one, but since the words had been cut into it, they couldn't trade it in for another. I rather like seeing it here in this place, reminding me that no matter what thrives or falters, what lives or dies, this place is almost breathless with energy, held fast in the mystery of everything. While I like to believe I contribute to its beauty, in reality I have little power to cause anything to happen. I can only make space, both in myself and in the woods, and bear witness to all that is.